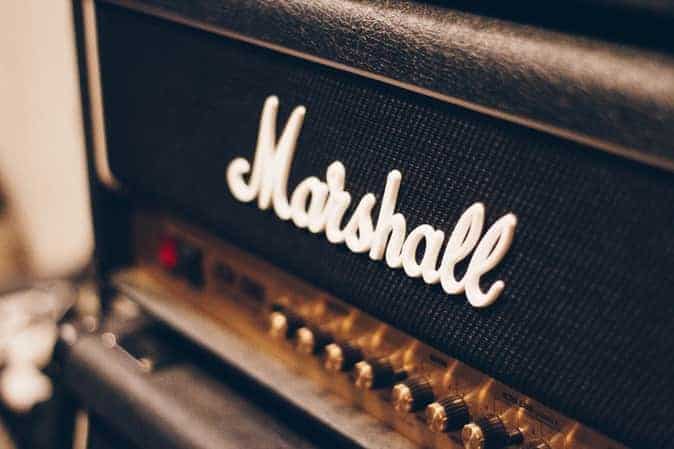 Marshall is undoubtedly one of the most recognizable amplifier brands on the planet. Their classic 'British crunch' tone helped serve many legendary guitarists to discover their signature sound.
Because of the company's long legacy, many generations of bands have Marshall's signature tone immortalized on a catalog of famous records.
Capturing that 'Marshall Tone'
Acquiring Marshall's signature sound at bedroom volumes is made possible through the company's innovative solid-state and attenuation technology. Allowing the classic Marshall tone at bedroom practice volumes.
Before we look at some of Marshall's best amplifiers for home use. Let's familiarize ourselves with the difference between solid-state and valve technology.
Solid-State Amps – Overview
Without getting too complicated, solid-state amps use transistors and diodes instead of vacuum tubes to amplify the signal.
The "solid-state" refers to the semiconductor units within the solid-state electronics and unlike tubes, these electronics are not as fragile as tubes, which greatly improves reliability.
The absence of tubes creates a cheaper product to produce, vastly lowering the price compared to a tube amplifier, which includes more expensive components.
Solid state amps are usually preferred by the practice bedroom guitarist for a number of reasons. The first is that these amps offer way more tonal options compared to tube amps.
Solid-state amps also offer more in terms of effects and features like delays, reverb modulation, wah, effects loops, headphone input etc. all rolled into a more compact and affordable product.
Tube/Valve Amps – Overview
Tube or valve amps, come in a variety of types: head, combo, and lunch box. Unlike solid-state, valve amps use vacuum tubes to power and amplify the signal from the guitar.
This comes with a host of pros and cons. Unlike solid-state, tube amps are louder, more responsive, and contain a smoother distortion when the tubes are pushed.
This is why gigging guitarists prefer tube amps due to their tone, volume, and available headroom for loud clean tones.
However, the downside is that tube amps need volume to achieve a good level of saturation for overdriven tones, unsuitable for home use without annoying family, roommates, or neighbors.
Most modern valve amps include built-in attenuation devices via a switch selector. Essentially this drops the output wattage to lower levels of volume while still achieving a saturated tone at bedroom volumes.
As a side note, want to know how to achieve high-gain tones at bedroom-friendly volumes with your tube amp? Well, you need to know about amp attenuators. I created a detailed post on amp attenuator devices right here.
The Best Marshall Practice Amps
1# – Marshall Code Series
The Code (Reverb.com) is Marshall's first digital modeling amp series, emulating its own heritage of legendary tones. All the way from the Plexi, JCM 800, Bluesbreaker, Silver Jubilee, and JVM models.
Although Marshall arrived late into the digital modeling market. They didn't rush when creating a quality digital amp with a ton of features, ideal for the bedroom and gigging musician.
Marshall Code 25
The Code 25 and 50-watt versions are near identical with the exception of speaker size, wattage output, and preset edit controls.
The Code 25 would be best for home practicing and studio recording, including 25 watts with a 10" Celestion speaker being the ideal output for bedroom levels.
Marshall Code 50
The Code 50 is a larger 50-watt version housing a single 12" Celestion speaker. This is the ideal amount for home use while packing enough volume for gigs, practice, and jamming sessions.
Other digital modeling amps try to sound like everything, but in the process satisfy nobody.
The Code series only serves to do one thing…deliver the catalog of classic and modern Marshall tones, in an affordable and highly functional amp.
Patches and Presets – Overview
The Marshall Code (Reverb.com) can save up to 100 patches, that can be tweaked and edited, and recalled via the easy-to-use interface.
The power amp models can switch between American, vintage, or British tones. With the option of 8 different cabinet presets from a 1×12, 2×12, or chunkier Marshall 4×12.
The 24 onboard effects keep the tone freaks satisfied including chorus, delay, reverb, flanger, phaser, modulation, wah, and compression. Giving the user an infinite amount of tonal variety.
You can view all the presets, effects, and patches here!
Functionality
With all the tone selection available, the Code is surprisingly easy to use compared to other digital modeling amps, (cough) (cough) Line 6!
Creating a preset is as easy as selecting the patch via the button interface, cycle, and save patches via the LCD screen, allowing to effortlessly shape your sound.
The classic gold Marshall interface includes a responsive 3 band EQ with a designated 'gain' 'volume' and 'master volume' control knob.
Marshall Gateway App
The Marshall Gateway app can integrate the Code via Bluetooth from any IOS or Android device allowing control of all parameters at your fingertips with a smart and easy-to-use app.
Another cool feature is the audio playback. The app allows for playback of songs in your phone's library, playing through the Codes speaker for practicing and jamming.
Features
Classic Marshall modeling tones and patches
Infinite amounts of tonal options
Low wattage amp for bedroom volumes
Simple to use and edit patches
Tone sculpting control via your smartphone app
USB for recording and using as an audio interface
Headphone output for silent playing and direct recording
Aux output for additional audio devices
Small, compact and portable amp
Can the Marshall Code 50 run an external cabinet? – No, there's no connection for running an external cabinet which is unfortunate.
However, the Code 50 is a loud 50-watt solid-state with plenty of volume, headroom, and bottom-end for small gigs if the amp is miked up to a PA system.
Can the Marshall Code play metal? – Yes, the Marshall Code includes many high gain presets that can produce a heavily saturated tone, which is suitable for playing most genres of metal.
2# – Marshall MG GFX Series
Marshall's MG series (Reverb.com) has been going strong for many years. It's an established range of great solid-state amps for producing Marshall's classic and modern tones while being versatile, affordable, and great value for money.
Unlike other solid-state amps, the MG series uses analog circuits for tonal character and response similar to a valve amp. While still retaining the versatility and tonal flexibility of a solid-state amp.
The MG30 GFX and MG50 GFX are identical in function only differing in wattage.
The 30-watt version is strictly for the practicing and recording bedroom guitarist. The 50-watt version is for both home use and has enough volume being the perfect companion for small gigs.
Main Features
Each channel can individually be edited and saved with the 3 band EQ (Bass, Middle, Treble) with the option of adding two simultaneous effects
Effects – chorus, flanger, phaser, octaver, vibrato,
4 delay settings – reverse, studio, tape, multi-tap
Headphone output – for silent practicing
Effects loop – for adding additional pedals and effects
Mp3 Line output for playing audio tracks
Weight 16.6 Kg
Selection of Four Channels:
'Clean', – Warm cleans with a nice amount of character
'Crunch' – Classic Marshall crunch tones
'OD-1' – Saturated overdrive for classic rock and metal territory
'OD-2' – Differently voiced overdrive for tonal variety
Can the Marshall MG run an external cabinet?  No, there is no connection for hooking up a cabinet. However, the MG50 is loud enough for small gigs either running through the front of house or by miking the cabinet.
Does the Marshall MG series take pedals well? Yes, the circuitry of the amp allows the amp to mix well with most pedals allowing more tonal options.
3# – Marshall DSL-1 Combo
Marshall combo tube amps do not come much smaller than this!
The Marshall DSL-1 (view on Reverb.com) is a mini 1 watt monster including Marshall's classic tones in a compact, lightweight combo ideal for the bedroom player.
If you're only concerned with having Marshall's classic sound, minus blowing the neighbors doors off.
This amp is a good contender with its switchable output control from 1 watt to a tiny 0.1 watts for low volume crunch and distortion.
Sound
The Marshall DSL-1 includes a surprisingly gritty bite from the overdrive channel. Thanks to the ECC83 tubes and Celestion 815 speaker helping produce Marshall's classic all-valve tone and response.
Dialed in properly, this combo is capable of some tidy clean tones and versatile in a number of styles giving it great tonal flexibility for novice and advanced musicians alike.
The first channel (Classic gain) goes from a standard clean to a nice crunch tone in one sweep of the dial.
The "Ultra channel' is the most versatile of the two in my opinion. You can dial in some higher gain saturated tones that sound valve smooth with Marshall's classic character.
Tone Shift
The 'Tone shift' button to my ears removes treble, boosts the mids and adds more bottom end to the tone effectively making the amp sound darker.
The 3 band EQ is responsive and allows you to shape your desired Marshall sound easily with a designated digital reverb control.
For a tiny combo, the DSL-1 has a ton of great additional features stuffed onto a miniature amp.
The most useful feature is the speaker output which can run a 16-ohm cabinet which I recommended for a wider and chunkier sound.
This combo is the perfect option for playing and home and can be taken for rehearsals which can be paired with an external cabinet for additional volume.
Other Versatile Features
The 'send and return' effects loop helps the DSL-1 stand out. This is absent on most amps of this size allowing additional tones from pedals.
The auxiliary connection for adding audio devices serves for jamming to songs and backing tracks.
The headphone connection allows for silent late night playing for practicing complaint free! The DSL-1 is difficult to fault, it's an honest straight-up low-watt Marshall amp that does what it requires.
The amp would sound better when paired with a larger cabinet to help beef up the tone and lose the thin dynamics. This is typical of amps smaller than a 1×12. Other than that, the DSL-1 is a great companion for the bedroom guitarist.
Main Features
Marshall saturated tones at low volume
2 channel (classic gain and ultra gain)
Includes footswitch (engage effects loop or boost) for hands-free control
1 watt with the option to reduce to 0.1 watt
3 band EQ (treble, middle, bass)
Effects loop
Emulated output
Reverb control
Weighs 7.9KG
Can the Marshall DSL-1 amp play metal? – Yes, cranking the ultra gain dial or adding a distortion/boost pedal will produce an ultra-saturated tone for playing most genres of metal.
4# – Marshall Origin 5 & 20 Watt Combo
The Marshall Origin series (view on Reverb.com) returns to the classic tones of the 50s and 60s.
With a nod to the iconic Plexi sounds in a single-channel, low-watt combo perfect for classic rock enthusiasts.
The vintage tweed grill, classy gold trim, and iconic logo give no secrets what era this series is recreating.
These amps are a simple, pay for what you get classic rock crunch machine, with modern features for classic Marshall tones at bedroom-friendly volumes.
This amp is the solution for minimalists who desire the classic Marshall vintage tone without the price and inflexibility of owning a loud and heavy Marshall Plexi half stack.
Features
The Origin has a simple interface with the standard 3 band EQ: (Bass, Middle, Treble) with a wattage output switch for dropping the watts to produce saturated tones at lower levels of volume.
The volume knob can be pulled up for a boost of gain while having it pressed down will produce a cleaner tone.
The Tilt knob is essentially a 'bright' control, adding more treble to the tone.
This feature emulates the original Plexi amplifiers of old, which included a selection of 'bright inputs' with some offering brighter and darker tones than others.
This is useful for controlling how dark the amp sounds, depending on what type of pickups you are using.
The Marshall Origin series sounds killer with some added gain from a fuzz pedal and optional wah pedal to get some Jimmy Hendrix tones.
The Origin has an effects loop for adding external pedals and mods such as reverb, delays and other mods. The amp also has an external emulated output for running the amp through a front of house PA system at a gig.
Is the Marshall Origin 5 watt amp Loud Enough for small gigs? No 5 watts is not loud enough for gigging. However, using the emulated output you can run through a PA front of house instead of miking the amp.
Speaking of bedroom amps, if you want to see a selection of Orange amplifiers ideal for bedroom use? I encourage you to read my next post on the best Orange amplifiers for home use.
Blackstar has a solid reputation for modern high-gain tones. You should check out my next post on the best Blackstar amps for home use right here