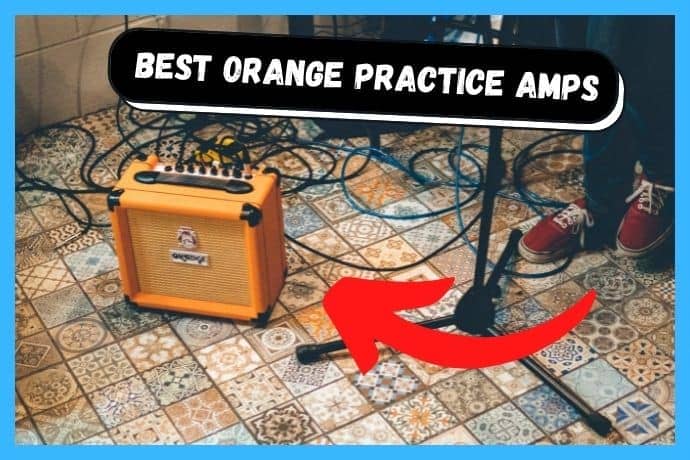 Orange Amplifiers! Bright, bold, British, and famed for brilliant crunch tones. 
But what about their selection of bedroom amps?
This post will delve into Orange's catalog of amps perfect for home use. Assisting you to make a choice on your next amp.
First, let's inspect my practice amp buying guide.
Practice Amp Buying Guide
Know Your Desired Features
First, you should distinguish whether you will utilize your Orange amp as a 'strictly practice at home amp.'
If yes? This means you require a small combo amp with low wattage and lots of valuable features, such as a headphone connection and built-in effects.
On the other hand, If you want a practice amp that also has the tools and capability for playing rehearsals and gigs.
Then you will want something bigger, higher wattage, and an attenuator to 'knock down' the volume back to playing more suitable bedroom volumes.
Recommended Practice Amp Features
Effects – Reverb, Delay, Flanger, etc. – who needs a pedalboard?
Built-in tuner – For quick tuning 'on the fly.'
Headphone Connectivity – Perfect for silent late-night practice
Aux connection – To hook up an external audio source for playing backing tracks
Small Footprint – For saving space in your bedroom
Attenuation switch – To 'knock down' the volume potential
Choosing The Correct Wattage For You
If you're a beginner, you can translate 'wattage' to the amp's 'volume potential' More accurately speaking, the higher the wattage allows the amp to reach higher levels of volume without distorting, known as 'headroom.'
A lower wattage is the ticket if you want something strictly for home use. On the other hand, if you want something for practicing and potentially gigging? You will need something with more oomph.
Here are some handy wattage ranges so you can pinpoint the correct wattage for you.
Wattage Ranges
Practice at Home Amp – 10W-50W (Solid-State Amp)
Practice and Gigging – 50W+ (Solid-State Amp)
Practice and Gigging – 15W+ (Hybrid Amp)
Practice and Gigging – Minimum of 15W (Tube Amp)
Combo or Head
Combo amps are undeniably preferred for home practice; you'll have the benefits of a head with a built-in cabinet ready to go. Secondly, this makes them cheaper than a head + cabinet combination saving you money in the process.
Whereas an individual head certainly looks cool. However, you will need to pay more dollars for a speaker cabinet to hook it up to. For this reason, as a practice at home amp, combos are typically the way to go.
Orange Crush Mini 3W – Best for Beginners
Orange's Crush Mini is a tiny and basic practice amp that packs useful features into something so small.
The Mini Crush features 3 watts and is the quietest and simplest model on the list. The amp is clearly designed for bedroom practice, busking, warming up backstage, and roaming around the house. The Mini Crush sports a 4-inch loudspeaker that projects its tone surprisingly well for a mini amp.
Searching for usable tones is fairly easy; Mini Crush sports tone, volume, and gain controls providing you with simplified tone-shaping options at the expense of sonic versatility.
It's got a headphone port for silent practicing and can support an external speaker of 8 Ohms. Both aux input and speaker ports are located on the back.
Orange Crush Mini is also outfitted with an integrated tuner, which is useful for rapid tuning adjustments on the fly.
Features
3 Watts
Integrated Tuner
Back-mounted Speaker and Auxiliary ports
Front-mounted headphone port
Volume, tone, and gain controls
4-inch loudspeaker
What We Liked
Everything about Mini Crush corresponds to its price tag. It's a small, portable amp that will deliver you the classic Orange tone at a highly approachable price.
Portability and affordability aren't the main benefits of using Mini Crush – its compatibility with external speakers and headphones is.
Its weak wattage is compensated for by its ability to be paired with stronger speakers and cabs. On the other hand, 3 watts are all you need to practice in your room, so the option to buff its output with a cab is a huge plus for musicians wanting a bit more volume projection.
Mini's onboard controls are somewhat limited in terms of versatility, but they're very easy to use. If you are a beginner, the ability to find basic tones and add crunchy gain with a single knob is priceless.
What We Didn't Like
The Orange Crush Mini 3 watts are basically only suitable for home practice, which is only a benefit to beginner guitarists living in a quiet environment. Players can connect it to an 8-ohm cabinet; its speaker output is located on the back.
Rock and metal players need to know that gain and distortion typically sound 'fuzzy' with tiny amp speakers.
Additionally, its cleans sound somewhat plastic and bland at low volumes. Finding the "golden middle" sound-wise may be a bit more difficult for beginners; fortunately, this amp is very simple to use, so tackling its learning curve shouldn't be too hard for anyone.
Pros
Smallest amp in the Orange Crush series
Ultimate portability
Can transform into an amplifier head when connected to a cab (via speaker out)
Integrated tuner
Simple to use
Cons
A fairly limited selection of features (no effects)
Fuzzy gain and distorted tones
Best For
If you've just set your feet into the world of guitar playing, the Crush Mini may be the best choice for you. It is very cheap, portable, and sounds decent for the money. The integrated tuner and speaker cab connectivity add certain value.
Orange Crush12 Combo Amp – Best for Under $100
Orange's Crush 12 is a stronger contender than its Mini brother. It's got a bigger 6-inch speaker for wider sound projection with additional EQ dials for sculpting tones.
Being a 6-inch speaker, it's a highly portable amplifier that is perfectly suited for home practice and use with additional guitar pedals.
This guitar amplifier features a highly responsive 3-band equalizer that allows you to chase a decent range of tones while still being very simple to use.
With both overdrive and a dedicated gain knob, Crush 12 is an excellent choice for beginners in heavier music genres.
Its cleans are pretty warm and solid, although they aren't pristinely clear. The six-inch speaker Crush 12 is equipped with projects the 12 watts phenomenally well overall.
Features
12 watts
3-band EQ
Gain and drive knobs
6-inch speaker
Headphone out
What We Liked
A 12-watt amp is all you need to learn the ropes if you are a beginner.
Additionally, distorted tones sound better on louder amps; if you struggle to find proper-sounding ones on a Crush Mini, you will certainly be able to do so on Crush 12.
The separate gain and drive knobs allow for more versatility while chasing a bigger spectrum of sounds tones, you with additional fine-tuning options.
Overall, it's a pretty well-rounded amp that delivers surprisingly great distorted sounds from something so small. The amp delivers an aggressive, distorted tone that is 'bitey' and 'rough,' excellent for all rock genres. Whereas, using it from metal, you may want a distortion pedal for more saturated tones.
What We Didn't Like
While performing solidly in more than a few fields of performance, Crush 12 is still a budget home amp.
You could get a much stronger combo or a better amp head from the Orange series with a few extra bucks.
Just like Orange Crush Mini, Crush 12's clean performance is not absolutely perfect. A tiny buzz at low volumes becomes more noticeable the higher you go. Although it's not a fatal flaw, playing jazz or blues with unwanted noise may become an issue.
Pros
Surprisingly good tones from a small amp
Decent wattage for home practice
Versatile tone controls
Very affordable
Simple to use
Portable
Cons
No speaker out, meaning can't connect it to an external cab
Clean tones leave room for improvement
No onboard effects
Best For
Orange Crush 12 is best-suited for serious beginners after a solid 'practice at home amp.' This option offers an affordable price with a nice spectrum of available tones from something so small.
Orange Crush 35RT – Best Tonal Versatility and Affordability
Orange Crush 35RT is the entry-level heavy hitter of the series. It's the "smallest" powerhouse in the Crush line. Sporting 35 watts, a custom 10-inch speaker, two selectable channels, and an array of features geared towards chasing different tones.
The dual-channel design allows you to seamlessly switch between cleans and whichever color you've set the second channel.
This is precisely what sets Crush 35RT apart from other models on the list; it rocks a 3-band EQ and individual gain, clean, and dirty tone knobs, in addition to the built-in reverb that can also be controlled with a separate knob.
Crush 35RT gains a much different voice by flipping the channel switch, which you can fully customize with provided controls and knobs. It also sports a neat integrated tuner for speedy tuning adjustments.
Features
35 watts
Buffered FX loop
Twin channels
True analog signal
CabSim feature
What We Liked
One of the greatest things about Crush 35RT is the CabSim. Basically, this is an authentic cabinet simulator that mirrors the tone of a microphone-wired four-by-twelve cabinet. This feature is only usable with headphones or recording consoles.
The buffered FX loop is another great feature that allows 35RT to accept dozens of guitar effects and pedals without losing an ounce of its original tone. Needless to say, this, combined with its 35 watts, yields a perfect combination for live gigging.
This amp is equipped with a big, custom VOTW speaker and sports two separate channels that are fully customizable with various tone and effect controls. Its tonal versatility is through the roof. To top it all off, 35RT is more than affordable for what it does and offers.
What We Didn't Like
There's hardly anything not to like about Orange Crush 35RT, but there are a few things that leave some room for improvement.
Namely, the Dirty channel adds variety, but it contributes little to players who know what they're looking for.
Its overly fuzzy tone may be great for experimentation, but it's too undefined and arguably unrefined for conventional genres of music. If you're into drone metal, avant-garde rock, or some deeper sub-genres of progressive music, you'll probably like it, though.
Although this is not exactly a drawback if you're new to Orange amps, the fact that the power button is placed on the back is confusing to players that have grown accustomed to it being mounted on the front.
Pros
Outstanding tonal versatility
Switch between cleans and distortion with a flick
Strong enough for medium-sized gigs, perfect for smaller venues
Decently simple to use
Cons
Back-mounted power switch
Dirty channel is quite impractical to use in conventional music styles
A bit too loud for home practice
Best For
The Crush 35RT is arguably the best home practice amp by Orange. It's equipped with tons of features and ticks all the boxes a beginner or intermediate player wants in a practice amp. Great tones, effects, and versatility, all in a straightforward amp.
Orange Micro Terror Head – Most Portable Head
the Micro Terror Head is the little brother version of the iconic tiny terror series by Orange.
It's equipped with robust 12Ax7 tubes, convenient foot stabilizers, and 20 watts of unbridled strength, alongside headphone out, aux input, and a simple 3-band EQ.
It's a remarkably portable amp head that weighs under 2 pounds and is barely above 6 inches tall. This basically means that it's simple to haul to and from gigs.
Speaking of gigging, it is possible to gig with the Micro Terrors 20-watt power. With a big enough cabinet and miking system to the venue's PA system.
Engineered for musicians with attitude, Micro Terror offers a strong, recognizable sound at the slight expense of versatility. Without a dedicated onboard equalizer, you will only have the Tone knob to shape your guitar's voice, which is still more than enough when handled by experienced hands.
The Micro Terror comes in two versions, the 'original' and 'Dark Terror' versions. What's the difference? The Dark Terror contains additional gain and tighter low-ends suited for saturated and tighter metal tones.
Features
20-watt amp
12AX7 tubes
Volume, tone & gain knobs
Headphone output
Auxiliary input
Built-in handle
What We Liked
Most amp heads aren't too practical in terms of transport, but Micro Terror seems like it was specifically designed with convenience in mind. Not only is it light and tiny in size, but it also features a built-in handle that will help you carry it to your gigs and band practice without breaking a sweat.
With 20 solid-state watts, the Mini Terror will easily beat much stronger amps in a contest of loudness. Its clean tones are much better and pristine, while it packs quite a punch in the heavy department as well.
The clunky plastic legs of early Orange amps were replaced with anti-slip foot stabilizers that prevent Micro Terror from tipping, meaning you can put it on top of a cab and forget about it.
What We Didn't Like
Clearly, the Micro Terror aspires for portability rather than a wide array of tones. With that said, very few EQ dials limit its tone sculpting options.
Its simple controls are great for newbie players, but it's just too basic in terms of tonal versatility. With most amps, you'll have at least Bass and Treble knobs; with Micro Terror, tone, gain, and volume are all you'll get.
Pros
Outstandingly simple to use
Incredible portability
Lightweight and petite
Non-slip stabilizer legs prevent it from tipping
Cons
Minimal tonal versatility
Best For
Bluntly put, Micro Terror is perfect for the practicing and rehearsing player who wants a super portable amp with great tones to play alongside a drummer.
It's also for the minimal guitarists who want a simple amplification source with pedals. It's not the best' beginner amp' as it lacks so many essential features compared to other selections on this list. Its portability and volume level for something so tiny is a huge standout.
Orange Tiny Terror Head – Best Mini Valve Amp Tones
The Tiny Terro series by Orange pioneered the 'lunchbox amp.' small, loud, portable but also very usable for home use.
You shouldn't underestimate Tiny Terror's 15 or 7 watts because valve amps are much louder than solid-state ones.
If this doesn't make much sense, this amp has switchable wattage, meaning it can transition down to a more 'bedroom friendly' volume without losing gain saturation and dynamics.
This amplifier is outfitted with EL84 and 12AX7 tubes, which warm up quite quickly and deliver a firm, robust sound. Unlike Crush Mini or Crush 12, Tiny Terror will present you with impeccable cleans and excellent gain tones regardless of volume or wattage.
It is a simple single-channel amp head with a 3-band EQ at its core. Tiny Terror Head is an easy-to-use amplifier that can accommodate your practicing needs; with the right gear, it's a monster for band rehearsals and live gigs.
In terms of tonal versatility, Tiny Terror mirrors the capabilities of Micro Terror. Both are equipped with the same equalizer settings and controls. However, Tiny Terror features different tubes and has a distinct sonic signature.
Features
Switchable 15/7 watts
Two EL84 Tubes, two 12AX7 tubes
3-band EQ
Steel housing
Built-in handle
What We Liked
We loved the portability of Micro Terror, but Tiny Terror adds another layer of practicality to an already-awesome amplifier.
The switchable wattage is a game-changing feature that allows guitarists to quietly practice at home (even without headphones) and to be decently loud during band practice.
Amp heads are meant to be fitted to cabinets, meaning that if you have a decent speaker, you can use Tiny Terror for live gigs easily.
What's more, it's remarkably portable and packs a built-in handle for simplified transport. It's also a beginner-friendly amp considering it only has three tone control knobs.
What We Didn't Like
Regardless of how great its gain-driven tones sound, you probably won't be too thrilled about Tiny Terror's tonal versatility.
While it's a good choice for bedroom practice, you'll need a good cabinet and at least one tone-defining effect (reverb) to utilize its benefits properly.
Pros
Switchable wattage
Simple controls
Superb portability
Excellent tone quality
Cons
Fairly limited when used as-is
Low tonal versatility
Somewhat weaker than most similarly priced guitar amp heads
Best For
What's great about Tiny Terror is that you can use it for practically anything. It's a bedroom/recording amp on 7 watts, a band practice amp on 15 watts, and it's a gig-ready amp with a big cabinet beneath it. It's also a great choice for recording musicians, as its tube-powered sonic signature is absolutely fantastic. You'll need to gear up on mics, cabs, and pedals to reap these benefits, though.
Orange Super Crush 100 Combo – Best for Practicing and Gigging
One of the strongest Orange models in the Crush line, the Super Crush is a sturdy, dependable powerhouse amp.
The sound of a Super Crush is crisp and robust, and the fact that there are two channels on board means that you can toy around with its tone indefinitely.
Unfortunately, Super Crush does not offer written explanations on its control panel, so most beginners will have to guess what each button does.
The controls for the clean are volume, bass, and treble, respectively, while the dirty channel controls are volume, treble, middle, bass, and gain from right to left.
The last two controls are reverb and volume.
Most Orange amps on the list are outfitted with custom VOTW speakers, while Super Crush features Celestion's 12-inch one.
With greater output power comes a much bigger and heavier box to contain it; Orange Super Crush weighs nearly 40 pounds, and it is roughly 18 inches tall and 22 inches wide. Additional features include the headphone-accessible Cab Simulator, the buffered FX loop, and integrated digital reverb.
Features
100 watts
Two channels
3-band clean, 5-band dirty channel tone controls
Built-in handle
Integrated digital reverb
Buffered FX loop
Headphone-accessible Cab Simulator feature
What We Liked
A hundred watts of pure, unrestrained power is, by far, the one thing that most Super Crush owners were and still are excited about. Furthermore, its 100 watts actually sound absolutely fantastic, and according to some, almost as if Super Crash was a tube amp.
The buffered FX loop is an excellent feature that allows you to wire as many pedals as you want, which is particularly important for a gigging amp.
Furthermore, Super Crush features two channels that you can fine-tune to perfection with a total of eight control knobs.
What We Didn't Like
Obviously, Orange Super Crush is not the most portable amp in the world. It's a heavy-hitting heavyweight champion of the brand's strongest amps; its built-in handle helps a bit, although you're most likely to haul it to gigs and band practice the old-fashioned way.
In terms of storage, you'll need a decently-sized space to keep it; Super Crush may not fit into smaller car trunks.
Its biggest flaw, though, is the lack of written descriptions of its tone controls. Aside from the "booming speaker," most pictures tell very little to people who aren't well-versed in Orange amps. You will get an instruction manual, but most people won't read it.
Pros
The strongest amplifier in the Crush series
Exceptional tonal versatility
Two channels with separate control knobs
Amazing sonic signature
Cons
Very large and heavy
Tone knobs are described with pictures only
Not the most affordable amp on the list
Best For
If you are a gigging musician, you will find great value in all of Super Crush's features. It offers superb wattage, versatile tone-chasing options, a stable sound at high gain, and a variety of built-in extras, such as the buffered FX loop or Cabinet Simulator.
It's not perfect for home practice since it lacks the "sponge" attenuator; Super Crush is excellent for band practice, especially if your bandmates are also into playing loud.
Orange Amplifiers Crush Pro CR60C 60W – Best Allrounder
By comparing all the features, drawbacks, and unique advantages of all amps on the list, the title of the best-rounded model goes to Crush Pro CR60C.
In terms of strength, its 60 watts are much closer to Super Crush's 100 than any of the weaker units. Versatility-wise, it is on par with 35RT and Super Crush; its tone knobs are also much better explained on the panel, unlike SC 100.
Furthermore, Crush Pro CR60C features a 12-inch VOTW speaker; should it be too weak for the size of your live gigs, you can connect this amp to a 16-ohm cab and be loud enough to hit the back lines of an average-sized festival.
Features
60 watts
Two channels
3-band clean, 5-band dirty channel EQ
Analog signal
Digital reverb
12-inch VOTW Speaker
What We Liked
With great wattage, an eclectic array of tone controls, and separate clean & dirty channels, it would be an understatement to say that Crush Pro CR60C can do everything.
From garage gigs to full-on festivals, you will sound loud and great while using it. It can also be a good option for bedroom practice at lower volumes, and you'll surely want to show it off to your bandmates. Unlike weaker Orange amps, Crush Pro CR60C boasts pristinely clear cleans, and handles gain remarkably well.
This amp was designed to accommodate agile players constantly shifting between recording songs, practicing new material, and performing.
What We Didn't Like
In all fairness, there's not a single field of performance where Crush Pro CR60C is lacking. The only thing that you probably won't be too thrilled about is that it weighs around 45 pounds, which is even more than the 100-watt Super Crush.
Aside from that, its three-level built-in reverb is great, but you'll need to buy the footswitch separately to use it onstage.
Pros
Excellent wattage
Perfect for all occasions
Great tonal versatility
Robust sound at all gain stages
Cons
Just a bit too heavy for comfort
Best For
Orange Crush Pro CR60C is always the correct answer, no matter the question. Its incredible wattage, tonal versatility, and sound make it the most competent amp in the Crush series. CR60C may be weaker than Super Crush, but it's more beginner-friendly and equally great for live performances. With its versatile tone controls, Crush Pro CR60C is a perfect choice for band guitarists, recording musicians, and use in the bedroom.