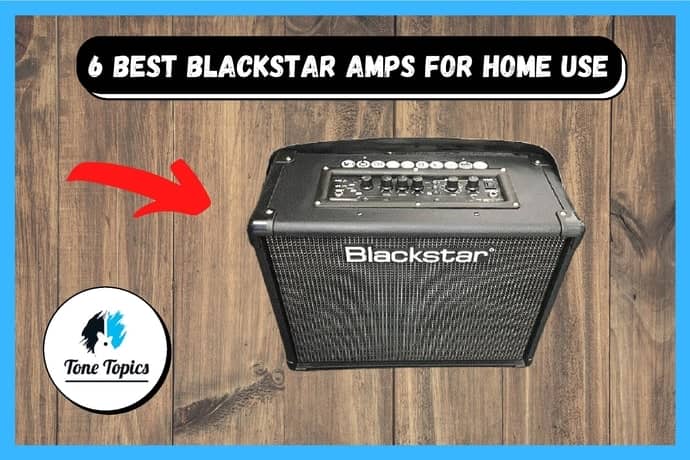 Blackstar has catapulted some exceptional amplifiers to the guitar-loving masses. When it comes to their selection of 'practice amps,' no doubt, there are many excellent choices among their catalog.
And why? Well, excellent tone, highly versatile, tons of features, and ideal for low volume practice.
Within this post, we are reviewing a handful of Blackstar's amps perfect for the home bedroom guitars out there.
First, let's take a look at my handy buying guide, to detail, the main considerations when searching for your next ideal practice amp. Let's jump in!
How to Choose a Practice Amp
1. Solid-State or Tube?
One of the biggest divisions when it comes to guitar amps is on the solid-state and tube-driven ones. Both types have their pros and cons.
Valve/Tube Amps – Pros and Cons
Typically valve amps possess a truer and overall 'better' sound compared to their solid-state counterparts. The reason?
They obtain an authentic tone, amazing dynamic response, and marvelous 'break-up' for genuine smooth distortion and pristine cleans. Largely due to their tube-driven functionality.
On the other hand, they are significantly louder at the same wattage level compared to solid-state amps, they're expensive, they're sensitive, and they require more maintenance with tube replacement after longer use.
When it comes to smaller practice amps, tube-driven ones are noticeably less versatile.
The smaller size comes at the expense of fewer features. Leaving you with an amp with excellent valve distortion and cleans and nothing more.
Meaning additional effects such as reverb, chorus, etc will need to be supplied with additional pedals. in summary, valve amps prioritize genuine valve tones over additional features limiting tonal versatility.
Solid-State / Digital Amps
On the other hand, solid-state amps include way more features including a wide tonal catalog, bundles of effects, Bluetooth, speaker connectivity, recording capabilities, etc.. all while maintaining a small size.
They're also accompanied by integrated effects processors. Meaning they have a large digital catalog of sounds and effects for a wide range of customizable tones. Not to mention they are way more reliable and typically cost far less than tube amps.
The downside however is that players debate their inferior tones compared to tube amps.
The reason being their core tones sound 'fizzy' 'digital' and 'inauthentic.' However, over the past decade, solid-state amps have made considerable strides in improving the authenticity and realism closely mimicking the tones of valve amps.
Hence why a solid-state amp is a typical choice for a dedicated practice-at-home companion. The reason they are cheaper, have way more options for tones and a great plug-in and play practice amp.
2. Ideal Wattage for Bedroom Amps
When choosing a practice amp, you will need to know the ideal ranges for practice amp territory. Obviously, practice amp wattage should be much lower compared to those intended for live gigs.
Solid-State Wattage
First, solid-state amps should be between 10 – 50 watts solely for practicing at home in a bedroom environment. The great thing is that these amps retain thier tone excellently well at bedroom volumes.
Additionally, setting the volume of solid-state amps at a low level will still bring most of their sonic potential into play.
On the other hand, if you require enough volume for jamming alongside a drummer, duos or a potential gigging amp then consider a solid-state amp with 50-150 watts.
Tube/Valve Amp Wattage
If a valve amp is your thing then 5 watts is the maximum for the tube-driven stuff for a bedroom practice amp.
Everything below 3 watts will work well in case you want to use any tube amp's full potential without being too loud in your living space.
As far as tube amps go, you should pick those that have an attenuation control that sets their power down to 1 or even 0.5 watts.
They are vital for dropping the volume down to a more friendly level so you do not disturb your household and neighbors.
However, some want to have an amplifier that could cover both live gigs and home practices. In this case, a valve amp with a minimum of 20 watts is a good figure to choose.
3. Know Your Desired Features
The perfect practice amp for your needs is totally individual. Therefore, it's very handy to have a clear understanding of what you want, and how you utilize it.
Here are the main features from various bedroom amps
A large bank of customizable presets (solid-state amps)
Tons of effects (reverb, chorus, flanger )
Bluetooth connectivity
Line-in – for connecting music device
Additional software to integrate with your PC
Headphone function
Cabinet simulator
Attenuator switch (valve amps only)
Includes footswitch
Practice amps, especially those solid-state ones made especially for home use, often come with effects and digital amp modelers.
This opens up new ways for shaping your desired tones, as well as recording music at home if they have adequate connection features.
But in case you need a simple practice amp without any bells and whistles, you can always go with something more straightforward that has volume, EQ, and gain controls which is common with tube amps.
Now, let's dive into our list…
1. Blackstar ID: Core 40 Stereo – Great Allrounder
ID: Core 40 Stereo amp comes as a great solution if you need something that will get you covered for quiet practice, rehearsals, and jamming needs.
First off, this is a fairly simple solid-state amp with some pretty awesome additions to it.
For instance, it's a stereo device, with two 20-watt channels, meaning that it can give you more depth with some specific effects and settings. While we're at it, the amp is armed with an onboard amp modeler and an effects processor.
The overall control layout makes it pretty simple to use. On the left side of the main panel, which is located on the top of the amp, we have a "voice" switch that basically emulates 6 different amp types.
It covers two clean modes, two overdrive modes, as well as two distorted amp presets. Next to it, we have controls for volume, gain, and a single-knob EQ (essentially like a tone control).
There's also a separate section for its onboard effects, allowing you to add modulation, delay, and reverb. Paired with the amp's stereo setting, you can get some pretty awesome tones with it.
And what's also really exciting here is that you can create and save presets to call up at any time using an external footswitch.
Features
2 x 20 watts of power
Two 6.5-inch speakers
6 amp models
Onboard effects
USB connectivity
Best for
This is a fairly potent amp for beginners or intermediate players who need something for home practice, rehearsals, and small gigs. Using it as an audio interface can also help them learn more about music production. It can also come in handy for some small live shows.
2. Blackstar Silverline Series
Fusing analog and digital technology have been one of guitar amp manufacturers' main goals.
Blackstar also does the same, and we can see that with their Silverline amp as well. This one comes with a total of 20 watts of power driving it through one 10-inch Celestion speaker.
And although the amp technically has only one channel, its feature allows many options for guitar players.
Just like with the ID: Core 40, we have 6 main amp voicings on the Silverline amp. This can also be said for the effects section which is pretty similar to the previous model as well.
However, things get interesting with Silverline's more detailed controls. First, we have separate output volume and input gain controls.
Up next, the EQ features bass, treble, and ISF knobs. Blackstar's ISF, or "infinite shape feature," brings an option to blend between the absolutely scooped tones and those that are mid-range-heavy.
But the most exciting part about Silverline is the variable tube response feature.
Although a fusion of solid-state and digital technology, you can choose between six different digital replicas of standard power amp tubes.
This gives not only a more complex and harmonically richer tone but also some serious dynamic response.
All of these features can be saved as one of the amp's four "channels" that are accessed either using the buttons on the interface or via an external footswitch.
In the end, you can also connect it to your computer using a USB connection. This not only allows different tone-shaping and preset options but also a way to record music in a real-time setting using any standard DAW.
Features
6 voicing modes
6 power amp tube models
ISF control
Onboard modulation, delay, and reverb effects
USB connection
Best for
Silverline is an entry to intermediate-level amp for practice sessions and rehearsals. However, this is the closest thing you'll get to tube-driven amps without having to spend a hefty sum.
3. Blackstar SuperFly – Practice and Travel Amp
SuperFly is a pretty simple and compact amp. The main intention behind such a model was to have something strictly for practice sessions.
But aside from home use, it's perfect for taking it with you on the road, be it a vacation or a tour.
Although seemingly straightforward, the amp has two separate channels. One has a combo XLR and 1/4-inch jack, while the other has only the standard 1/4-inch jack for guitars.
The second channel can be used for both electric and acoustic guitars. The electric guitar mode also allows overdrive. However, both channels come with an additional reverb effect.
The amp, surprisingly enough, has a total output power of 12 watts. It drives through two 3-inch speakers, making the amps fairly compact for this power rate. You can also use its Bluetooth receiver for backing tracks.
Features
12 watts of power
Two 3-inch speakers
Two separate channels
Bluetooth connectivity
Acoustic guitar mode
Onboard reverb and overdrive
Best for
This small amp is a great choice for musicians of any level who just need a simple practice amp. With 12 watts of power, it will be useful for some jam sessions as well.
4. Blackstar HT5R – Best Tube Practice Amp
If you're really into tube-driven amps, then we'd suggest Blackstar's HT5R. It bears one 12AX7 in the preamp section and one 12BH7 in the power amp, driving a total of 5 watts of output power.
This is all accompanied by one simple 12-inch speaker and an emulated cabinet output.
Despite its relatively smaller size and output power, this one is fairly versatile. It comes with a clean and overdriven channel, master 3-band EQ, an ISF control, reverb, and attenuation down to 0.5 watts.
What's more, we have voicing switches on each channel that add tightness to the bottom-ends and boost the mids.
The amp can help you in pretty much any genre and can also be useful for live gigs. After all, 5 watts is enough for some smaller shows and a cabinet emulated output will allow you to plug it into a PA system.
But with the attenuation down to 0.5 watts, you'll be able to practice at very low volume while using its full potential.
Features
5 watts and 0.5 watts power
Clean and distorted channels
ISF control
Emulated cabinet output
USB output
Best for
HT5R is a great option for those who love tube amps and want to keep things quiet and simple. Its 5 watts will be enough for some live gigs since it's a tube amp. And the 0.5-watt mode will be awesome for home practices.
5. Blackstar HT20R
HT20R is a larger version of the HT5R, bringing almost the same features and controls, only with more output power.
While the previous example had 5 watts with the option to tone down to 0.5 watts, this amp has a total output power of 20 watts, along with the 2-watt mode as well.
Of course, the amp is packed with two channels, each bearing a voicing switch. This is also accompanied by a master 3-band EQ and the very useful ISF control that lets you blend between traditionally American and British amp tones.
The other stuff is also there, including the cabinet emulated line out, USB connection, reverb, as well as a 12-inch speaker.
The tube configuration is also different. The HT20R model comes with two 12AX7 preamp tubes and two EL84 power amp tubes.
Although it's a traditionally "British" configuration, this amp is also capable of delivering those "scooped" and smoother tones.
Overall, this is an extremely useful amp for small to medium-sized gigs. An option to tone it down to 2 watts will allow you to enjoy all the great tonal characteristics of tube amps without being too loud.
Features
20 watts of power with a 2-watt mode
Two 12AX7 and two EL84 tubes
USB and classic line out
ISF control
12-inch speaker
Best for
With these features and traits, HT20R is pretty great for smaller to medium-sized gigs. But with the 2-watt mode, you'll also be able to use it for home practice sessions. It also features an amazing dynamic response.
6. Blackstar HT Club 40 – Best for Practice and Gigging
But in case you need an ultimate all-around option by Blackstar, you can't go wrong with their HT Club 40 model. This one comes with 40 watts of power and a 4-watt mode.
The signal goes through two 12AX7 and two EL34 tubes, driving through one 12-inch Celestion speaker.
The controls on the HT Club 40 are pretty much the same compared to the previous two models, with the only difference being the power attenuation.
Another major difference is more headroom. The amp won't clip as easily as others, giving you a much clearer clean tone and a great basis for effects pedals.
Sure, it's more expensive than some other models, but it's still worth every penny. The overdriven channel provides some great options, helping you create anything from smooth to hard-hitting heavy tones.
The most important thing here is that you can use it for home practice sessions and still have a great tube-driven saturated tone.
But with its full power of 40 watts and a piercing tube-driven tone, you'll be able to use it for live gigs of any kind.
You can also use its cabinet-emulated output, although this power rate will be enough for any kind of live gigs if we're talking about tube amps.
Features
Two 12AX7 and two EL34 tubes
12-inch Celestion speaker
40 watts of power and a 4-watt mode
USB and line outputs
ISF control
Best for
It's simply an all-around great option for those who like versatile tube amps. With the 40-watt mode, you'll be able to cover live gigs, while 4 watts will be great for home practice sessions.
Final Thoughts
There are plenty of practice amps these days, but Blackstar offers some of the best examples that money can buy. Whether you're into solid-state or tube-driven ones, you'll be able to find a great amp in their collection. What's more, they also have very diverse amps that can get you covered not only for many genres but for live gigs as well. In short, you can't ever go wrong with Blackstar.