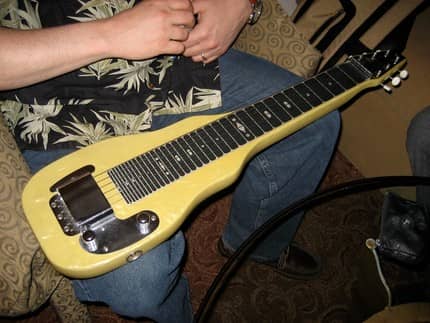 Widely used in genres such as folk, Americana, Hawaiian, blues, and country music.
The lap steel guitar is one of the most rich-sounding stringed instruments out there.
Mastering this instrument gives you a wide variety of tonal choices to either produce unique music or to just have fun with it.
Whether you are a beginner lap steel guitar player or an expert looking to get the right model for you, there is a lap steel guitar out there that will fit your needs and wants.
I have compiled a list of the 7 best lap steel guitars for all budgets to help you find the right one. Let's jump in!
How to Choose a Lap Steel Guitar
What to Expect for your Money
It is no secret that higher-priced instruments are usually of better quality. Knowing how much you are willing to spend will be very helpful in deciding the right lap steel guitar for you.
The price range for entry-level guitars is around $80-$200. There are some great sounding entry-level lap steel guitars out there, which I'll discuss later in this article.
Now, if we jump into the $200-$400 price range, you will surely find great sounding lap steel guitars.
It is at this point that you have to take into consideration specs such as multiple tone controls, tone switches, and overall build quality.
Finally, we have lap steel guitars in the price range of $400 and above.
These guitars will have the best tone possible and will be made out of very durable material. Aesthetics will also play a role in its price.
What I Recommend for Beginners
It might be tempting to get high-priced lap steel guitar if you are a beginner.
However, I would recommend you purchasing one from the lower price-range to ensure you are comfortable with the instrument and are willing to spend time learning it.
It might also be tempting to get a used instrument to lower the price.
I'd definitely not recommend it since it is hard to know what issues the instrument is carrying and might prove to be more expensive in the long run.
Instrument Build Quality
Built quality is the absolute most important thing to be considered when deciding how much you will spend on a given lap steel guitar.
You have to be on the lookout for three main aspects in a guitar's build quality: overall components of the lap steel guitar, the wood it was made out of, and the pickups and electronics of the instrument.
Starting with the overall specs of a guitar, higher-priced lap steel guitars have better nuts, saddles, and bridges. This allows the guitar to have better intonation and it prevents it from falling out of tune constantly.
the electronics in a lap steel guitar are important to determine how much control you have over your sound.
Higher priced lap steel guitars will have better-sounding pickups and will have more tonal controls to adjust your sound.
Wood Quality
Now, the wood used to build a lap steel guitar is really important. It determines the natural tone of the instrument and whether it will improve overtime or not.
Higher priced lap steel guitars will have solid wood, rather than laminated wood.
A solid wood lap steel guitar will have the same piece of wood uses for the whole of the body and sometimes the whole of the guitar.
This ensures a consistency in tone, a more resonant instrument, and will also allow the wood to age, improving the tone through the years.
Lap Steel Guitar Pickups
It is a crucial task to choose the right pickups for your lap steel guitar. This will enable you to have the right tone associated with the genre you are thinking of focusing on.
Single-Coil Pickups
A lap steel guitar with single-coil pickups gives you a bright, twangy tone.
They are also characterized to be thinner sounding than their counterparts. A thin tone is great for intricate picking or a tone that cuts through the mix that grabs peoples attention.
Single-coil pickups are versatile and ideal for styles such as country, folk, and Hawaiian-type music.
Humbuckers
Humbuckers, on the other hand, are fuller sounding and have a lot of mid-range and warmth.
This lap steel guitar is ideal for styles such as blues or rock. Using distortion or overdrive on these pickups is also a great combination.
Humbuckers are also excellent at cancelling hum and pesky feedback when combined with heavy distortion.
Therefore, if you are going to turn the gain up with your lap steel, humbuckers are a great option.
P90s
Finally, we have a hybrid-styled pickup, the P90 lap steel guitar. The P90 is a single-coil pickup with a very similar routing to the one of a humbucker pickup.
This makes the P90 a very versatile pickup and a great choice for someone who does not wish to focus on a specific style of music.
Other things to Consider
There are some external elements you'll think of once you set out on the quest for defining your sound.
The type of amp you use, whether you use pedals or not, and how you want to set up your effects chain will define the style of playing you pursue.
Fender amplifiers are a good place to start if you are looking for something country or blues related. A lot of known players have also favored Mesa Boogie's amps, such as the Stiletto Deuce.
As for pedals, I would recommend you start with a volume pedal. This will provide you with a lot of dynamic control, which is very important.
After that, a reverb or delay pedal is a good choice, paired with a distortion or overdrive pedal.
In the end, you need to envision the type of sound and style you are looking for. By doing this, you will have a better understanding of which pedals are best suited for you
1. Rogue RLS-1 – Best Lap Steel Guitar for Beginners
The Rogue RLS-1 can be easily considered the best lap steel guitar for beginners due to its price vs. quality relation.
Equipped with a single-coil pickup, this lap steel guitar has a crisp, bright tone with a bit of a twang.
Granted, it might not be the best-sounding lap steel guitar in the market, but it can definitely hold on its own and can even be a good choice for seasoned players who need a sturdy, low-budget steel-string guitar without greatly sacrificing a good tone.
The Rogue RLS-1 lap steel guitar is also quite simple to handle. Having only one volume and one tone control, you can adjust your sound in a very fast yet effective way.
The fretboard also includes Roman numeral markings to facilitate your learning of where the notes are.
This full-sized instrument measures around 31 inches in length and has a weight of approximately ten pounds.
The body has a metallic red finish and includes screw-in legs to give you the choice of not having to put the lap steel guitar on your legs but on a stand.
This lap steel guitar is a great option for beginners and at a very affordable price, is a great starter lap steel guitar.
Features
Hardwood body
Single-coil pickup with volume and tone control
Telecaster-type bridge and tuners
Stainless steel pickguard
Includes gig bag and legs
Pros
Good price for beginners
Good quality of sound for a low-budget lap steel guitar
Sturdy and can take bumps and bruises
Simple to use
Cons
Not a lot of control over sound for more experienced players
The color might not be as aesthetic as other products.
Best For
Startup or beginner players looking to get an affordable lap steel-string guitar. Also good for intermediate or experienced players who wish to buy a lap steel string guitar to take on the road or for heavy-duty practice.
2. SX Lap 2 Ash Electric Lap Steel – Excellent for Beginners
The SX Lap 2 is another excellent choice for beginner lap steel guitar players.
This lap steel guitar is made out of American swamp ash and has a maple fretboard that goes up to 36 frets. It is full-sized and measures around 33 inches in length and weighs around 10 pounds.
Paired with a single-coil P90 pickup, the SX Lap 2's tone is very bright and clear, which is an ideal place to start tone-wise.
Another great thing about the P90 is that it produces less hum than a normal single-coil pickup, which is a bonus.
The SX Lap 2 is also very simple to use since it has just one volume and tone control. It comes with a gig bag and foldable legs to alter between playing it in your lap or on a stand.
Both the SX Lap 2 and the Rogue RLS-1 are the best options for someone who wishes to get a pretty solid-sounding lap steel-string guitar without having to break the bank.
The same applies to more experienced players who are looking for a "practice" lap steel guitar to carry around.
Features
American swamp ash body with a maple neck
Goes up to 36 frets
P90 Single-coil pickup
Diecast chrome tuners
Includes gig bag and legs
Pros
Low-budget option for beginners
Great sounding for its price
The finish is quite simple but nice
Cons
Tone is pretty bland and might not have enough versatility for experienced players
Best For
Beginner players who wish to start off somewhere where they don't have to spend that much money but can still get a pretty good-sounding instrument.
3. Recording King RG-32 Lap Steel – Proven and Affordable Lap Steel
Recording King has been on the market for a long time and has made a fantastic job at creating an entry-level lap steel guitar that has a good, consistent sound for a very affordable price.
The result? The Recording King RG-32.
The Recording King RG-32 is made out of solid mahogany, which is something you would not expect from a lower budget lap steel guitar.
This is probably the biggest asset this lap steel guitar has and it might be a deciding factor for you.
It also comes with metal button tuning machines and a perloid fretboard (which is quite pretty).
As for sound, this lap steel guitar comes with a Single EMG-Designed P90 pickup, which gives you a mid-range tone with clarity and presence.
Not a lot of control over tone but its natural sound is quite good and makes for an excellent beginner's choice.
Features
Solid Mahogany neck through body
P90 single-coil pickup
Perloid fretboard
Pros
Great sound for a low-budget lap steel guitar
Very resonant and with a lot of sustain
Easy to handle and great playability
Cons
Not a big fan of its aesthetics
Not a lot of control over tone
Best For
This one is an excellent choice for a beginner who wishes to get a lap steel guitar with a bit of a higher quality than all of the other entry-level choices. It is a good choice for an intermediate player as well.
4. Vorson SL-100E Professional Lap Steel – Great Mid-Tier Lap Steel
The Vorson SL-100E is one of the best lap steel guitars at a mid-range price out there.
The two main reasons are the wood used to build it and the tone versatility it has. This lap steel guitar is made out of solid mahogany, which is used both in the body and the neck.
This gives you a naturally warm tone that will improve as the wood ages over the years.
As for the electronics, the Vorson SL-100E is paired with two P90 pickups (one on the neck, one on the bridge) and a three-way toggle switch.
This gives you a lot of tonal options to choose from, making it a very versatile instrument.
Finally, the Vorson SL-100E is equipped with Vorson's VSY-01 active electronics (you'll need 9V batteries). This gives you an exceptional tone with a lot of clarity and brightness.
This lap steel guitar is a fantastic option for intermediate players and the occasional beginner who wishes to start their lap steel guitar journey with a bang.
Features
Solid Mahogany neck through body
Rosewood fretboard
Two P90 pickups
Three-way toggle controls for tone knobs.
Includes padded gig bag, cable, 9V battery, and tone bar.
Pros
Great resonance that will improve over the years
Excellent, consistent tone.
It offers a lot of versatility sound-wise.
Added materials (gig bag, cable, battery, and tone bar) are a big plus
Cons
A bit on the expensive side, especially for beginners
Expert players might want a lap steel guitar with a richer tone
Best For
Intermediate players. Not really recommended for beginners who are unsure of whether they'll stay with the instrument for long, as it is expensive.
5. Gretsch G5700 Electromatic – Professional Quality Lap Steel
Gretsch is one of the most renowned manufacturers in the business.
Their quality build and their aesthetics make Gretsch guitars very recognizable and sought out for. The G5700 Electromatic is professional, quality lap steel.
As most of the top tier lap steel guitars on this review, the G5700 is made of a solid mahogany body and neck. This gives it a very nice tone, a lot of resonance, and sustain for days.
It's important to mention that most of the hardware on this lap steel guitar is chrome-covered, which provides durability and a nice aesthetic.
Speaking of aesthetics, the G5700 comes with either a tobacco sunburst or a black sparkle finish. Both finishes are quite beautiful and are a bonus to this lap steel guitar.
Tone-wise, it is paired with a chrome single-coil pickup that gives it brightness and presence.
This makes a good combo with the solid mahogany body and gives you a well-rounded sound. The G5700 is a great-looking guitar with a very nice sound to it.
Features
Solid Mahogany slab body
Single-coil pickup with tone and master volume controls
Chrome-covered tailpiece, bridge, and switch tip
Up to 28 frets
Pros
Great tone, sustain, and resonance.
Gretsch is a very reliable brand
Both tobacco sunburst and black sparkle finish are very aesthetic
Cons
A bit pricey, especially for beginners
Some people have complained the tone and volume knobs are too heavy and a bit hard to handle
Best For
Intermediate and experienced players. It is well suited for beginners as well if you are willing to invest in it.
6. Asher Guitars Electro Hawaiian – Best Quality for Experienced Players
Bill Asher is one of the most sought out Luthiers in the guitar and lap steel world. In 1982 he decided to set up his own company to manufacture some of the best sounding instruments.
Needless to say, the quality of the Electro Hawaiian is excellent in every possible way.
The Electro Hawaiian is a 25-inch scale with 22 frets. The width of the frets is slightly larger than other lap steel guitars, giving the player more comfort to play.
As for the sound, this lap steel guitar comes with two sets of humbuckers. This allows you to have a myriad of sounds at your disposal and provides you with a lot of versatility.
It comes with a volume and a tone knob, along with a toggle switch to blend the tones of the humbuckers.
Guaranteed, this one is a bit higher in price-range and might not be your best option if you are just starting.
However, if you decide to commit to exploring the lap steel guitar world for a long time, you might save yourself some bucks by skipping the "trial phase" and going straight for a great-sounding instrument.
Features
Solid mahogany neck and body
Paired with two humbuckers
Comes with a sturdy gig bag
Pros
Excellent quality and sound
Made out of solid wood, more sustain
A lot of versatility in your tone
Great playability and comfort
Cons
A bit higher price that other entries here
Best For
Intermediate or experienced players. However, it's also a good option for beginners who know they will commit to exploring the instrument and wish to have a better quality instrument right from the beginning.
7. Gold Tone SM Weissenborn – The Ultimate For Hawaiian
Gold-Tone is one of the most sought out manufacturers and has been for a long time.
In addition, the Weissenborn is also one of the most famous lap steel guitars and for a good reason.
This lap steel guitar is not an electric guitar and is really only recommended for anyone who wishes to have that unique Hawaiian sound without focusing on other styles.
The quality of this instrument is incredible and the amount of detail given to this instrument makes it a top choice for anyone interested in getting a high-quality lap steel guitar.
Similar to the Vorson SL-100E, the Gold Tone SM Weissenborn is made out of a solid mahogany body, back, sides, and neck.
This will give you a warm consistent tone with a lot of sustain and resonance. Adding to its value, you will also get gold tuners and hardware to give this lap steel guitar very nice aesthetics.
Sound-wise, the Gold Tone SM Weissenborn offers a lot of warmth and sustain. Its tone is very much reflective of the Hawaiian sound, which is part of the whole vibe of this lap steel guitar.
Features
Solid mahogany throughout
Beautiful finish and aesthetics
Great materials and hardware used on this instrument
Pros
Very rich, warm sound
Made out of solid wood with a lot of durabilities
Good playability
Cons
Somewhat expensive
No electronics to amplify
Not a lot of versatility in sound
Best For
Players who wish to dive deep into the Hawaiian and acoustic lap steel sound and are not looking for an electric lap steel guitar.
Frequently Asked Questions (FAQ)
Can you play a lap steel guitar like a normal guitar?
It is not possible to play a lap steel guitar like a normal guitar. To start, a lap steel guitar does not have frets, only markings. Also, lap steel guitars are made out of thicker strings so the friction of the tone bar does not damage them. Finally, the separation between the strings and the fretboard is larger to help you with the contact between the strings and the tone bar.
What is the difference between a pedal steel guitar and a lap steel guitar?
A pedal steel guitar will have pedals and levers that change the pitch of the notes. It is a more complicated instrument and will likely be more expensive as well. They also have different tunings. Pedal steels will usually be in E9 tuning, while lap steel guitars will usually be in C6 tuning.
Do lap steel guitars have frets?
Lap steel guitars do not have frets; they only have fret markings. This enables you to have a consistent, legato tone. It is possible to attain the same result with actual frets, but your touch has to be considerably lighter to contact with the frets. That is why having no frets is much easier. Lap steel guitars do have fret markings and serve as a reference to the player.
How do you tune a lap steel guitar?
Lap steel guitars have the same tuning process any guitar will have. The difference comes in the strings and the actual tuning. Lap steel guitars require higher gauge strings for them to sound well. As for tuning, lap steel guitars are not in standard tuning (E-A-D-G-B-E). Some tunings used for lap steel guitar are C6 tuning, Open G tuning, E9 tuning, etc.
What is the most common tuning for lap steel?
The most common tuning in a steel lap guitar is C6 tuning. A lap steel guitar will normally have the following tuning: C-E-G-A-C-E, low to high string. The reason it is called a 6 tuning is that you get a major triad with an added 6th. In the case of 8-string lap steel guitars, the tuning is as follows: A-C-E-G-A-C-E-G, low to high string.
Thanks For Reading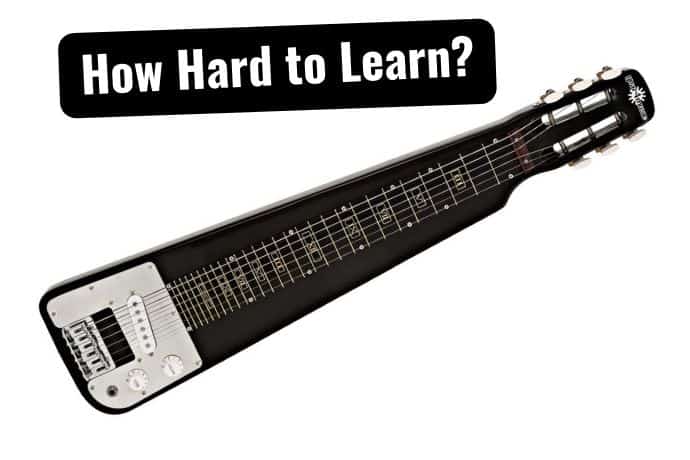 Still not convinced why you should pull the trigger and start learning on the lap steel?
You should then read my next post… "5 Reasons Why You Should Learn Lap Steel Guitar"
I explain how learning this quirky instrument can improve and transfer your skills to a regular 6 string electric guitar!