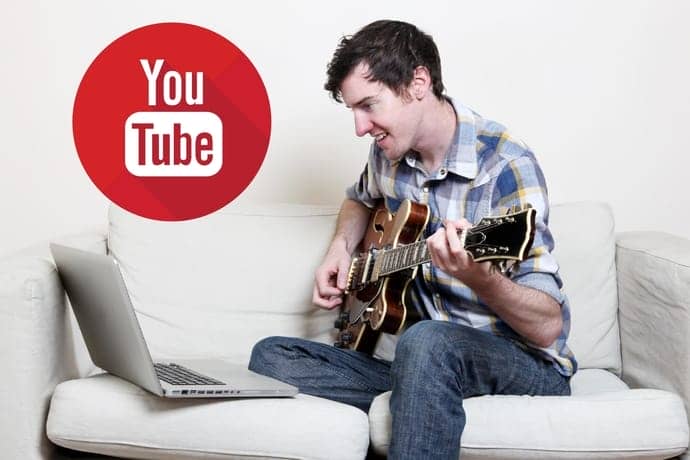 We live in a time when it's possible to learn almost any skill using the wonders of the internet. With a platform like YouTube, almost everything is at your disposal.
But what about Learning guitar on YouTube? Can you learn the guitar entirely using this platform without paying for private lessons?
Furthermore, I will address the challenges, including the pros and cons of learning guitar on YouTube plus other traditional methods.
All of this advice will certainly assist you in your guitar learning journey. Sound good?
So let's ask the question again…
Can You Learn Guitar on YouTube?
You can absolutely learn guitar on YouTube as a beginner without having private lessons. However, this method may be more difficult as there is no tuition and direct feedback from an experienced teacher if you get stuck. It wise to choose a well-structured guitar program as a beginner in order to aid progress.
Whether you choose to get private lessons, pay for an e-learning guitar course, use books, or use YouTube (or a mixture of all of these.)
Keep in mind, there is no right or wrong way to learn guitar based on these methods.
Pros of Learning Guitar on YouTube
Endless Variety of Guitar Lessons
The most significant pro about YouTube is the infinite amount of guitar content to learn from other content creators.
Not to mention, all of this content is only a mouse click away and is completely free!
You can learn from experienced teachers and players catering to beginners to advanced guitar players alike.
Everything from learning….
Guitar fundamentals
Guitar techniques
Any song you like
Music theory
Tips and tricks
Guitar gear and reviews
The age of the internet has transformed the way we learn, and learning guitar is no exception.
Learn Anywhere Anytime
Another significant aspect of this educational method is that you can access these video lessons through any device that supports YouTube or a regular internet browser, and not leaving the comfort of your home.
This comes as an advantage as you won't have to attend lessons usually around a guitar teacher's time.
Secondly, you won't spend time in traffic going to these lessons that preserve more precious time for your life's essential commitments.
Choose What you Want to Learn
Another great advantage is that you can choose to learn the musical styles that you prefer.
While plenty of guitar teachers will bore you to death with some nursery rhymes at your beginner stages, or songs that you don't like but you have to play because they are "simple to learn."
You'll be able to go straight into the juicy stuff and learn the basics through some of your favorite rock or metal songs. Or, find beginner lessons focused on musical genres that appeal to you the most.
This keeps things fresh and keeps you hooked on learning guitar in the long run. YouTube also provides the content and guitar learning resources that appeals to you the most.
Learn at Your Own Pace
In the end, it's also important to note that by using YouTube, you'll be able to learn at your own pace.
You can progress from one lesson to the next in your own time. If essential things in your life take over, then simply click back when you find the time to learn around a busy schedule.
Maybe you prefer to take it easy, perhaps you choose to do it all on your own. Be that as it may, this approach allows you to do it the way you want to.
It's Completely Free!
What's excellent about YouTube is there are infinite amounts of guitar teachers on the platform ready to teach you literally anything on guitar.
And the best part is that you can find all the necessary basic and advanced lessons for absolutely free.
All you need is your device, internet connection, your guitar, and away you go! If you do not want to pay for private lessons, then YouTube is the obvious choice.
Since face-to-face guitar lessons can cost $30+ each and not forgetting, you often pay for several classes at a time.
YouTube is a much cheaper alternative to paying for private lessons from a guitar teacher. 
Cons of Learning Guitar Through YouTube
No Direct Feedback
The most obvious downside of learning guitar on YouTube as a complete beginner is that there's no direct feedback from a guitar teacher.
Therefore, you won't be able to notice your mistakes, you won't be able to ask questions or get immediate feedback. You may also pick up some bad habits.
Without an experienced guitar player supervising your progress, you literally have no idea where you are going wrong and what to do about it, leading you to become increasingly frustrated. 
And because of this, a beginner can become so frustrated in the early stages forcing them to quit altogether.
After all, getting rid of some mistakes and bad practices early on can make a world of difference for any guitar player.
No Structured Program
Another issue with learning guitar entirely on YouTube is there tends to be a lack of structured learning.
Sure, the YouTube platform has endless amounts of high-quality lessons from experienced guitar teachers.
The problem is there's almost too much information to digest at once, which can make a beginner bounce from one unnecessary lesson to the next in a non-structured way.
As a beginner, they are likely to not know what they should be practicing in the early stages.
What's more, most YouTube guitarists focus on simple tricks or individual songs or song sections. But if you want to learn to play an instrument the right way, then there has to be a well-conceived program for a beginner.
As a result, there's a high chance you'll be discouraged and quit the guitar altogether due to a lack of structure.
Therefore, having a structured program either from a guitar teacher, book, or guitar course will steer a beginner in the right direction to learning all the guitar fundamentals and avoid the stuff they don't need.
More importantly, this keeps a beginner progressing and ultimately saves them from becoming stuck and frustrated.
Ultimately, keeping them engaged, motivated, and assisting them to stride out of the annoying 'beginner phase.'
How to Approach Learning Guitar on YouTube
If you are a beginner, you should be practicing the guitar fundamentals until you have these down such as…
Basic chords
Barr chords
Power Chords
Simple riffs and single-note lines
How to hold a pick
How to read guitar tabs
Learn simple songs
Clearly, there are tons of lessons on these fundamentals above; the problem is that beginners can end up bouncing from one unnecessary lesson to the next.
For example, sweep picking, tremolo picking, or attempting to learn a favorite song that can be too difficult for a beginner.
Therefore, to avoid frustration as a beginner, you should enroll in a highly rated guitar YouTubers fundamental series of videos.
This is to learn the basics and avoid bouncing from one unnecessary lesson to the next.
Once you have these down, you can then attempt to learn some of your favorite songs in simplified versions. Or, if you want, attempt to learn basic music theory if you are a keen songwriter.  
Here are some of my recommended guitar tutors on YouTube you need to check out. These channels have an excellent series of beginner lessons you have to work through.
Best YouTube Channels for Learning Guitar
Justin Guitar
Justin Guitar is one of the most popular YouTubers among guitar beginners. He has a hands-on approach in giving beginners a great platform to learn how to play some of the best-known pop and rock songs the right way. He even gets into some of the nuances that will help it all sound like the original recording.
Marty Music
And Marty Schwartz of Mart Music channel is pretty similar, although he uses a much simpler format and even a somewhat humorous approach. This can be more than helpful for beginners, especially if we're talking about those who have trouble motivating themselves to learn new stuff.
Andy Guitar
What's so great about Andy Guitar compared to some other YouTubers is that he has a very systematized and structured program for absolute beginners. If you have just taken a guitar in your hands and want to cover everything step by step, then check out his channel.
JamPlay
JamPlay is one of the channels that feature multiple guitar instructors. With thousands of videos uploaded on their channels, they cover anything from basic beginner stuff and up to higher intermediate territories.
Your Guitar Sage
Started and led by Eric Andreas, your Guitar Sage is a channel that focuses mostly on beginners and intermediate players. However, it's also handy for advanced guitarists who might have missed out on some of the basic concepts essential for superb performance qualities.
Music Is Win
On the other hand, we have Music Is Win channel led by Tyler Larson, which is mostly a guitar-oriented vlog. Additionally, Tyler also does simple lessons that explain some of the concepts of acoustic and electric guitar playing. This channel is beneficial for intermediate players who want to spice things up a little.
Pros of Tutored Guitar Lessons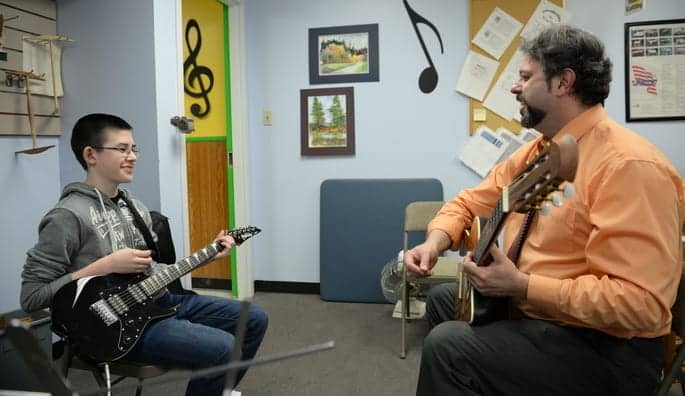 The biggest advantage of conventional face-to-face guitar lessons is that you can get immediate feedback on whether you're doing right or wrong things at any given moment.
This goes both for guitar playing techniques as well as a practical application of music theory.
And it's this same advantage that will help you get rid of all the bad or unwanted habits you currently have.
Sure, you can spend hours and hours practicing, but it makes no difference if you're not doing the right thing.
Before every practice session, you'll remember what your guitar teacher told you to pay attention to and will have a more productive and effective time spent with your guitar.
Probably the most important aspect of conventional guitar lessons is the trained teacher will provide a well-conceived and structured plan to maximize progression and avoiding frustration.
You'll be able to follow a program that was devised by professional musicians and go step by step according to your current guitar playing skills.
This should all be accompanied by a music theory program that will explain the background behind the music that you're playing, music that you're writing, or lead sections that you're improvising at any given moment.
In the end, it's also important to note that there's a way higher chance that you'll be motivated to keep learning, practicing, and achieving your goals.
Cons of Tutored Guitar Lessons In Person
But knowing that nothing is perfect, tutored guitar lessons also come with their own set of disadvantages and downsides.
The first thing that everyone complains about is the cost of guitar lessons. Yes, it will be much easier to learn everything this way, but many are often discouraged when they put things on paper.
What's more, in this day and age when we're focusing on our academic and professional success.
It becomes increasingly difficult to find enough time to actually go out there and take guitar lessons at a given time when it works for both you and the teacher.
Adapting to someone else's schedule can quite often be tiring, both for a teacher and a student. After all, you might not always be in the right mindset to have a productive guitar lesson.
Another problem that comes to mind is whether you'll be able to find the right teacher for you. At the end of the day, we're all human and no matter how great of a tutor someone is, they just might not be the best choice for your needs.
How many times have we all gotten the chance to see this particular issue occur in pretty much any walk of life?
Imagine that a teacher follows a particular program that covers musical genres that you just don't enjoy. It can result in very unproductive and even discouraging lessons that might turn you away from the guitar altogether.
Guitar Lessons vs. Learning Guitar on YouTube
It kind of gets tricky when you put the regular guitar face-to-face lessons and various YouTube channels next to each other as a comparison.
As we've already seen, both of these options come with their own pros and cons. If it's possible, the best thing to do is to try both methods and see what works best for your particular case.
There are plenty of professional guitar players and very successful songwriters who haven't ever taken a single lesson.
On the other hand, there are plenty of guitar players and songwriters who have either taken lessons or have graduated jazz or classical music at prestigious universities. The most important thing is to find a method that suits your needs.
Going down the YouTube path is basically the modern version of an auto-didact musician. It works for those who get the best results by doing stuff on their own and at their own desired pace.
At the same time, you can also combine both methods and get the full potential of YouTube and regular lessons.
What's more, some guitar teachers are even encouraging doing both of these methods as it can all broaden up both you and your teacher's horizons.
Are Online Guitar Courses Worth it?
Another very useful alternative here comes with online guitar courses.
Unlike standard YouTube channels discussed here, these courses follow a specially devised teaching program with concrete goals.
Popular online guitar courses include:
Guitar tricks
Jamplay
Fender Play
JustinGuitar
Jamorama
Truefire Guitar
Orange Learn
Sure, just like with the YouTube learning method, you'll lack the direct first-hand feedback that you'd get during regular music lessons.
However, these online courses also come with an option to use e-mail support and ask any questions you might have, no matter your current skill level.
You can get all the necessary tools and support to get you started if you're an absolute beginner for a fairly reasonable price.
Of course, they also have programs for more advanced guitar players and will get you covered on plenty of other stuff as well. Other similar online guitar programs mostly focus on beginners and intermediate players.
This is somewhat of an "in-between" option that can help you learn to play acoustic or electric guitar from scratch.
Learning Guitar on YouTube – Final Words
As already mentioned, there's no "right" or "wrong" way to learn guitar. Therefore, I recommend that you try both conventional guitar lessons and learning through YouTube. It's only then that you will figure out how much progress you make with both methods.
Wait Don't Go…
Enjoy this read? Then you have to check out my next post, it's my full step-by-step guide on how to create awesome guitar videos for YouTube. You can view this post here!