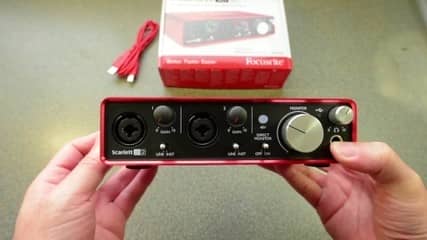 A professional and high-quality audio interface is the backbone of your guitar recordings and mixing endeavors, no matter what level of producer you are!
The purpose of a professional sound card is to ensure your guitar's signal is captured as clear and transparent as possible excluding any latency within your recording software.
At the end of the day, the audio interface is essentially the capturing hub of your recordings laying the foundation of your guitar tracks to later add plugins, compression, EQ and effectively mix.
There's no denying that USB audio interfaces are the industry standard for home recording, as all PC's have USB ports making them the most versatile and the best choice for home recording and beginners learning the ropes.
As with the current popularity of USB interfaces, there's no shortage of devices to choose from. With the intention of mostly recording guitar, however, there's a number of things you should know about the device before purchasing…
Number of Inputs
Luckily recording guitar will technically only require a single input. However, the benefit of having a two-channel device opposed to a single channel is the configuration of studio monitors with '2 ins' and '2 outs' and the flexibility of recording additional instruments simultaneously.
A dual channel interface also has the ability to record two mono signals or a single stereo signal at once. You will also want a device that includes combination inputs for added flexibility as they can take both 1/4 inch jacks for guitars and XLR inputs for microphones.
Inputs Required?
For all you future band producers out there, it may be wiser to purchase an interface with multiple inputs now as recording a drum kit will require a minimum of 4 inputs and recording a live band will require a minimum of 8.
If you are recording using a condenser microphone for additional vocals, for example, the device will need phantom power to run the mic, luckily most entry-level USB interfaces include a phantom power switch as standard nowadays.
Do Different Interfaces Affect Recording Quality?
When it comes to differences in sound quality between audio interfaces, the main factors are the quality of the preamps and the quality of the AD/DA (analogue to digital) (digital to analogue) converters.
A preamp is a device within the audio interface that boosts the signal from the instrument to an audible level for recording.
A good set of preamps will ensure that the signal includes clarity, color and definition, maximizing the sound quality of the instrument in your software.
A low-quality preamp will result in a weak signal, increasing the gain to improve the signal strength will result in recording too hot, minimizing headroom for post mixing.
What does Bit Depth Mean?
Bit depth refers to the quality and representation of the converted analogue signal (from instruments) to a digital file for use in your recording software. As bit depth increases, you increase the dynamic range that can be heard and recorded in your DAW.
The standard bit depth used in modern recording is 24 bit, with some devices having the capability of recording up to 32-bit which is overkill in my opinion. The bit depth for any audio interface that I recommend is the standard 24-bit rate.
What does Sample Rate Mean?
When viewing the specifications of multiple interfaces, you will notice that different devices have the ability to record at different sample rates.
Some manufacturers like to advertise this as a major selling point. However, don't be fooled. The sample rate is not as important as you think. The sample rate is the audio equivalent to videos 'frames per second'.
Basically, how many 'snapshots' are taken of the audio every second. Sample rate is a hotly debated topic in the pro audio world but not that important if you are a beginner.
Is the Sample Rate important?
Most modern audio is recorded either at 44.1 and 48 kHz, with some devices having the ability to record up to 198kHz. You would think recording at a higher sample rate would result in higher quality audio? Wrong, this isn't the case at all.
Recording at higher sample rates has little benefits as it uses more data, CPU power and hard drive space with little to no noticeable difference in sound quality compared to a 44.1 kHz recording.
It is useful to know when purchasing an interface, a device that records a minimum sample rate of at least 44.1 kHz is a safe bet and it isn't essential that you have an interface that can record up to 198kHz.
Best Budget USB Audio Interfaces for Guitar
Focusrite

Scarlett

2i2

(

2nd

Generation Model)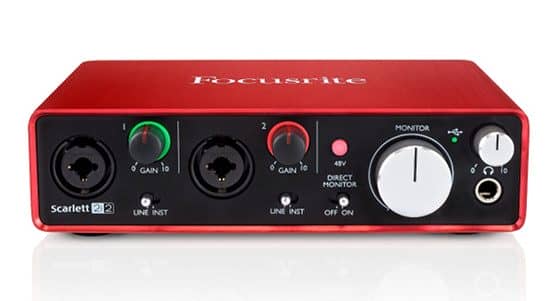 Quick Summary: This interface includes high-quality preamps, fantastic signal processing capabilities and for the money, is the best two-channel USB audio interface on the market.
This device is compatible with all DAW's including Pro Tools, Ableton, Logic, Reaper, Cubase, Garageband etc.
The Scarlett 2i2 (second gen) is a well-known cult favorite within the home recording community and continues to be the best selling USB audio interface in America for a number of years.
This is no surprise as judging by its features, price, and popularity. The Scarlett 2i2 is one of the best choices you can make when choosing a budget interface for recording guitar.
The First Impressions
The device feels tough and rugged and is finished off nicely with a red-coated aluminum chassis. The dials feel sturdy and have a nice amount of resistance to them with no wobble indicating high quality.
There's little paperwork that comes with the product mainly due to the user guide being accessible online via the Focusrite website. Setting up the device with your PC is as easy as connecting to the USB port and downloading the drivers which are accessible via the Focusrite website.
Having a USB powered device as is useful for having less clutter and wires around the workspace. Once the drivers are installed, the device is ready for use in any recording software without any compatibility issues.
Features
This audio interface includes 2 combo inputs for connecting either a ¼ jack for guitars or an XLR input for a microphone. You can record both inputs simultaneously regardless of the instruments connected. There's an input selector switch to choose the input type.
If you are recording a guitar set the device to the instrument, if recording a microphone set the device to 'line'. There's a phantom power switch for microphones that require additional power such as a condenser microphone which comes as standard on most USB devices.
If you engage the phantom power and have a ¼ jack instrument connected the device will just ignore it. The device comes with a halo clipping indicator around the gain dials which gives feedback on the signal strength. Green indicates a healthy signal, whereas red indicates a hot signal likely to clip.
Having a clipping indicator is a must-have feature on any audio interface in my opinion. It allows you to set the correct recording levels by creating a "loud event" which indicates your ceiling, recording below this ceiling would be the appropriate level which will result in enough headroom.
There's a switch that gives the user the option for direct monitoring which I don't typically use for my set up but it's there regardless.
There are 2 outputs for configuration with a set of studio monitors and a dedicated monitor volume dial on the front of the device.
I don't usually mix with headphones because they usually lie and vary in sound when mixing with monitors. However, there's a trusty headphone input with a monitor volume dial if you feel the need.
How Does it Sound?
Focusrite has a reputation for good quality preamps within in their interfaces, the Scarlett 2i2 is definitely within this category. I mainly use the Scarlett 2i2 for recording guitar and bass, I record vocals on the rare occasion. The previous model was known for having trouble with high output guitar pickups causing clipping.
However, this model handles guitar pickups with ease and offers plenty of headroom for mixing and post-production effects. The raw signal sounds bright, clear and impressively, has plenty of strength without a large amount of gain.
This translates to an authentic tone when using plugins such as Amplitube 4 (my main amp simulator). This audio interface can record up to 192 kHz at 24bit which is impressive for a product at this low of a price.
Best for:
Recording guitars, basses, vocals or using a microphone to record an amplifier
Low latency recording
High-quality recordings for use with plugins such as amp simulators
Beginner and intermediate home recording projects
PC and Mac users
Main Features:
2 combo inputs for ¼ inch jacks and XLR inputs for microphones
2 line outputs for configuration with studio monitors
High-quality

preamps

for an excellent signal to noise ratio
Ring light indicators for feedback on signal strength (useful feature to highlight if the signal is clipping)
Direct monitoring switch to turn on or off zero-latency monitoring
Monitor volume dial
Records up to 24 bits
Records up to

192kHz

for higher sample rate recordings
Includes phantom power for condenser microphones
Switch between ¼ input (instrument) and XLR connection (line)
Headphone input and volume dial
Simultaneously record 2 inputs
Aluminum cover looks sleek and feels very durable
Main Reasons to Purchase:
Best value for money
Professional sound card for a small price
High-quality signal processing and low latency
Includes

Focusrite

quality

preamps

and AD/DA converters
A quality proven audio interface within the home recording community
Flexibility (compatible on PC and Mac)
No clipping issues with high output guitar pickups
Compatible with all recording software
Easy to use and simple to set up
Portable and durable
The Negatives:
No MIDI inputs/outputs. However, most MIDI devices transfer data through USB nowadays.
Behringer
U-Phoria
UMC204HD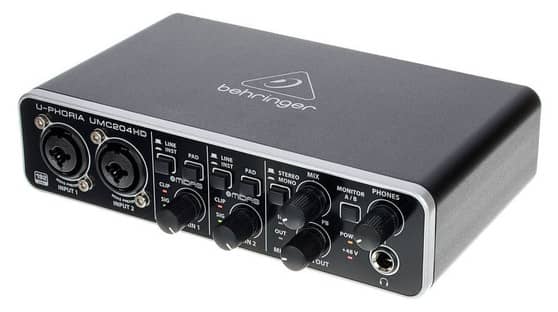 Quick summary: the Behringer U-Phoria UMC204HD is a budget, versatile and high-quality audio interface that includes a ton of features for a tiny price tag. This device has the benefit of MIDI ins and outs for the option of MIDI gear and an additional set of outputs for an external signal modifier such as a compressor unit.
This device includes Midas preamps which are high quality and deliver a clear and transparent signal whatever instrument you wish to record, with an optional PAD switch to accommodate high output guitar pickups.
The mix control allows direct monitoring that offers zero-latency playback which is a very useful feature. The Behringer U-Phoria UMC204HD is the upgraded version of its single-channel little brother including more features and perfectly caters for the home recording musician.
First Impressions
This device has a black and grey metallic coated cover which feels sturdy, durable and has a good amount of weight to it.
The dials feel smooth and have enough resistance which gives the user the overall impression of high build quality.
The front panel includes more of a cluttered feel compared to the Focusrite Scarlett 2i2 with all the extra buttons, yet Behringer does a great job of logically placing them in a practical way for simple use.
What are the Features?
The device includes dual ¼ inch jack and XLR compatible inputs with each channel including the designated instrument and line buttons for simultaneous recording.
The signal and clipping indicator on the front panel to indicates any excessively hot signals and an indicator light for the use of phantom power and MIDI signals.
The independent pad buttons are included for the musician with high gain equipment such as high output guitar pickups or condenser microphones.
Behringer does not disclose how much the pad buttons decrease input gain but after testing them, it would probably be around -12db if I had to guess.
The stereo/mono button allows for the choice of output for your signal either in stereo or mono. The direct monitoring mix dial allows you to adjust how much zero latency monitoring you hear back from the computer. The last input is for headphones with a designated a volume dial.
The back of the device gets a little more interesting, there's a standard set of outputs for configuration with a set of studio monitors and an extra set of outputs that bypass the preamps for external signal modifiers, such as a compressor unit or an external preamp which is a nice added feature.
The dual RCA connections are for application of DJ equipment or studio monitors that utilize RCA for added versatility.
The MIDI in/outs is included for musicians who use keyboards or any other MIDI equipment which is impressive for an audio interface at this price range. The phantom power switch for condenser microphones is also included on the back of the device.
How Does it Sound?
This audio interface includes Midas preamps which are high quality for a product at an extremely affordable price. The signal from the guitar had a good amount of strength with the Midas preamps and reached past 80% without clipping when tested using Reaper.
The signal also sounded clear without sounding distorted even with the gain past 80%. Overall I was impressed with the sound quality of this device and would definitely recommend for recording and mixing.
Best for:
Entry level musicians
low latency recordings
Quality recordings at an extremely low price
Additional use of external devices such as compression or external preamp
Use of MIDI
Home recording on a budget
Main Features:
Dual channel inputs ¼ jack and XLR microphone compatible
Quality Midas

preamps

Mix dial to control the amount of zero-latency monitoring and amount of computer playback
MIDI in and out inputs
Pad buttons for sensitive equipment such as condenser mics or high output guitar pickups
Signal and clipping indicator for signal strength feedback
Phantom power for condenser microphone
4 RCA outputs
4 outputs to connect to monitors and external signal processors
192 kHz sample rate
24 bit depth
Reasons to Purchase:
Lower price than the Scarlett

2i2

for users on a tighter budget
High-quality recordings
Selection of output options at a low price range
Simple and easy to set up
Versatile amount of options
PC & Mac compatible
Durable
Negatives:
Phantom power switch is on the back of the device, which is to be expected with so many features on the front.
Focusrite

Scarlett

2i2

vs

Behringer

UMC204HD

This video compares the recording quality between both devices!
Summary
If you are new to home recording or looking for a cheap professional audio interface.
Both devices I have recommended are the best options for recording instruments as they include all the necessary features you would need at a budget price.
The Scarlett 2i2 has the popular Focusrite recording quality, while the Behringer UCM 204HD is slightly cheaper and includes the optional MIDI and output options for extra instruments.
Either of these devices would serve as a useful and reliable investment for most recording projects at a budget price.
Adam