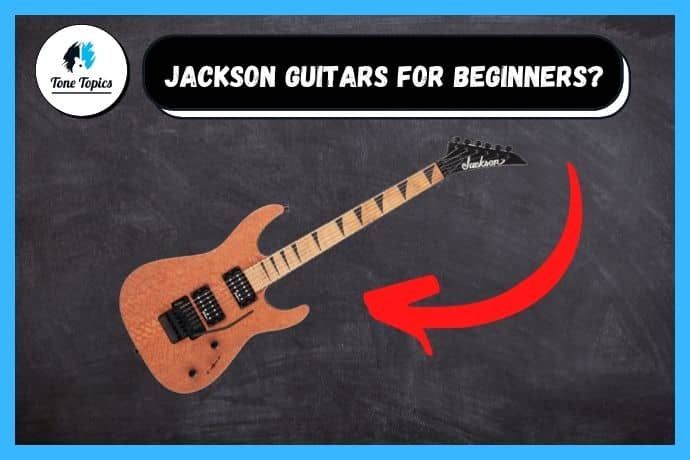 Jackson is undoubtedly a heavyweight brand within the metal and rock industry. Iconic for pointy, flashy, and menacing axes built for shredders, technical players, and chugging metalheads.
But are they ideal for beginners?
In this post, I will unwrap whether this brand is a solid choice for players starting their guitar quest and, importantly, why?
We will look at which series and guitars are best for beginners' budgets and requirements in a first or second guitar.
Let's dive in…
Is Jackson Good for Beginners?
Jackson caters to beginners with many 'affordable guitars' from the popular JS Series. This series offers a great selection of entry-level guitars with great overall quality. Jackson guitars are also comfortable and highly playable with slim necks and bodies ideal for beginners who want to play metal and rock.
As explained above, Jackson is a solid brand for a beginner guitar player looking to play the destructive sound of metal and rock.
Recognized for offering 'shredding' and 'chugging guitars' all geared to cover the vast subgenres of metal. This guitar company is recognized for…
'Metal inspired' body shapes – Flying V's, Superstrats & more
Slim tapered necks – for fast technical playing
High-output humbucker pickups – Ideal for high-gain metal tones
Tremolo bridges – for crazy 'Rhandy Roads-style' wizardry
Flashy and dark menacing paint jobs – for style and substance
Why Choose a Jackson Guitar As a Beginner
1. Great Quality for the Price
Many brands use the poorest-quality tonewoods and materials for dirt-cheap guitars ($150) aimed at beginners.
The problem is however, they don't stay in tune (which is essential), they sound terrible and have awful build quality.
One of the main reasons Jackson JS guitars are ideal for beginners is that they tick all the boxes for a solid instrument for beginners and intermediates alike.
Good tuning stability – doesn't cause frustration constantly tunning up
Dynamic tones – Jackson in-house pickups offer responsive and dynamic tones
Great looks – Inspiring appeal that keeps you playing and, significantly improving as a beginner
Good materials
Great playability and comfort – slim and fast necks
Cool Features – Floyd-Rose tremolo system to learn the art of tremolo techniques such as "dive bombs" and more.
As a beginner guitarist, whether it's your first or second? What is critical is getting a guitar that stays in tune, feels comfortable, and inspires you more to learn.
This is why the Jackson JS series is an excellent choice, as they produce affordable guitars that cover all these criteria.
That's why Jackson JS is an excellent beginner's series of quality axes. The overall quality for the price of each of their models is excellent value for money.
2. They Are Highly Playable and Comfortable
All Jackson guitars feel remarkably comfortable to play.
The reason is the necks are slim, and the fretboard radiuses entail a very flat fingerboard.
This combination of a slim neck and flat fretboard is a trait of all 'shredder's guitars.' This combination promotes fast and technical playing. A similar trait on most metal guitars from ESP, Ibanez, Schecter, and more.
Obviously, as a beginner, it will take some time to achieve the level of effortlessly shredding.
However, having a comfortable guitar is a great advantage to help you master the fundamentals as a beginner.
Not to mention all Jackson guitars have slim and light bodies meaning they are super comfortable for long playing sessions.
3. Designed for Aspiring Metal and Rock Beginners
Jackson guitars are guitars for rock icons and metal legends.
One of the greatest things about Choosing a Jackson guitar is that you'll own a specialized guitar geared for mainly metal and rock (although versatile for other softer genres.)
The reason is all Jackson guitars come equipped with humbuckers that are specifically designed for super-high levels of distortion and gain (the typical tone of metal.)
They're meant to be played with high levels of distortion and shine the brightest in heavier genres.
If you're still searching for a guitar and want to play metal or rock, The JS series is diverse enough to accommodate your needs, regardless of how brutal, smooth, fast, or heavy of the style you aspire to.
4. Many Affordable Models to Choose from
The Dinky JS22, the Rhoads JS32T, as well as the King V JS32 are outstanding entry-level guitars; both immediate beginners and seasoned veterans will get their money's worth, and then some.
Most players that start out with Jackson JS tend to upgrade to an X-series model which is the next 'step up' in quality and price.
This series features sturdier guitars equipped with slightly more advanced features. Aesthetically, X-series Jacksons stand out even more than JS ones.
Once you feel confident that you've masted your beginner Jackson, migrating to the X-series will come naturally.
Which Jackson Series Is Best for Beginners?
Now obviously, if you are a beginner, I will only recommend and discuss the 'JS Series' from Jackson. But what is the JS series?
The 'JS Series' is Jackson's selection of 'entry-level guitars' aimed at beginners as the models are constructed of 'lower spec' materials and produced overseas to lower production costs.
However, don't let the 'entry-level' tag fool you. Jackson offers an excellent variety of axes with the JS series. From plain Dinky models, over super-shred King Vs, to highly acclaimed Rhoads guitars. Even intermediate choose the JS series for their overall quality and playability.
The guitars from the JS Series are priced from $300- $700 which firmly places them in the 'beginner budget'
This entry-level range contains entry-level tonewoods with Jackson's in-house electronics and hardware.
If you have a bigger budget, some come with guitars with Floyd-Rose style tremolo bridges and quilted finishes in some higher-spec models.
Let's take a look at Jackson's typical body shapes…
Common Jackson JS Series Body Shapes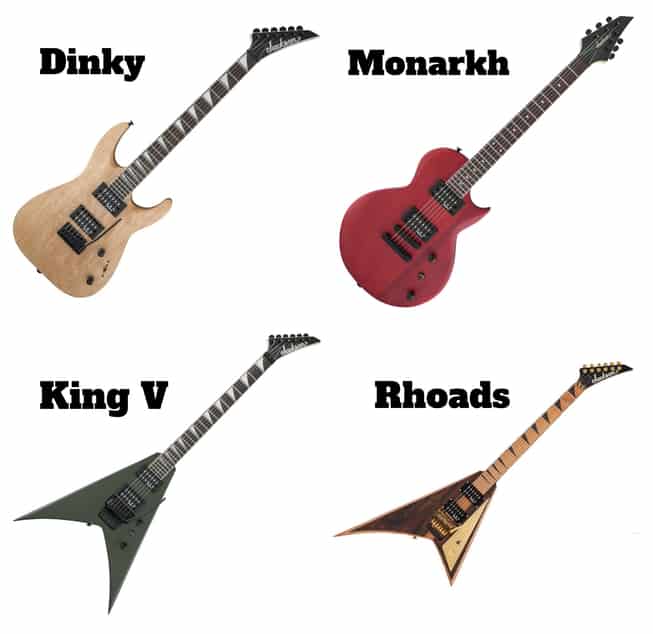 The Dinky – The famous 'Double-cut' 'SuperStrat' body shape is essentially a Stratocaster on steroids. The Dinky is Jackson's most popular body design.

The Monarkh– A single-cut 'Les Paul inspired' body shape for a 'metal twist.'

The King V – The striking and classic 'flying V' body design.

The Rhoads – The reincarnated guitar of the legendary player and Jackson Legend Rhandy Rhoads.
Recommended Jackson Beginner Guitars
Jackson JS22 – Popular Model
The JS 22 Dinky is a perfect choice for fresh guitar learners. Affordable, great-looking, and equipped with solid features, it performs better than most similarly-priced guitars.
It features a poplar body with a gloss finish; its body shape is Jackson's proprietary Dinky™, and it's a classic for metal players on a budget. JS 22 comes with a bolt-on maple neck with a satin finish, and a fretboard made of Amaranth.
With its jumbo frets, JS 22's playability is outstanding. Rocking out with it feels natural, almost as much as shredding.
Jackson JS 22 features two Jackson high-output humbuckers and simplistic controls in terms of hardware. With a 3-position pickup selector, you can easily chase after different tones and quickly return to your original setup.
As far as aesthetics are of concern, JS 22 is available in Metallic Blue, Natural, Satin Black, and Snow White.
Jackson JS32 – Upgrade of the JS22
Jackson decided that JS 22 could be upgraded and made even cooler if they put their minds to it. And thus, Jackson JS 32 was born.
It's a super-charged JS 22 with an enhanced aesthetic, a couple of performance tweaks, and a few brand-new features.
The main difference between its predecessor and JS 32 is in top material. Namely, JS 22 has a maple top while JS 32 features Quilted Maple. The acoustics of JS 32 are a bit better, and it is slightly sturdier than its plain Maple counterpart.
As for the rest, JS 32 and JS 22 are nearly identical guitars. With the exception of top material, the two feature the same tonewoods and same hardware.
High-gain humbuckers make JS 32 perfect for metal, while the speed neck profile makes it ideal for shredders in both rock and metal.
Another key difference between JS 32 and its predecessor is that the former does not feature a tremolo bridge. JS 32 is supplied with a Tune-o-Matic bridge, which ensures superior intonation and is much easier to use.
In a nutshell, this is a more beautiful, stronger, and slightly more playable version of the JS 22. What makes it worth the money is the fact that it's just a few dollars more expensive than its predecessor.
Jackson JS34Q
We're moving on with famed Jackson Dinky axes and have come to the JS34Q.
The staple tonewood choices remained the same; solid poplar wood for the body and maple neck grace JS34Q Dinky and make its sound recognizable and playability as awesome as it is.
Its neck is made of Maple as well instead of the usual amaranth. While most JS models have a balanced sound, JS34Q leans more towards the brighter side. Just like JS 22 and 32, it features 24 jumbo frets and offers a remarkably high level of playability.
In my opinion, this axe is probably the best-looking Dinky in the series. With a high gloss finish and a unique paintjob, JS34Q has a distinguished outlook that can fit well in both metal and rock aesthetics.
Speaking of which, it's available in Transparent Red and Transparent Purple colors.
Performance-wise, it's as comfortable for casual riffing as it is for intricate shredding. It features the same pickup selection and control knobs set up, allowing for quick tonal adjustments.
It's an excellent choice for bedroom guitarists, especially if you're just starting out.
Jackson JS Series King V JS32
A true king in its right, the JS Series King V JS32 is a perfect choice for thrash, speed, heavy, and all sub-genres of metal.
It's a solid-body axe with a poplar body in gloss finish, a maple Speed neck with bolt-on construction, and Amaranth fretboard with 24 Jumbo frets.
King V JS32's sealed die-cast tuning pegs remain in tune for weeks at a time, despite the Floyd Rose double-locking tremolo bridge.
This guitar features the usual Jackson proprietary high-output humbuckers, two control knobs, and a three-way toggle switch in terms of electronics.
One of the best things about this guitar is that it's available in four unique styles. The Gloss Black is tailor-made for metalheads, but you can also choose between three others, including Black & White Bevels, Matte Army Drab, and White & Black Bevels.
In terms of price, it's a bit more expensive than an average JS axe.
However, the price of beauty has to be paid; this time around, though, the price tag of King V JS32 is barely a couple of dollars higher in comparison to its less pointy counterparts.
Jackson Rhoads JS32T FSR – An Affordable Signature Guitar
The JS32T FSR is an absolute masterpiece that offers top performance and playability at a fraction of the price of a professional guitar.
It sports a mahogany body with an oiled finish, a signature Rhandy Rhoads neck shape made of quality Maple, 24 jumbo frets, and a fingerboard made of Amaranth. 
Like most guitars in the JS series, Rhoads JS32T FSR sports a simple pickup configuration. Two humbuckers and two control knobs are all you need to blow the roof of a venue. Unlike the 3-way blade selector, now we have a 3-way switch.
The wood is so refined and well-carved that it emphasizes how great the hardware looks. Gold-plated knobs and bridge sit so well with black pickguard and pickups.
Overall, JS32T FSR is an ideal guitar for new metal and rock guitarists, mainly because it sounds and feels much better than you'd expect for the price.
Before you go…
If you are still looking for the perfect beginner metal guitar? Check out my related post all about Ibanez. Learn everything about Ibanez guitars to discover all about their collection of metal axes. You can read this post here!