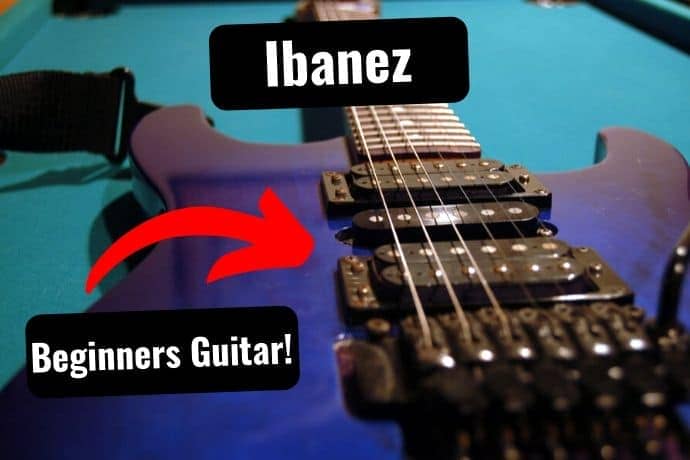 Choosing a new guitar can be difficult, especially if you are a beginner, or buying a guitar for a beginner as a gift. The reason being there's just an infinite selection of guitars from a variety of guitar brands.
In this post, I will unwrap whether if Ibanez guitars are a good choice if you are a beginner guitarist.
Discussing…build quality, value, price with additional hints and tips. I will also give you a selection of excellent Ibanez guitars perfect for beginners with less than 3 years of playing.
So let's dive into the main question….
Ibanez guitars are excellent for beginners. They are easy to play, comfortable, have excellent build quality and construction, including desirable features. Ibanez guitars also offer many fantastic entry-level guitars that are affordable yet high quality aimed at the beginner market.
What Are Ibanez Guitars Good for?
Ibanez guitars are best known for their 'Superstrat' body shape. Often labeled as a "shredder" guitar.
a 'Superstrat' is essentially a guitar with a Stratocaster shape, tricked out with hotter sounding pickups, a mean paint job and other features such as a Floyd Rose tremolo.
This recipe is why Ibanez guitars are so popular for heavier styles of music such as metal and hard rock.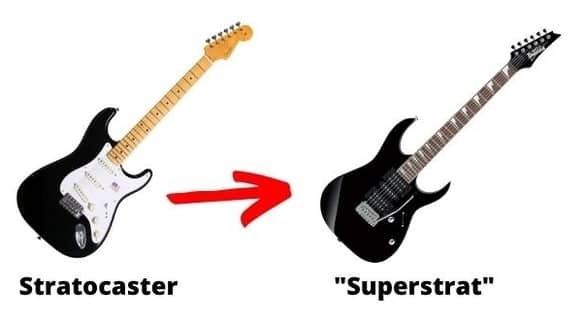 The height of their fame was during the 80s hair metal period, with an army of metal guitarists playing an Ibanez as their shredding vehicle.
Ibanez guitars are associated for being comfortable, versatile, and acquire excellent tone amidst great build quality.
Are Ibanez Guitars Good for Beginners?
Once you know you want to play the electric guitar and desire to play metal, rock, blues, and other genres.
An Ibanez 'Superstrat' guitar is an excellent beginners first or second guitar. The top reasons why they serve as a great choice for a beginner guitar is because they are…
Easy to play – great ergonomic design
Have comfortable necks – thin and a great shape
Great tone – good quality pickups and design
Are lightweight – less than 7lb
Include great high fret neck access – can reach and player higher frets
Are top build-quality and construction
Fantastic entry level guitars
Various models have a Floyd Rose Tremolo system
Affordable $100 – $400
My Selection of Ibanez Guitars for Beginners
1. Ibanez Gio ($150 -$200)
The Ibanez Gio is an impressive entry-level series from Ibanez ideal for fresh beginners similar to Epiphone's answer to Gibson guitars.
The Gio series offers a versatile range of guitars suited to your ideal look, sound, and budget.
The Gio range is praised for its cost-cutting materials, playability, sound, and affordable price tag.
Put all this together, and you are left with the ideal Ibanez guitar for any newbie players. Although you do not get the premium materials and build quality from Ibanez high-end series such as the JEM series.
However, The Gio range offers a fantastic choice for a solid first or second Ibanez guitar for the early learners.
You get the usual Ibanez playability and comfortable neck and excellent build quality. For a fantastic budget Ibanez guitar, you can not go wrong with the Gio range.
2. Ibanez SA Series ($300)
The Ibanez SA series is an affordable and versatile range to accommodate players with a slightly higher budget.
This series provides guitars that can effortlessly play several genres and playing styles with a versatile 5-way humbucker and single coil pickups configuration.
Combined with stunning looks and finishes, the SA series is an elegant series ideal for a stylish and great-sounding instrument for the entry-level beginner.
The playability is silky smooth, which is expected from an Ibanez guitar with a maple neck and double cutaway design for comfort and accessibility.
The Ibanez SA series would make an ideal beginner's guitar with excellent value for money for players with a limited budget.
3. Ibanez MiKro GR Series ($150)
The RG Mikro is a pint-sized 3/4 version of the popular Ibanez RG series ideal for 5-10-year-old players.
The MiKro series features infinity pickups, tricked out aesthetics, and a maple neck finishes replicating the best-selling RG series.
The Mikro series allows early players with the smallest hands to get to grips with learning without grip and fretting issues.
The 22.2" scale length is designed for beginners to start playing right away or for providing adult players with the ideal travel guitar.
When it comes to genres, This series is a beginner metal, rock, and blues guitar with the thick sounding affinity humbucker pickups.
The Ibanez MiKro GR is the ideal beginner guitar for providing early learners with a reliable and affordable instrument.
4. Ibanez RG Series ($250 – $500)
The RG series is arguably one of the most popular and recognized series that Ibanez has ever produced.
Due to its silky playability, tone, and craftsmanship, the RG series has set the standard when it comes to defining the Superstrat guitar.
Affordable models are hovering at around $400 that would make an ideal beginner's guitar, such as the RG421 and the RGAR42MFMT.
Both these models are still affordable guitars but are still slightly mid-priced than the other choices on this list.
However, the RG series is the cream of the crop when it comes to Ibanez guitars, and the lower-spec models would still make an ideal beginner's guitar with a higher budget.
Are Ibanez Guitars Easy to Play
Ibanez 'Superstrat' guitars have a well-known reputation within the industry for being on the most comfortable and easiest guitars to play.
From their entry-level ranges to their premium series, Ibanez guitars are known for their excellent playability ideal for beginners just starting out.
Ibanez guitars are well known for their "fast necks," hence why they have built a reputation for popular shredding guitars across many metal genres and sub-genres.
Their comfort comes down to every aspect of the neck including shape, girth, materials, and fretboard width.
Ibanez necks are known for being thin, being useful for anchoring your thumb, promoting more control, which makes playing intricate lead lines easier. Hence why they are so popular as a shredder guitar.
Why Ibanez Guitars are so Playable
Ibanez necks are usually very flat. When it comes to playability, a flat radius promotes single note playing compared to playing chords and rhythm playing; hence why it's easier to play technical lead lines.
Of course, it depends on personal preference, but Ibanez necks are known for comfort and playability. For this reason, they are fantastic for beginners with small hands or have not built up any dexterity.
With a light set of strings, they are effortless to perform string bends and a range of basic playing techniques such as string bends, pull-offs, and other fundamental techniques.
Depending on the model and series, the budget entry-level Ibanez guitars will have fuller and rounder necks compared to the premium necks of the premium JEM series.
But even the affordable Ibanez guitars offer exceptional playability and comfort to a new player just starting out.
If you compared the neck of an Ibanez and Epiphone Les Paul, for example. The Les Paul neck would feel bulkier, rounder, and weightier in the palm of the hand.
There is nothing wrong with this. It just depends on personal preference, but a thin, comfortable neck is an excellent place to start when buying a first or second guitar.
Why Ibanez Guitars are so Comfortable
Ibanez guitars are easy to play because of two other important factors. The first being that their bodies are very thin. meaning that the player can get close to the body without being impeded.
These guitars also have contours offering comfort. Hence why the body shape promotes and improves playability.
Compare the body of a chunky Les Paul and Ibanez guitar, then there is no competition between the two when it comes to comfort.
The body style is very similar to a Stratocaster, which is also known for being a super comfortable guitar to play.
The second reason that makes Ibanez guitars very playable is they are light as a feather. Whether sitting on your lap or standing up, these guitars are very comfortable and promote playing for long periods.
This is also a factor if you like to stand up and play for extended sessions, then a light guitar will be the right choice for a beginner.
Overall, if you want a guitar that offers excellent playability at an affordable price for playing metal, rock, and blues. An Ibanez 'Superstrat' style guitar is a fantastic option for beginners starting their guitar journey.
Are Ibanez Guitars Affordable?
Ibanez guitars are known to cater very well to the beginner market, offering a massive range of guitars at affordable prices.
The affordable bracket is a range of guitars priced from $100 – $400 depending on the series and model.
Even the $200 guitars and less offer great value for money and excellent for a beginner.
Even at this price bracket, Ibanez offers many series that cater to many genres and playing styles.
Top Tip When Buying an Affordable Guitar
An important tip you must know when buying an affordable guitar…is to buy a guitar with a professional setup included in the price.
When a guitar is examined and setup by an experienced guitar tech. That person will check the truss rod, neck relief, intonation, and string height depending on the service.
A professional set up will ensure your guitar is ready and fully playable straight out the box.
To save money some guitar retailers will sell the guitar as it was shipped over. Therefore, how do you know if the guitar is playable? No one wants to buy a shiny new guitar and discover they have fret buzz, or the action is terrible.
Even a premium guitar worth $2000 can play horribly without a proper setup compared to a guitar costing $250 with a setup. So it's essential to look into and ask these details when buying an affordable guitar.
Related Questions
Are Ibanez only good for metal?
Ibanez guitars are not just metal guitars. They offer a range aimed at other genres such as jazz, country, funk, and blues with the Artcore series. This range is aimed at softer genres with low output pickups and other features for playing a variety of musical genres and playing styles.
Are Ibanez guitars good quality?
Ibanez guitars are undoubtedly good quality producing guitars that are highly playable with solid construction and build quality. Ibanez guitars are manufactured in Indonesia and known for possessing a high level of inspection and build quality.
If you enjoyed this post check out my next post…