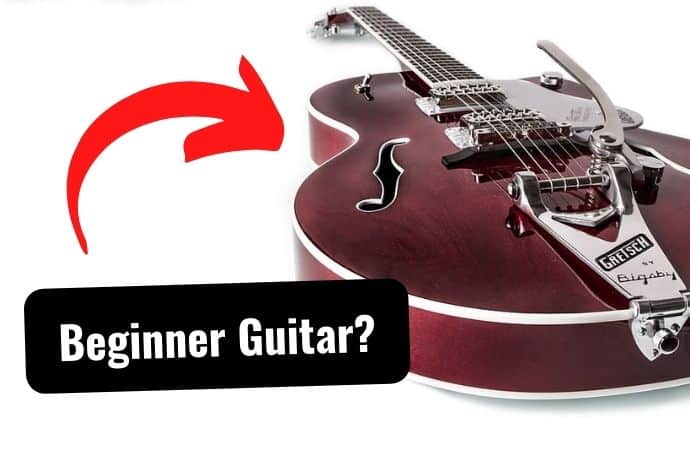 Gretsch is one of the classiest guitar brands out there. Elegant looks, excellent playability, and superb tone!
Used by legendary players Ched Atkins, George Harrison, and Malcolm Young, to name a few. 
With that said, are Gretsch guitars suitable for beginners? If so, what Gretsch guitars should you consider? In this post, I am going to answer this very question.
Let's dive in with my short answer.
Are Gretsch guitars good for beginners? An affordable Gretsch guitar is an excellent choice for a beginner prepared to pay more for a guitar ($250 – $600.) Although Gretsch guitars are not the typical 'beginner guitar brand.' It ensures the player acquires a high-quality guitar with superb playability, tone, and quality control.  
As a quick overview, Gretsch possesses a reputation for producing beautifully crafted instruments from high-end materials.
Along with their build quality and excellent tone, their gleaming guitars come with a fancy paint job and classy hardware to match.
Hence why Gretsch is regarded as a high-end guitar brand rubbing shoulders with the likes of Gibson, Fender, Martin, etc.
Thus, the majority of Gretsch guitars do not fall in the typical beginner guitar price range ($150 – $500.)
Even the guitars from their affordable series, the 'Streamliner' hovers above the usual beginner budget.
With that said, there is a good selection of Gretsch guitars I would certainly recommend for a beginner with the available budget (which I will get to soon.)
What is Your Budget
First, we have to define your price range. A beginner looking for the most affordable Gretsch will be hovering around the $300 – $600 territory.
So if you have the budget for this price range, then keep reading. 
Suppose you are looking for a super budget electric guitar less than $250, maybe as your first guitar?
Unfortunately, Gretsch guitars do not have any guitars that cater to this price range (although they should!)
Here are some excellent Gretsch guitars perfect for beginners.
Recommended Gretsch Guitars For Beginners 
Gretsch G2210 Streamliner Junior Jet Club – Most Affordable
Body design: Single-cut
Pickups: Tron Humbucking pickups
Scale length: 24.75″.
Pickup Switching: 3-way toggle
Frets: 22 medium jumbo
Genres: rock, hard rock, country, funk, pop, punk, jazz, blues
The G2210 Streamliner Junior makes our list as the ideal Gretsch for a beginner for many reasons.
The G2210 Junior is a stripped back version of their famous Jet Electromatic series while removing unnecessaries and retaining quality in the correct areas.
Making this powerhouse affordable, high-quality, and a great sounding guitar for players just starting.  
The guitar includes Tron humbucking pickups, which are ideal for aggressive dirty tones or clean and transparent sounds.
This combination makes this guitar versatile for several styles and genres for a wide range of players. 
The best thing about this guitar is the value you get for such a small price and the fact the guitar retains all of Gretsch's unique personality. I highly recommended the Gretsch G2210 for a typical classy guitar for any beginner.
Gretsch G2655 Streamliner Center Block
Body design: Double-cut
Pickups: Tron Humbucking pickups
Scale length: 24.75″
Pickup Switching: 3-way toggle
Frets: 22 medium jumbo
Genres: rock, country, funk, pop, punk, jazz, blues
The Gretsch G2655 is full of elegance, style, playability, and tone at a budget-friendly price ideal for beginners with an extended budget.
This guitar is a little more pricey than the previous entry; however, Gretsch G2655 is a lot more guitar for your money!  
The Gretsch G2655 is a smaller version of the larger Archtop body shape making it more comfortable and lighter than the full-sized versions.
This guitar is a country, blues, rock, and jazz machine being a semi-hollow design providing a hollow and rounder tone than solid-body guitars.
This Gretsch's Broad'Tron BT-2S pickups are high output producing tight bass and great mid-range frequencies with excellent tones.
All controlled from a simple 3-way toggle switch with bridge, middle, and neck pickup configurations. 
The guitar possesses the iconic 'Gretsch sound' for far less money than other models.
The Gretsch G2655 is highly versatile for many styles within the softer genres, making it an ideal fit for any player still relatively new to learning guitar.
Gretsch G5426 Jet Club – Affordable and Classy 
Body design: Single-cut
Pickups: Gretsch Dual-coil
Scale length: 24.5″
Pickup Switching: 3-way toggle
Frets: 22 medium jumbo
Genres: rock, country, funk, pop, punk, jazz, blues
The Gretsch G5426 Jet Club is a super stylish guitar with a nod to the iconic single-cut Les Paul body shape. This price point is ideal for the beginner territory for a pristine looking instrument that offers the usual classy 'Gretsch vibe.'
The G5426 is crafted from basswood with an arched maple top wood. Color choices on offer are a sweet black beauty or shinny silver sparkle both look dazzling.
The guitar lighter compared to a Les Paul with a slender and comfortable body for extended playing sessions. 
When it comes to tone, the G5426 comes with two Gretsch Dual-coil humbucker pickups controlled with a 3-way toggle with a master volume and tone knob.
The tone is a vintage 50s sound with great crunch rock tones and pristine cleans with a versatile selection of tones.
This guitar possesses the usual open and chimney Gretsch sound for a very reasonable price, making this an excellent choice for a beginner on a budget.   
Gretsch G2420 Streamliner – Classic Archtop Design
Body design: Single-cut, Hollow-body
Pickups: Tron Humbucking pickups
Scale length: 24.75″
Pickup Switching: 3-way toggle
Frets: 22 medium jumbo
Genres: rock, country, funk, pop, punk, jazz, blues
The Gretsch G2420 is an affordable archtop with gorgeous looks encompassing the vintage era of guitars.
This guitar would make the perfect jazz machine with a large hollow body design helping it produce warm, hollow, and subtle sounds of mellow jazz. 
If jazz isn't your thing, this guitar is versatile in other genres such as rock, country, jazz, folk, and many more due to its BroadTron humbucking pickups.
These pickups sparkle on various clean tones; likewise, they can drive hard when drenched with distortion and overdrive. Hence why this guitar will dazzle with many genres you throw at it. 
Keep in mind; this guitar would be prone to feedback on stage due to its fully hollow body design. This guitar is adequate for mild distortion and warm crunch. Just keep an eye on the gain to avoid that pesky feedback.
Although the most pricey on this list, the Gretsch G2420 Streamliner is ideal for beginners who want a comfortable, affordable, and high-end guitar that oozes the 'Gretsch vibe' in all departments.
Why Gretsch Guitars Are Good For Beginners 
Beginners should consider Gretsch Guitars due to their excellent build quality, materials, quality control, great tone, and elegant looks.
Paying more money for a Gretsch ensures you purchase a quality guitar that…
Stays in tune
Sounds excellent
Possesses Excellent Playability
Looks majestic
Lasts longer than any cheap guitar
It depends on whether you can afford or justify paying for a Gretsch guitar priced between $300 – $600 with 0-3 years playing experience. This decision depends on your circumstances.   
Even their most affordable series (Streamliner) is pricey compared to other brands such as Epiphone, Squier, Yamaha, etc.
However, keep in mind, electric guitars priced around $100 – $200 usually include quality issues throughout the guitar.
Some of these are cheap materials, hardware, electronics with the poor build quality and design. 
These problems result in insufficient tuning stability, tone, and other imperfections. As the saying goes, "you pay for what you get." 
So it is always worth paying more to ensure you get better overall quality from your instrument.  
If you are interested, I have covered in a different post should beginners buy an expensive guitar for a full low-down on this topic.
What Musical Genres are Gretsch Guitars Good for?
Although Gretsch guitars are versatile in various musical styles, Gretsch guitars are most popular with players in genres: country, jazz, blues, funk, folk, and rock.
When it comes to tone, Gretsch guitars sound open, sparkly, and chimey. This guitar tone shines in with clean tones is why they are so popular in softer musical genres, such as country, jazz, folk, blues, and funk.
In modern times, Gretsch guitars are currently popular in genres, such as rock and hard rock.
The reason is they are appreciated for their excellent mid-gain crunch tones, making them great for rhythm and aggressive dirt tones. 
For musical genres to avoid, I would exclude a Gretsch guitar from any high gain genre such as metal, especially if the guitar in question is a semi-hollow or hollow body guitar.
The reason is that any hollow-body guitar is prone to feedback when drenched in high-gain distortion. Hence why a solid-body guitar with humbucker pickups is best for metal in my opinion.   
Undeniably, Gretsch guitars shine for softer genres mentioned above and best utilized for players with clean and mid-gain crunch tones.
Gretsch guitars are at their best when used in the softer genres, but it depends on how you utilize your guitar.  
Are Gretsch Guitars Easy To Play?
Gretsch guitars have excellent playability and play importance on quality and the overall experience.
You know, when you purchase a Gretsch guitar, you are significantly paying for a guitar with top-notch playability and quality. 
When it comes to the neck, the majority of Gretsch guitars necks are a "U" shape design, which is similar to Gibson and Epiphone guitars.
These necks are known for feeling fuller in the palm of the hand. This extra girth adds control and comfort, making them effective when it comes to comfort and accuracy. 
With a Gretsch guitar, you are purchasing an excellent instrument straight out the gate to learn on.
There is nothing worse than playing a dirt-cheap guitar that is difficult to play and stunt your progression.
Due to their quality control, Gretsch guitars are a great playing experience and a dream to play. Hence why their guitars typically cost more than the average budget guitar. 
Therefore, when a Gretsch guitar leaves a factory in Indonesia, the US, China, Korea, and Japan. You know it will include a professional setup and be in optimal playability straight out the box.
Furthermore, you should ensure your chosen guitar retailer consists of a full guitar setup in the price before they are shipped out for delivery when you order online or buy instore. 
Thanks For Reading
If you liked this post, You should view another post we covered explaining why Ibanez guitars are excellent for beginners. Read my top reasons why Ibanez is one of the best brands to choose for an excellent beginner guitar to start learning on.