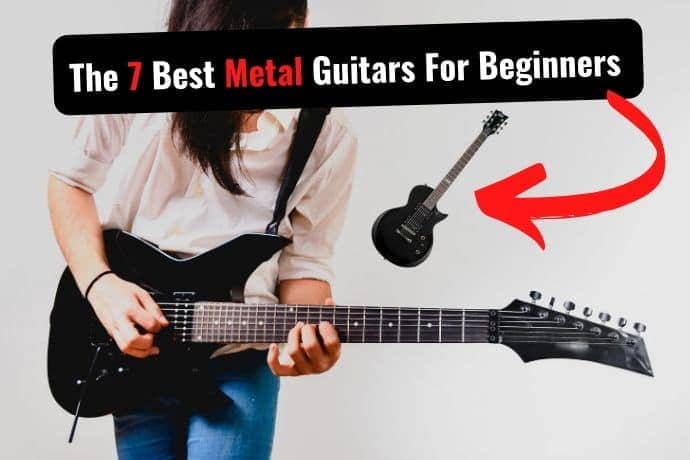 Buying your first guitar for the heavy and aggressive sound of metal is no easy task.
With so many options to choose from, it's easy for beginners to quickly become overwhelmed by the amount of choice and fine details such as pickups, materials, scale length, number of frets, etc.
Luckily I have played guitar for over 17 years and bought countless guitars along the way.
After doing some research, here is my list including 7 excellent metal guitars for beginners who are inspiring metalheads.
These guitars are a collection offering the best quality and bang for your buck. They will also inspire a beginner metalhead to join the fun and enjoyable road of learning the guitar.
How to Buy a Metal Guitar as a Beginner
Choose Your Ideal Body Shape & Finish
Being a beginner, it's important to choose a guitar that gets you excited to play and inspires you every time you lay eyes on it.
This keeps you motivated and inspired to progress out of the frustrating 'beginner phase' when learning the guitar.
Fun Fact: Typical metal guitar body shapes are: Superstrat, Flying V, Les Paul, and SG. your choice of guitar ultimately comes down to personal tastes so choose the shape that appeals to you the most.
Your guitar heroes from your favorite bands will also influence your first guitar choice. Look at online pictures, go on youtube and see what guitars they play?
Choose Humbucker Pickups
If you want a guitar that is optimal for playing metal, guitars with humbucker pickups are going to be your best option for playing any genre or subgenre of metal.
For many decades, humbuckers have long been the pickup of choice for metal guitar players ever since the birth of the genre.
The reason is humbuckers are better at canceling the nasty hum, buzz and screeching feedback you get from an amp with a heavily distorted guitar tone.
Secondly, humbuckers combine best with a guitar tone that is loaded with saturated distortion sounding thick and beefy, which is obviously the staple guitar tone in all metal genres.
On the other hand, single-coil pickups which are typically installed in Stratocasters and Telecasters. Single coil pickups are best suited for clean and mild distorted tones typical of: funk, blues, indie, country, and soft rock.
Rest assured, all guitars on this list will have humbuckers installed whether they are passive or active humbuckers.
Why Tuning Stability Is Important
It is essential to choose a quality guitar that will hold its tuning no matter what string abuse you throw at it.
A guitar that won't stay in tune is frustrating and certainly a downer when playing your prized instrument.
A guitar's design and build quality are put to test based on how well a guitar stays in tune. If it constantly keeps going out, then something is off with either the nut, bridge, saddle, or strings break angle.
Dirt cheap guitars that are priced less than $150 typically fall into this category.
Therefore, it is important to have a reasonable budget in order to afford a guitar with a proven reputation for solid build quality, design, and materials.
That's why this list will contain a collection of the best guitars including the optimal tuning stability for the price.
Ensure a 'Set-up' is Included
When buying a guitar, it is essential to know if the guitar is correctly set up, either by the guitar retailer or manufacturer.
A guitar 'set-up' is essentially when a trained guitar tech looks over the guitar to make adjustments providing optimal playability.
It ensures the guitar's hardware has been fine-tuned and adjusted for the best playability.
Keep in mind, a cheap guitar with a good set-up will play better…than an expensive guitar without a set-up. A trained guitar tech with a typical set-up will examine the guitars…
String height / Action
Intonation
Neck relief
Truss Rod
Some guitar brands dispatch guitars from manufacturers from the Far East without a correct set-up, so keep this in mind when purchasing a guitar.
When buying a guitar, it is essential to know that the retailer has included a set-up included in the price.
1. Ibanez GRGR120 EX – Best Budget Ibanez for Playability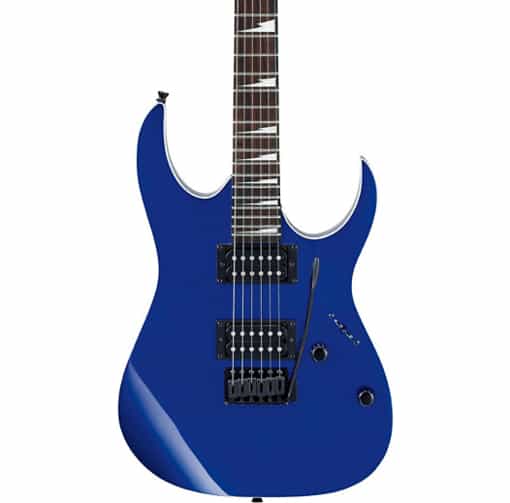 Metal players love Ibanez guitars for their slim necks, comfortable bodies, and top-notch build quality.
Hence why for many decades, they have been the staple guitar for a range of metal players from classic, shredders all the way to modern metal artists.
The Ibanez GRGR120 is from the prized GIO series which is one of the most popular start-up guitars within the industry.
It has to be noted, this guitar has a glowing reputation within the online guitar community for its overall attributes and build-quality for a guitar that costs around $170.
The guitar community has praised the GRGR120 for its excellent playability, tuning stability, tone, and features for a highly affordable entry-level guitar that plays like it should cost over $300.
The guitar features the classic Ibanez slim-profile neck crafted from maple wood for a non-sticky finish which is ideal for optimal feel and playability.
The wide jumbo frets allow for plenty of real-estate for easily fretting chords and notes with no hassle.
The affinity neck and bridge pickups can produce crushing heavy metal tones while canceling noise, hum, and feedback for clarity and optimal tone.
Having researched the other tones, the clean tones on offer are bright, clear and crisp and versatile enough for playing other genres of music.
However, the GRGR120 is ready and primed for a beginner metal player with its fast neck, heavy tones and metal appearance and finish.
Ibanez guitars are one of the most recommended brands for beginners looking for an affordable guitar to play metal, rock, and other genres.
The reason is Ibanez guitars have thin and fast necks, slim bodies and low actions.
These combinations create a comfortable and effortless guitar to play for long periods ideal for a beginner to clock up many hours practicing.
Overall, this guitar sounds looks and plays great, the highlight of the guitar is its affordable price perfect for beginners on a budget.
But the budget does not take away from the guitar's build-quality and excellent features for a beginner.
Features:
Maple neck
New Zealand pine fretboard
24 Jumbo frets
Sharktooth inlays
Infinity R pickups (neck and bridge)
Tremolo bridge
Black hardware
3 color choices: Jewel blue, Black Night, White
Review Video
Pros
Excellent price makes it the best value for money guitar on this list
The simple configuration is easy and will not overwhelm a beginner
The tone sounds excellent for an entry-level guitar whereas other guitars sound terrible at the same price
Great feel and playability which is important for beginners learning
Cons
The tremolo bar is basic but still functions very well for variety. It can easily be removed altogether
2. Ibanez RG6003FM – Best Ibanez for Higher Budgets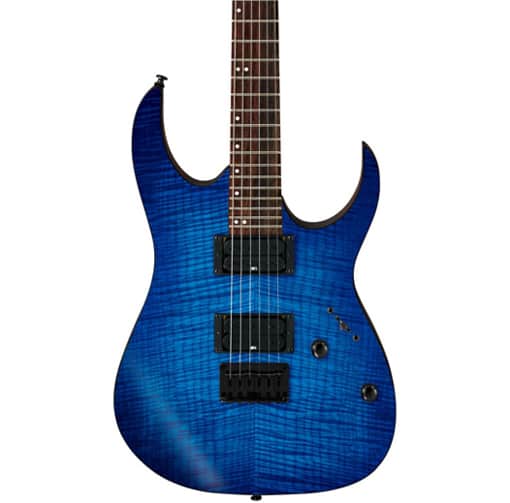 The RG series is the bread and butter series from Ibanez's guitar catalog. Some RG models are priced easily over $1000.
This is due to their excellent attributes as a fast and shredding metal axe.
Hence why they're popular guitars for many famous and high profile metal players over the decades.
The RG6003FM makes our list for offering amazing value for an affordable RG model. This metal guitar is ideal for the beginner with a higher budget to play with compared to the previous Ibanez on this list.
However, you can't go wrong with many Ibanez guitars priced around $300 and above and this guitar is no exception.
The RG6003FM has superb playability with Ibanez's classic slim profile neck which is smooth and great for beginners learning the fretboard. The neck is also great for younger players with small hands.
Like with many RG Ibanez guitars, the body is slim and a comfortable fit being a double cutaway with excellent access to the higher frets.
Furthermore, the guitar is very light which makes it no problem for sitting and standing when playing for long periods of time.
The RG003FM includes Ibanez's ceramic quantum pickups which are noted to sound tight and responsive. They are a decent pair of stock pickups which are excellent for a guitar at this price.
The 5-way selector switch offers a versatile choice of guitar tones from thick humbuckers, all the way to thin single-coil style sound for other softer genres.
5- way selector configurations will always give players a wider scope for tones.
The hardware and electronics are not Ibanez's premium selection, however, they are solid enough so the tuning stability and playability are top-notch for an RG model priced this low.
Overall, the RG6003FM is a solid metal guitar for beginners and perfectly primed for loud genres or even softer genres depending on your tastes.
This guitar has a great reputation within the guitar community and a great choice for a first or second guitar for beginners.
Features:
Maple "Wizard III" fast neck
Mahogany body
Flamed maple top
5-way selector switch
Quantum neck and bridge humbuckers
Jumbo fretboard fixed bridge
Review Video
Pros
Superb Ibanez playability
Better quality parts compared to the previous Ibanez
Great value guitar for beginners with higher budgets
5-way selector allows for more tone customization
Cons
More color choices would be nice
3. ESP LTD EC-10 – Best Affordable Metal Les Paul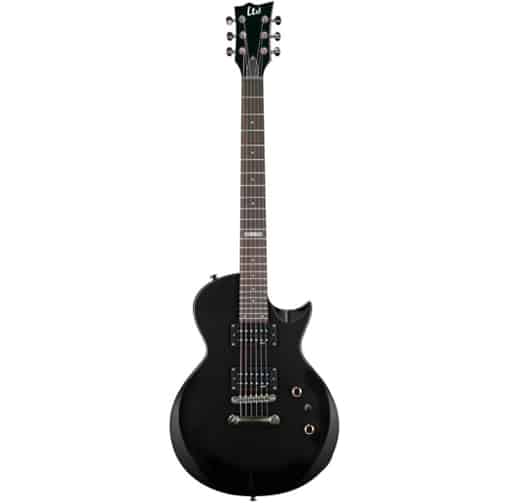 ESP is another heavyweight brand within the metal and rock guitar industry.
The LTD EC-10 is an entry-level model which is a nod to their monster metal guitar the classic ESP LTD EC 1000.
The EC-10 is a fantastic budget-friendly version of their premium models with a stripped-down version aimed at the beginner metalheads and rock players.
The first thing you will notice is that EC-10 is a single-cutaway design same as the classic Les Paul body shape. I added this guitar to the list as it offers a metal variation on this list to the usual Superstrat shape.
The EC-10 has a slim body with many body contours that offer a snug and comfortable fit. The hand access towards the higher frets is also excellent allowing great hand access to the higher frets.
As much as I love Epiphone and Gibson Les Pauls, the drawback with them is that they are bulky and heavy, meaning they are less comfortable for long playing sessions and harder to play around the fretboard.
Whereas, the EC-10 has comfort and playability in mind ideal for beginners starting out.
Better access to the higher frets allows for playing high register solos and lead lines easier. To note, most metal players always ensure their guitars have good access to the higher frets for crazy shredding and bending.
The neck is also a slim "U" shape maple neck for comfort and a nice feel within the palm. Compared to an ibanez, the neck will feel slightly bigger in the palm. However, this is not a bad thing and hinges on personal preference.
The electronics from ESP are known to be solid and made to last with durability in mind.
The pickups are two ESP alnico stock pickups that respond great to heavy distortion to bright and punchy clean tones. The pickup selection is a simple 3-way selector switch to choose neck, bridge, and middle positions.
When it comes to apparence, I like the guitar's satin black finish letting you know what type of genre it wants to familiarize itself with.
Overall, the ESP-10 has a great reputation as a fantastic beginner guitar for metal and rock players with an excellent entry-level price with simple features and great playability.
Features:
Maple 'U' shape neck
Rosewood fingerboard
24 Jumbo frets
ESP stock pickups
Review Video
Pros
The Les Paul body shape without the comfort issues
Excellent price for a well-made entry-level guitar
Great access to the higher frets for a Les Paul body
Quality construction and electronics
Cool and sleek satin black finish
4. Epiphone Les Paul Special II Plus – Better Quality Les Paul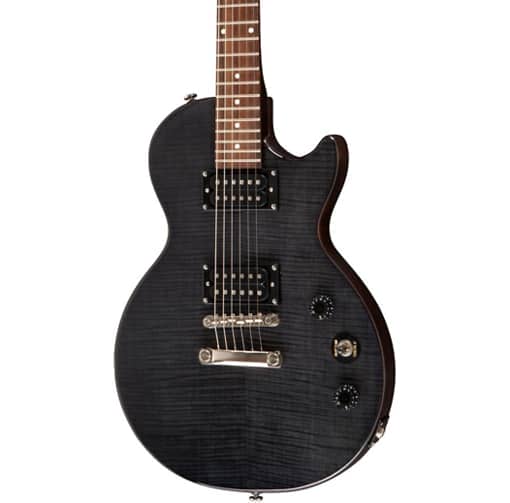 The Epipone Les Paul Special II Plus is a guitar created from the same mold as the famous Gibson Les Paul.
The differences is the Special II is a stripped-down version without all the luxury features making it affordable and therefore great for beginners.
With that said, the Les Paul Special II is an excellent choice for a beginner metal guitarist for many reasons.
First, The Special II includes Epiphone's USA high output humbucker pickups.
These highout pickups excel at high gain metal tones and are versatile for other softer genres such as rock, blues, and indie for example.
Allowing this guitar to be primed for saturated distorted tones while also being capable of some excellent tones for other genres.
The guitar's price is a major selling point allowing you to own the famous Les Paul shape for $200. There's also the fact you own the Les Paul playing experience.
The body is made from a cheaper wood which is a lighter variation of mahogany making it lighter and affordable. The guitar also features a bolt-on neck compared to the Epiphone standards set-neck design which saves money in the manufacturing process.
When it comes to tone, the Les Paul guitar is known for its chunky and thicker sound compared to the thinner and more piercing sound of an Ibanez Superstrat guitar.
Either of your choices comes down to personal preferences as both guitars are extremely popular within the metal community.
The neck of a Les Paul is also thicker and not considered a shredding style neck but is still a comfortable and highly playable neck.
Regardless of this comparison, this guitar is solid and reliable in terms of playability, sound, and tuning stability.
Hence why the Special II has been a popular guitar for beginners due to its overall quality combined with a highly affordable price.
Features
Flamed maple top
Mahogany body
Bolt-on neck
22 frets with dot inlays
3-way selector switch
700T/650R humbuckers
Rosewood fingerboard
Review Video
Pros
Excellent price ideal for the beginner guitar player
The Les Paul shape at a great price
Versatile guitar for playing other genres
Great pickups for an affordable guitar
Cons
Not a shredding style guitar compared to an Ibanez and Jackson
5. Jackson Dinky JS22 – Proven Entry-Level Metal Guitar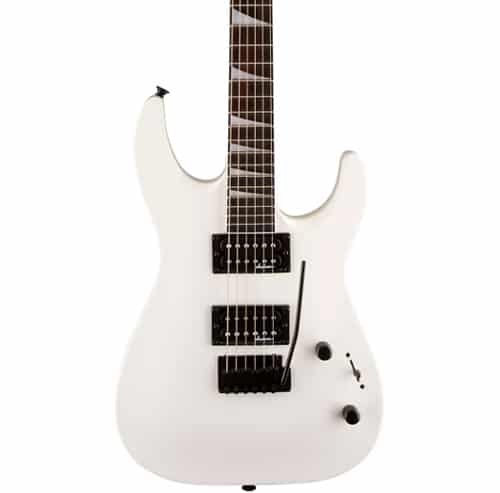 The Dinky series from Jackson is an excellent line of affordable to mid-priced instruments from another king of the metal guitar heavyweights.
The Jackson Dinky JS22 is an affordable entry-level model from the series.
It makes our list for a great budget guitar for any rock and metal player with lots of praise from the beginner guitar community.
The tuning stability from this guitar is top-notch holding its tuning very well compared to other cheap guitars at this price range.
As mentioned, a guitar that holds its tuning is great for beginners not having to tune every couple of minutes. This also displays a guitar's overall build quality and construction.
A nice thing about this guitar is that Jackson always ships their guitars with a professional setup included in the price. This removes any adjustments needed to the instrument making sure it's perfect to play straight out the box.
The pickups are Jackson's stock high-output humbuckers meaning your guitar tone will saturate quicker with less gain meaning they are primed for distortion and saturated metal and rock tones.
When it comes to playability, the fret spaces are large enough for beginners to fret notes and chords with ease.
The neck has been noted for being slim and comfortable similar to Ibanez guitars. It is worth noting that Jackson guitars also have a legendary status for providing the ultimate metal shredders guitar.
It's a simple and easy configuration with a 3-way selector switch with one tone and volume knob. Its simple configuration ensures beginners do not become overwhelmed with features and learn the basics to EQ and sculpt a good tone.
Overall, this guitar is an honest and straight-up metal guitar ideal for beginners, first or second guitar.
Features
Maple neck
24 jumbo frets
Speed neck
Jackson High-output pickups
Nato body finish
Fulcrum tremolo
Review Video
Pros
A fast and shredding style guitar
Slim neck for smooth playability
Great reputation and highly recommended beginner guitar
Sharktooth inlays look sweet
Cons
Tremolo bar is basic and can be removed
6. Ibanez miKro GRGM21M RG – Best Metal Guitar for Children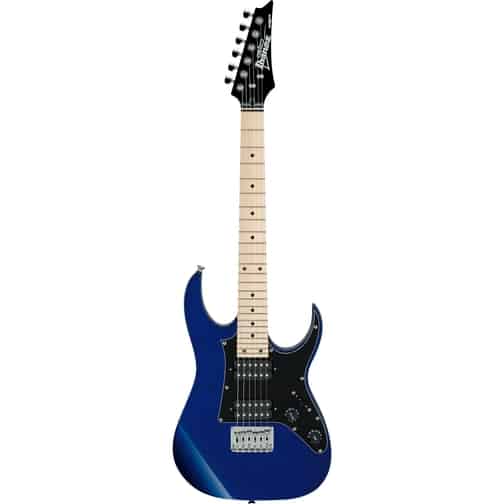 If you are looking for a guitar for a child lower than the age of 10 with small hands, the Ibanez Mikro is an excellent choice for players with these requirements.
The Ibanez Mikro is a pint-sized Ibanez electric guitar at ¾ scale ideal for small humans.
Although popular with adults, the Mikro, in my opinion, is the best first guitar for children under the age of 10 who will benefit from a smaller scale.
Most ¾ scale guitars on offer are typically steel string or nylon acoustic guitars. Limiting the amount of choice for aspiring electric beginners.
However, the Mikro is perfect for young metalheads and rock players who want to bypass the acoustic and learn the electric straight away.
A smaller-scale guitar makes fretting notes and chords easier for children compared to a full-sized guitar.
It must be noted, this guitar also doubles as an excellent travel guitar taking up less space for transportation than a full-sized guitar.
Don't be fooled by the size though, although smaller, the neck includes Ibanez's classic slim profile with smooth maple and a comfortable thin body for excellent playability in typical Ibanez fashion.
The Mikro includes Ibanez stock infinity pickups for loud and aggressive distortion and rock.
It has to be noted, this guitar has a great tone and resonance for an electric guitar that is small and has less wood than a full-sized guitar.
Clean tones are punchy and crisp with plenty of articulation even with stock pickups. Overall, the miKro is an excellent gateway into the world of learning guitar for any young aspiring guitar player.
Although the scale is stripped back, Ibanez leaves all the great hardware, looks and features making this an excellent choice for a beginner's first metal guitar. There are also 3 color choices to choose from catering to different tastes.
In summary, the Ibanez Mikro makes the list based on its appeal to young electric metal players at an affordable price, included with Ibanez's build quality and shredder primed metal guitar.
Features
Maple neck
Poplar body
24 frets
Sharktooth and dot inlays
24 frets
22" scale length
Ibanez stock humbucker pickups
Review Video
Pros
Pint-sized guitar for children and young aspiring metal players
Affordable entry-level guitar
The small size makes it great for travel and backup guitar
Cons
Small size may not be the best for larger children
Schecter Omen Extreme 6 – Best overall guitar for a higher budget
7. Schecter Omen Extreme-6 – Best Allrounder for a Higher Budget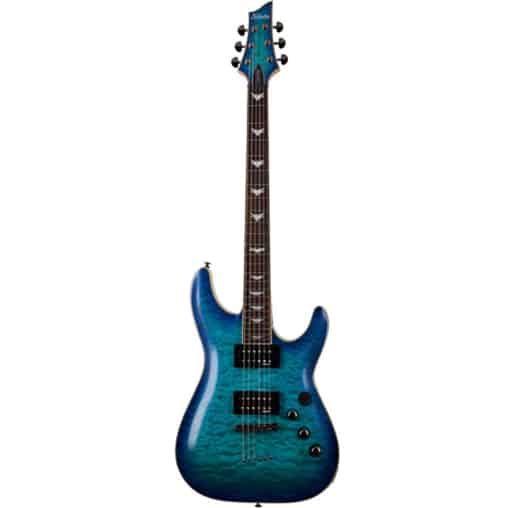 The Schecter Omen Extreme is the most affordable guitar from their catalog.
Even though this entry is the most expensive option on this list at $300 it remains here for good reason.
The Omen Extreme arguably has the best looks and style out of all the guitars on our list.
The Omen Extreme is stunning with a beautiful quilted maple paint job and cream binding which is typical of guitars priced over $500.
This guitar was priced lower in recent years but due to high demand, Schecter raised the price due to rave reviews and the chance to own a beautiful looking guitar that is known for its great tone and overall quality.
Owning this guitar would be inspiring for a beginner to own and learn on a guitar of this quality at a mid-level price.
Some brands manufacture budget guitars with cheap and unreliable parts manufactured from the Far East.
Paying more simply ensures quality in every aspect with no issues in playability, tuning stability and tone because Schecter guitars have a reputation for crafting premium metal guitars.
Paint Job aside, The Omen Extreme has some quality features such as a string-thru-body which improves sustain and resonance allowing notes to ring out longer.
The push-pull alnico humbuckers known as coil-tapping offer thin and brighter tones when you pull on the knob for a variation in tones adding more tonal flexibility.
Schecter guitars are known as a high-end brand regarded for outstanding build quality and guitar craftsmanship hence why their guitars are priced higher than other brands.
Although you are paying more for this guitar than other entries here, unfortunately, you pay for what you get. The price is justifiable considering you are getting quality in every aspect of a great guitar.
Features:
Mahogany body
Schecter high output pickups
String thru body
Quilted maple finish
Extra Jumbo frets
Pearl inlay markers
Maple neck
Review Video
Pros
Best quality and craftsmanship on the list
The finishing is stunning similar to a $700+ guitar
Great playability and tuning stability
Amazing Schecter tone
Cons
A little bit pricey for most beginners
Frequently Asked Questions
Should I buy a guitar starter pack?
Guitar starter packs are good because they include everything (guitar, amp, strap, lead, plectrums) in a handy bundle. However, you are more limited to the choice of a guitar with a starter pack. Secondly, most guitars included are not of the highest quality and most likely not been set-up correctly.
Can you play heavy metal with any guitar?
Yes, you can play metal with any guitar, however, a metal-specific guitar includes a slim and comfortable neck and low action suited for fast technical playing. Secondly, the guitar will include pickups optimal for adopting a heavy and saturated guitar tone.
How much should you pay for a beginner guitar?
A reasonable amount to spend on a first guitar would be $180-$350. Although there are no rules to this as it depends on your available budget. It's worth noting that price is not the aspect that aids how quickly a new guitar player progresses on the guitar.
Does hand size matter when choosing a guitar?
For teens and adults, hand size should not be a factor when choosing a guitar. It depends on the look, playability, tone, and personal tastes. However, If the guitar player is 7 years old or below, a mini guitar or ¾ guitar would perhaps be a more suitable guitar choice based on the player's size.
Is metal guitar hard to play?
Some genres of a metal guitar can be very hard to play. The reason is some metal subgenres such as classic, speed, thrash and death metal are fast and technical. Whereas, other sub-genres such as sludge, metalcore, modern can be slower and focusing on aggressive rhythm.
Are cheap guitars any good?
Depending on the brand, some cheap guitars offer good playability, tone, and excellent value for money. Cheap guitars use lower grade woods, hardware, electronics and finishes making for a more affordable guitar. Cheap guitars are ideal for beginners and make good backup guitars.
Check out my related post…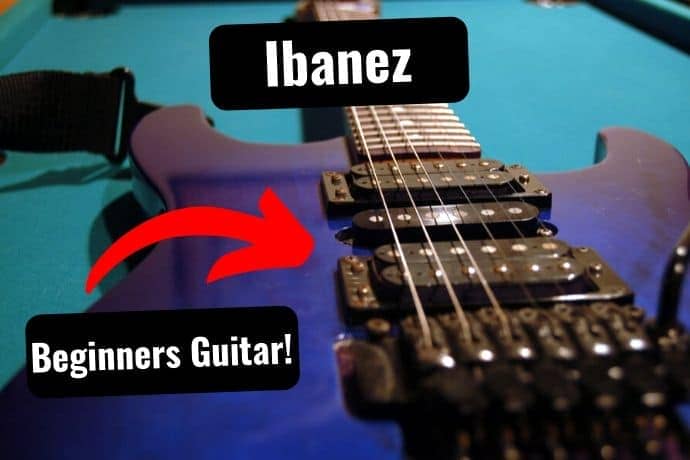 If you want to know why Ibanez guitars are excellent for beginners…you should fill up on my next article…
"Why Ibanez guitars are excellent for beginners"
In this post, I give the top reason why beginners such as yourself should consider choosing an Ibanez guitar for your collection.