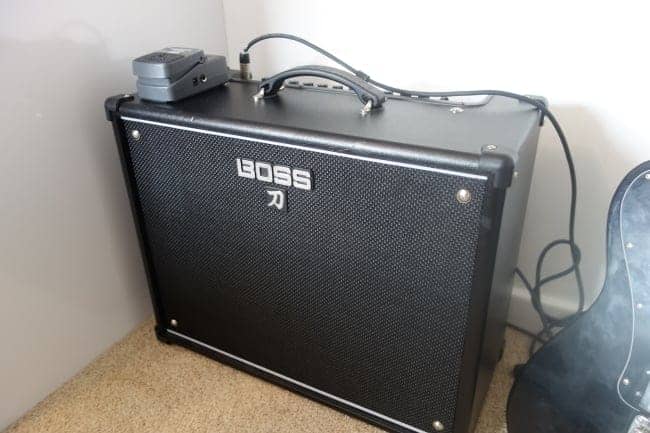 With so many practice amps out there, it's difficult to identify a solid 'metal practice amp' with authentic metal capabilites for bedroom volumes.
Whether you are a seasoned metal player, or just ensuring that your next amp has metal qualities.
By the end of this post, you will know 8 popular and proven practice amps ideal for any high-gain music genre.
As a bonus, There's another solution I will share at the end of the post. It will allow you to sculpt an authentic metal tone and bedroom volumes which requires no amplifier altogether.
So, let's dive in…
How to Choose a Practice Amp for Metal (Buying Guide)
Solid-State or Tube?
One of the biggest divisions in the world of guitar amps is between solid-state and tube-driven ones.
These two categories come with their own sets of advantages and disadvantages. But here, we'll focus on the bedroom practice use.
First, it needs to be noted that solid-state amplifiers are way more suitable for home use. This is because they're generally quieter compared to tube amps at the same output wattage.
And especially if you like distorted tones, solid-state practice amps will serve you better at lower volumes.
In order to use their full potential, you don't need to turn them up that much, even if you have a 50 or 100-watt solid-state amp. Since they get this saturation at lower volumes, they're more suitable for home use.
In addition, many of the solid-state metal practice amps also come with onboard effects and lots more tonal options and features compared to a tube amp.
Tube amps can be useful too, but only if they're really low wattage. We're talking 1 watt or under if you want to get a fully saturated tone at bedroom volumes using a full tube amp.
But even with this, tube amps require more maintenance, they're more expensive and come with fewer features.
Their tones are excellent, but they're more complicated, more expensive and less versatile.
Tone, Distortion, and Presets
If you're looking for the best metal amp for bedroom practice, you need to have a lot of tone-shaping options, especially the high-gain settings. After all, this is the staple tone for almost every metal subgenre.
As far as small metal practice amps go, you can find some examples that feature both factory and user presets.
In many cases, these amps are pretty versatile and give you anything from sparkling cleans and up to crushing heavy leads.
For metal guitars, it's crucial to have a boost and a lot of control in the mid-range. It's not all about gain but also about having that punch in your sound.
At the same time, it's also important to have that response and thickness in the low end. Otherwise, they'd sound too thin and "weak."
With enough tone-shaping options and quality speakers, you'll be able to create a heavily distorted tone without it being too "fizzy" or harsh.
How Many Watts?
You don't need higher output for bedroom use, but you'll need to use the full potential of your metal practice amp.
With solid-state amps, you can do that even at a lower volume level. Amps with 75 or more watts can do both loud and quiet settings well.
However, if you're using this amp for home practices only, there's no need to spend a lot on more powerful practice amps. If you want to have something for both practice and gigging, then go with 50 watts or more.
The Boss Katana series have some great metal practice amps as they allow you a great tone at both – really low and high volumes.
They're a great choice if you're looking for the best practice amp for low volume performances.
Tube amps can get pretty loud even at lower wattages. There are some smaller amps of 1 to 5 watts that can be a good option for home use.
If you need a tube amp for gigs and home use, look for those that have onboard attenuators that let you play at 0.1 to 5 watts, with their maximum output being 20 or more watts.
Combo or a Separate Head and Cab?
Combo amps are more convenient for home use. They're not only compact and practical but are cheaper than the head and cabinet format.
You'll pretty much achieve the same results for home use and you won't really need to bother with different cabinets and wasting more of your space.
Other Essentials on a Practice Amp
Aside from wattage and technology, they rely on home amps and should have a few other features.
For instance, it's always a good idea to have a headphone output, especially for late-night practice sessions. It's also useful if your practice amp has a DI output which is useful for recording.
Many amps these days even have USB outputs and you can utilize them as audio interfaces for recording music in real-time using your computer.
This also allows for more tone-shaping options and even preset downloads from any company's official website.
Having a footswitch on your practice amp is also useful, especially if you're practicing on how to switch effects during songs.
1. Blackstar ID Core Stereo 40 – Popular Bedroom Metal Practice Amp
Blackstar is a company that has a lot of great amps to offer. But for this purpose, we have their ID Core Stereo 40 amp.
What's unusual is that this is a stereo amplifier, which is not that common in the world of guitar amps.
It comes with the total power of 40 watts, 20 watts for each channel. It features two speakers, each being 6.5 inches in diameter.
This is a solid-state amp, but its main tonal properties come from the onboard digital effects processing unit.
The amp comes with six different "voices," with each giving a distinct tone. There are two types of clean tones, two types of "crunch" tones, and two types of very saturated overdrives.
As far as knobs go, we have volume, gain, and an additional ISF or Infinite Shape Feature control instead of a conventional EQ.
With this control, you choose between the standard British or American type of amp tones.
There's also a separate section with 12 onboard effects. Using a USB connection, you can hook it up with your computer, either for detailed tone-shaping with the Insider app or for home recording purposes.
Overall, it's a pretty simple yet effective metal practice amp that you can even use for some live gigs. It's nothing too fancy, but it's still one of the best practice amps for metal.
Features
40 watts stereo (20 watts for each channel)
Two 6.5-inch speakers
Solid-state with onboard modeling and effects
6 distinct "voices"
ISF control
USB connectivity
Pros
A lot of tone-shaping options
Simple to use
Comes with USB connectivity, making it possible to utilize it as an audio interface
Cons
Although versatile, tones could be better
It would be better if it had a standard 3-band EQ
Best for
Since it has 40 watts of total output power, ID Core Stereo 40 is useful for anyone who needs a metal practice amp for both home practice and smaller live gigs. Being a stereo amp is also interesting, which makes it good for those playing one-man shows with looper pedals.
2. Marshall MG30GFX
For many decades now, Marshall amps have been a staple name in the world of rock and metal music.
While we mostly focus on their high-end stuff, the company has a lot of great amps in the smaller and cheaper categories.
So, if you're looking for the best amp for home and practice use, their MG30GFX is worth checking out.
This amp has a total output power of 30 watts. And although it's part of one of their cheaper series, MG30GFX is capable of delivering some quality tight tones for metal music.
There's one 10-inch speaker on it, which helps you get those bassier, but really controlled tones.
Just like many of their amps, it's pretty simple to use and has Marshall's classic front panel with all the controls.
Aside from the basic parameters for volume, 3-band EQ, and gain, the amp comes with onboard reverb, as well as a separate section that gives you chorus, delay, phaser, and flanger.
As far as basic tones go, you have clean, crunch, and two different overdrives.
With this amp, you can create an abundance of interesting tones, anything from sparkling cleans and up to crushingly heavy leads.
What's more, there's even an output jack for headphones and a separate auxiliary input for playing backing tracks.
Features
30 watts of power
Classic Marshall layout
10-inch speaker
Clean, crunch, OD1, and OD2 modes
Onboard effects
Pros
A lot of sonic options, making this amp pretty versatile
Headphone output
Can come in handy even for smaller gigs
Cons
You can only use delay, chorus, flanger, or phaser one at a time.
Best for
It's a very useful metal practice amp for beginners since it's so simple to use. In some cases, 30 watts can be enough for smaller shows, but it really shines for those band practices if you don't want to use your main amp a lot.
3. Boss Katana Series – Proven Practice & Gigging Amp
For this spot, we're including the entire Katana Series by Boss. Interestingly enough, during the 2010s, everyone thought that solid-state amps have been pushed to their limits.
But Boss blew everyone away with their Katana amps, offering better tone and more versatility, all with some surprisingly simple features.
There are a few options, giving you anything from a simple practice amp like Katana Mini, and up to a powerful pro-level Katana Artist amp that can even compete with the legendary solid-state Roland Jazz Chorus.
When we look at the amps with more output power, there are some pretty useful controls on there.
For instance, Artist amp or Katana 100 models even have an attenuator control that lets you soak up the power to 0.5 watts.
This is not often seen on solid-state amps, but it's still a great option if you need a gigging amp with an option to play at low volumes at home.
All of the versions are packed with a lot of tone-shaping options, and you can even achieve harmonically rich heavy distorted tones.
You can even do that on the smaller versions, like the Katana Mini and Katana Air amps. Overall, if you're looking for a home-based practice amp, we'd recommend Boss Katana Air.
It's a compact one that can give you 30 watts of output power. If used with batteries, you have 20 watts of total power.
There are still a lot of tone-shaping options, and it still sounds great with its two 3-inch speakers. What's more, it also comes with a special wireless plug.
Features
Improved solid-state technology
Onboard effects
Simple design
Power attenuation on bigger amps
Pros
Great tone
Very affordable prices of all amp models
Power attenuation control on bigger amp models
Very simple to use
Pretty great tone for solid-state amps
Best for
This is a very diverse series of amps, so it comes in handy for anyone from beginners up to professionals. The Artist model is also not uncommon for studio settings, as it's capable of delivering some pretty amazing tones.
4. Boss Katana Mini – The Best Portable Metal Practice Amp
We're singling out Katana Mini as a separate entry on this list, because of the amp's tone and capabilities at its size and price level.
It has only 7 watts of output power and some pretty simple controls to use. Although we could definitely use more of them, this is all enough to shape good metal tones for practice purposes.
In fact, even some big names in rock music began using Katana Mini for warm-ups and practice.
Although bearing some same principles, the amp has some very simplified controls. There's volume, gain, a 3-band EQ, and a switch for three different modes.
The "brown" mode gives you some heavily distorted but surprisingly tight tones for home practice. Aside from all this, Katana Mini comes with an onboard delay with time and level controls.
It's a very simple amp designed especially for home practices. It's surprisingly small, with just one 4-inch speaker. But it still delivers the much-needed punch.
Features
7 watts of power
Three voicing modes
3-band EQ
Delay effect
Can operate on six AA batteries
Pros
Very compact, making it useful for home use or travels
Adding a delay effect was a nice touch
Three voicings make it somewhat versatile
Cons
Although intended as a simple amp, it could use some more controls
Best for
The Katana Mini is a great choice for pretty much anyone who needs a very compact practice amp for home use or travels. From the perspective of metal music, it will be able to cover pretty much any subgenre.
5. Peavey Vypyr VIP2 40W – Most Versatile
Peavey has a very interesting Vypyr VIP series (yes, that's the correct spelling) that combines solid-state and modeling technology.
For this list, we're including their Vypyr VIP 2, which some consider the best metal amp for practice and even some smaller live performances.
Although its particular configuration might be complicated for some beginners or those inexperienced with digital units, it offers a lot of versatile options.
In fact, you can even get some properties of tube amplifiers that you otherwise wouldn't get with other solid-state amps.
We have a 40-watt amp on our hands. Aside from the basic controls, it's packed with 36 different digitally emulated amplifier models.
We also have 25 different effects, and a total of 16 presets that you can switch to any time. A footswitch is not included, but you can buy it separately.
The most exciting part is that this amp can be used for both guitars and basses. You don't find this particular feature that often, so it's really a great option for those who play both guitar and bass.
It's all rounded up with USB connection which turns this amp into an audio interface. You can use this feature to record at home and do some more complex tweaking of parameters.
Features
40 watts
One 12-inch speaker
Includes a digital modeler with 36 amps
Has 25 onboard effects
Onboard looper
USB connectivity
Pros
Very realistic representation of different amp models
Can work with both guitars and basses
Plenty of options for tone-shaping
Cons
It might be a little confusing with less experienced guitarists
Best for
Many amps these days even have USB outputs and you can utilize them as audio interfaces for recording music in real-time using your computer. This also allows for more tone-shaping options and even preset downloads from any company's official website. 
6. Line 6 Spider Jam (75W) – Most Presets and Effects
Line 6 has really pushed the limits of solid-state amps with their Spider series.
Although the older models like Spider III have gotten that "over the top" reputation with some heavy tones; the company has perfected this series.
A great example is their Spider Jam model that features 75 watts of power and one 12-inch Celestion speaker.
However, its biggest strength lies in its abundance of different amp models, effects, and mindblowing number of presets.
But it doesn't stop there. Aside from having 400 preset slots, you also have an option to plug in a microphone, a bass guitar, or any other instrument and just combine all this with its onboard looper with 28 minutes of recording time, and you've got yourself a real one-man show machine.
Overall, we find it to be very useful for metal music. This is not only due to high gain heavy tones that you can make with it, but also the diversity that it provides.
Sparkling cleans and additional effects can also be very useful for different song sections and this amp has it all.
A footswitch is sold separately, but it can help you if you're looking for ways to have more functionality and practice switching effects at home.
And in addition to this, a footswitch can also be useful for live shows in pretty much any setting.
Features
75 watts
12 digital amp models and additional effects
Onboard looper
12-inch Celestion speaker
400 presets
Pros
Very versatile
A lot of user presets
You can use it with microphones and other instruments
Cons
Some tone presets might not be that convincing
Best for
With an onboard looper, 75 watts of power, and an abundance of presets, this is a great option for anyone who's looking for a nice combo amp that's useful for both practice and live settings.
7. Orange Crush 20RT – Most Affordable Metal Practice Amp
Orange amplifiers are very specific, although they have the following features. No matter the price range or the overall power output, their distorted tone is a little "fuzzy" compared to other amps.
So this is a great option for those who prefer the old school metal. And for this list, we have Orange Crush 20RT, which is a very simple 20-watt amp with one 8-inch speaker.
The controls are pretty simple, which is usually the case with Orange amps. But here, we also have a headphone out, auxiliary input, and even an onboard tuner.
The amp comes with clean and dirty channels, and we can also find a nice reverb on it.
On top of all this, the amp is pretty cheap considering the overall quality that you get with it.
A bit of a downside is that some players just might not prefer Orange's unique tone. But to be fair, for a practice amplifier, you can get some surprisingly heavy and raw tones for metal music.
This is what we can hear in some of the old school-inspired metal bands, mostly those who are leaning towards the doom and stoner subgenres.
And although a cheaper one, 20RT still manages to capture this vibe by adding some slight fuzzy overtones.
Features
20 watts of power
8-inch speaker
Headphones output and an auxiliary input for backing tracks
Two channels – clean and dirty
Tuner
Reverb
Pros
Great deal for the price
Its tuner is pretty useful for practice sessions
Auxiliary input lets you add custom backing tracks
Great tone for those who like old school stuff
Cons
Some guitar players might not prefer its fuzzy overtones on the dirty channel
Best for
Orange amps can be somewhat divisive. However, they're pretty popular among the lovers of raw old school metal tones, which this amp manages to do really well. It's definitely one of the best solid-state amps for metal.
8. Blackstar HT-1 – The Best Metal Tube Amp for Bedroom Practice
Since Blackstar amplifiers are so great, there's no way not to include at least one more of their products on this list.
However, this time we're including something a little different. No matter the effects and options, and other bells and whistles, it seems that nothing can still replicate the warm and "organic" tone of tube-driven amplifiers.
But for bedroom practices, you'll need something with low wattage. This is why we think that Blackstar's HT-1 is a great choice for the lovers of tube amps.
It's a very simple one, it has only the basic controls, along with the company's special ISF parameter, and it comes with an auxiliary input and a headphone output. That's it.
It's packed with one preamp and one power amp tube, providing you with very saturated and dynamically responsive tones.
However, some would be kind of discouraged by its price. After all, why would you spend on a bedroom amp as much as you would on a gigging amp, right?
Well, the warmth, the rich heavy tone, and the dynamic response that you'll get are something that you can't find on many amps at this price level.
And although small, Blackstar's HT-1 will bring you some amazing classic metal tones. If you like these genres, this one will serve you well.
Features
Basic controls
ISF control for different voicings
Clean and overdrive modes
Aux input
Headphone and line output
Pros
Very simple to use
Sounds really good and is dynamically responsive
You can get great tones for recording through the line output
Best for
HT-1 is simply the best home option for anyone who's a lover of tube-driven tones. Its power of 1 watt is just the right setting for home use with a tube amp, and you can still dial in some really great classic heavy metal tones.
Bonus Section
Consider Amp Simulator Software Instead?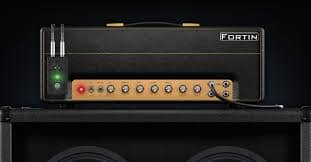 Amp simulator programs contain emulated versions of many iconic amplifiers and effects to build a custom virtual rig on your PC.
Furthermore, these programs offer immersive tone sculpting and are the solution for bedroom practice and for easily recording professional and authentic guitar tones.
The reasons I have long used amp simulator programmes instead of metal practice amps is because…
Genuine and realistic tones of iconic amps and effects
More tonal customization compared to basic practice amps
Have fun building your own custom virtual rig
Amp simulators load in any recording software (DAW) as a plugin for simple recording
Saves space in your bedroom
All you need is a USB audio interface (many are inexpensive)
Can be a cheaper alternative to buying an expensive practice amp
Many practice amps do not have recording DI recording options
Recording a physical amp with a microphone can be impractical and requires more recording gear
If you are a bedroom player and not in a band, then an amp sim is an excellent option
Multiple amp sims are free or very affordable
These programs have exploded in popularity in recent times. In fact, even professional bands prefer amp simulators as their main guitar tone instead of traditionally recording a real amp.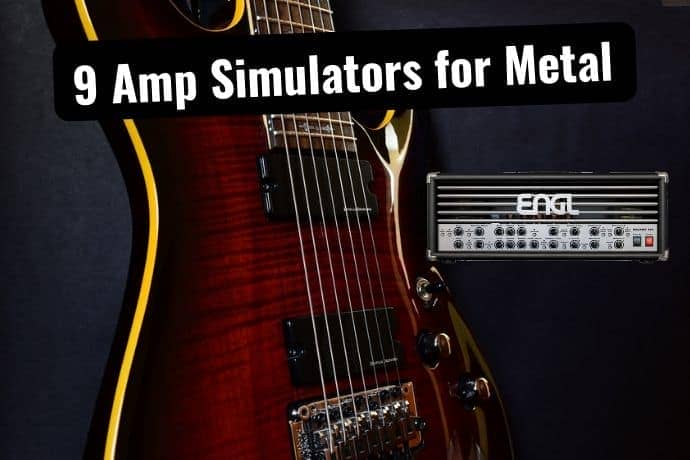 This post reviews all the best amp sims with high-gain amps, effects, and cool added features – which is ideal for players who want the best metal tones for creating a sweet virtual rig for practicing and recording.
How to Setup an Amp Simulator on PC (Video Below)
Frequently Asked Questions (FAQ)
Are solid-state amps good for metal?
Many solid-state amps have a "sharp" tone that's useful for metal music. Depending on the subgenre, some metal guitarists might favor solid-state over vacuum tubes. Today, we have amplifiers that combine solid-state and digital technology offering a big tone-shaping potential for almost all genres.
Are Fender amps good for metal?
It's hard to say what the best metal amp for beginners is. But, people usually tend to focus on certain brands. Fender has some amazing amps for metal music, although they're usually in the higher-end category. The smaller and cheaper ones usually focus on classic rock, blues, and general use.
Are Vox amps good for metal?
Just like with other brands, Vox amps are diverse today but those classic British-style tube-driven Vox amps have a specific bright tone. They're good for classic metal and hard rock genres and they're not that popular among modern metal musicians.
Can you gig with a combo amp?
Combo amplifiers are widespread among gigging musicians. They're more practical compared to stacks as they're much easier to transport and set up. Depending on their output power and overall settings, combo metal practice amps can be pretty useful for live settings.
Final Thoughts
Before buying any metal practice amp, it's important to do some research. Although many amps have been perfected for all genres, there are still some features that might sit well with different types of guitar players.
Either of these amps is great for metal guitarists practicing at home. However, each of them has distinct features.
If you want to have quality practice sessions, you'll need to look more into them and see what really works best for your metal practice amps needs.