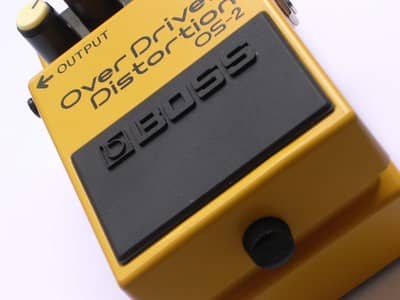 Glorious 'gain' and sweet 'distortion' is the pillar and foundation when sculpting a killer metal guitar tone.
Little stompboxes and distortion pedals are at the height of popularity and at the forefront of any metal player's pedalboard.
In this post, let's take a look at the 8 best distortion pedals for metal accommodating for all budgets in mind.
These pedals are a carefully selected bunch on stompboxes ideal for metal players across a wide field of subgenres.
Why Use A Distortion Pedal?
Many amplifiers have a separate distortion channel. While you can use this integrated distortion channel to add gain and saturation as your primary dirty sound.
On the other hand, distortion pedals do offer a ton in terms of flexibility and versatility. Some of the pros of adopting pedals as your main sound include…
More detailed tweaking of your distortion tone compared to the distortion on an amplifier
Additional mids and EQ options to sculpt that perfect chugging tone
Some pedals offer 2 or 3 channels allowing you to build a 'rhythm' 'Lead' and 'Crunch' channel for example
Pedals can be tried and replaced whereas an amp's distortion is set in stone
Pedals can replace a bad distortion sound of an amp (if you don't like the fizzy sound of solid-state amps distortion for example)
Distortion pedals allow you to blend tones with an amp or go for a different sound altogether.
Can easily turn pedals on/off easy for switching to clean and dirty
How to Choose a Metal Distortion Pedal
How Does The Pedal Sound?
You should first know what kind of tone you're aiming for.
Quite often, you'll see certain ranges of pedals focusing even on specific metal subgenres. A lot of the tonal characteristics will also depend on your pickups and an amp that you're using.
But at the same time, some pedals try to replicate the tones of some famous amplifiers that are known for their legendary high gain tone.
Aside from just gain, pedals will affect the EQ in such a way to pronounce certain frequencies and make it sound harsher or mellower.
At the end of the day, there's one thing that's common for all the metal-oriented distortion pedals, and that's harsh clipping. You will also need to decide if you want a tight or loose metal tone?
Some distortion pedals replicate the authentic sound of tube amp distortion for an organic dirty tone. whereas, some pedals sound like a digital fuzzy mess.
With all this said, you should also know your guitar and amp and how they sound. Not every distortion pedal will sound the same with a different rig.
All About The Mids
Electric guitars, amplifiers, and all the other guitar-related devices that help to shape your tone mostly focus on the mid-range frequencies.
Therefore, most of the tonal characteristics that you like or dislike come down to how mids are treated. Especially in metal where you often need that "in-your-face" tone.
Quite often, you'll see metal-oriented pedals having more than just the simple 3-band EQ or the basic tone knob.
And even if a pedal has simpler controls, the potentiometers will add a bit of a different "flavor" to its response.
With more expensive pedals, we usually have more control over the mids. This is why you should be familiar with parametric equalizing before you get more into these distortion pedals.
Another important thing to note is that some more expensive pedals will have a stronger response for these parameters, whereas cheaper pedals will not respond to tweaks so well, thus making them less versatile.
EQ Parameters and Features
Keep in mind; the more expensive the pedal, the more options for immersive tone sculpting with additional dials, knobs, switches, and features.
The range of features include:
Gain & volume knob
3-band EQ – standard configuration on most pedals
5-Band EQ – allows for more detailed tone sculpting
Additional mid dials – lets you dial in those mids perfectly
Bright switch – increases treble and presence
Presence knob – darken or brighten your tone
Built-in noise gate – tames feedback and loose gain
Additional channels – provides the option for a 'rhythm' 'lead' or 'clean' channel for presets
Choose the features required for your rig according to your budget.
Build Quality
While not affecting the tone, it's also important to look into any pedal's build quality. After all, this pedal will be used a lot, especially if you're doing gigs.
Pedals that are not in the budget category always come with a metal casing and quality footswitches.
These switches can either be movable parts of the construction (like Boss pedals), or the regular simple footswitch.
But the overall build quality, including all the potentiometers, switches, and other controls, determine the pedal's reliability. And you don't want a pedal that will give up on you mid-show.
Cheaper pedals come with cheaper components and are often assembled overseas. These days, you can find decent distortion pedals in this category as well, although it's not always the most reliable option.
On the opposite end of the spectrum, we have the so-called "boutique" pedals that are made by independent smaller manufacturers and are assembled by hand.
Although significantly more expensive, they are considered more reliable.
Price Range
Lastly, you should always think of your budget. We'd all love to have expensive pedals, but there's a line to be drawn somewhere.
The same rule applies – the cheaper you go, the fewer controls you'll get, and the build quality will suffer.
But if you want to get into high-end distortion pedals, you'd need to go above the $150 or $200 mark. These pedals can come with features like dual distortion formation, clean boost option, or detailed EQ controls.
With some hand-made pedals, you even get a nice paint job and a unique design. On the other hand, these "boutique" hand-made devices can sometimes be less versatile, with manufacturers mostly focusing on designs rather than features.
So it's important to notice these things and get the best deal for the money.
1. Behringer Heavy Distortion UM300 – Best Budget Metal Pedal
Behringer is a company known for budget equipment, including guitar pedals. Now, it might be weird to see their pedal on this list, but some surprising qualities come with a piece like the UM300.
Yes, it has a plastic casing and cheaper components, but knowing that it's extremely cheap, a player can always have a spare for their rig.
The biggest surprise comes with its tone quality. Just like the rest of their pedals, this one also mimics the tone and circuitry of other more expensive effects.
It's the typical "chugging" pedal inspired by nu-metal. To be fair, there's hardly any way to notice the difference in tone between Behringer's and Boss's version. It's a tight high gain distortion with some "fuzziness."
Aside from volume and distortion levels, there's also a simple 2-band EQ. There's also the simple clean gain boost that comes in handy when paired with tube amplifiers.
This way, you can push the tube-driven amps over their limits and add some of that "organic" and dynamically responsive distortion. Overall, we'd argue that this is the best budget option for the best dirt cheap pedal money can buy.
Features
Plastic casing
2-band EQ
Clean boost
"Modern" metal tone
Pros
It's very cheap
Surprisingly great tone for the price
Clean gain boost makes it a good choice for tube-driven amplifiers
Cons
Plastic casing and cheaper components are not so reliable
Best For
Behringer's UM300 comes in for guitar players who need metal tones at an affordable price. It is also is an excellent option for beginners who are unwilling to shell out on expensive gear.
2. Boss ML-2 Metalcore – Best Metal Pedal for $100
Boss has a lot of great stuff to offer and the company is well-known for its simple and rugged pedal enclosure.
If you're looking at the best distortion pedals for metal at around the $100 price, their ML-2 Metalcore is a great option.
As far as the controls go, we have four basic knobs – level, distortion, and two controls for a 2-band EQ.
Although straightforward, the knobs are responsive and you can get a few different types of high-gain metal tones. On the other hand, it would be nice to have some controls over the medium frequencies.
The pedal is recommended for players looking to attain that ultra-low, seven-string vibe suited for the metalcore and similar subgenres.
As long as this is the genre and style you're looking to pursue, the price is quite affordable and the ML-2 offers a top bang for the buck.
The item comes in a standard BOSS casing, requiring the standard two AA batteries or a power adapter to operate.
Overall, it's pretty tight for a high-gain metal distortion. Although it's mostly designed for some heavy riffage, ML-2 can even be a good option for lead sections as well.
Features
Classic Boss design and metal enclosure
Basic controls
2-band EQ
Pros
Very durable and reliable
Doesn't sound "muddy" on high gain settings
Versatile
Best For
Just like HD300, ML-2 is mostly intended for "modern" metal tones. Nonetheless, there's a fair amount of versatility involved. But in the end, it finds the best use for heavy riffing and high-gain leads that cut through the mix.
3. Electro-Harmonix XO Metal Muff – Loose and Unique Sound
Back in the late 1960s and the early 1970s, Electro-Harmonix made a huge breakthrough with its Bug Muff Pi pedal.
After years of development, we now have so many different variations of this original pedal. If we're talking about metal music, their XO Metal Muff is designed especially for this genre.
At the very first glance, you can notice that the pedal has a fair amount of controls. Firstly, it has a dual-stage formation. Aside from the mandatory on and off switch, there's also another switch that adds a high-end boost, which is controlled with an individual knob.
The pedal comes with the essential controls for volume and distortion levels, along with a 3-band EQ and the aforementioned top boost.
When you hit the main switch, the pedal adds distortion, just like any other. But the additional boost switch adds those sizzling high-ends according to the "top boost" knob level setting.
Metal Muff also adds a lot of sustain and gives a lot of control over the mids, from dark and scooped tone, up to "direct" heavy tones that cut through the mix. And with the top boost engaged, it becomes a mean soloing machine.
Features
3-band EQ
Top boost mode with an independent control
Tone inspired by the classic Big Muff Pi
Pros
The abundance of controls makes it very versatile
Responsive mids control
Switchable top boost with its independent control
Sturdy construction
Cons
The pedal is larger, which might be a problem for some pedalboards
Best For
The addition of the top-end boost, along with the pedal's great sustain, makes it a great option for lead guitarists. This 2-in-1 deal is also useful for anyone who's the only guitar player in the band and needs to cover both lead and rhythm sections with just one distortion pedal.
4. Revv Amplification G3 Distortion – Best Sound for $200
One of the most common descriptions of distorted metal tone is the word "tight."
And Revv Amplification's G3 Distortion pedal is basically a physical manifestation of this description. You'll rarely find any pedal that tweaks the EQ in such a way.
If you can't stand the muddiness or high-end frequencies spilling all over the place, this is a choice to consider.
You can even play chords on higher gain settings and you'll still be able to hear every note.
G3 comes with an interesting set of parameter controls. We have a very responsive 3-band EQ and gives a lot of control over the mids. But the pedal also comes with an additional 3-way switch.
With this control, you toggle between "aggression" modes labeled as "red" and "blue." In the middle position, both modes are off.
Blue mode is a bit smoother and gives those tasty bluesy tones, and you can even get a really tight sound with higher gain settings in this mode.
The "red" mode is pretty versatile, although it can get a bit messy on the higher gain settings. Nonetheless, this is a universal pedal for an abundance of different styles.
Features
Compact metal casing
3-band EQ
Aggression mode switch
Optimized for different types of rigs
Pros
Quality and sturdy build
Very versatile, can be used for almost any genre
Responsive controls
Aggressiveness modes can completely change the tone
Very tight even on higher gain settings
Cons
Expensive
Red mode on highest gain settings can be a little messy
Best For
To put it simply – this distortion pedal is good for any style. Yes, it's expensive, but if you're playing more stuff other than metal, this is a very useful addition to your pedalboard. However, it's mostly aimed at experienced players and professionals.
5. Wampler Dracarys High Gain Distortion Pedal
Somewhere in a similar price range, we have Wampler's Dracarys Distortion. This is also a relatively smaller manufacturer that puts a lot of effort into their pedals.
It is worth noting from the get-go that the Brian Wampler-founded company is frequently hailed as the cream of the crop of the boutique pedal industry.
Yes, we are talking about high-end products here, but what you will get is a stellar sound and nothing short of top performance.
Moving forward, control-wise, the product is pretty similar to Revv's G3. We have the 3-band EQ, volume, and gain, as well as a switch for voicings.
This switch has two positions, "open" and "tight." When it's set too "tight," it adds some compression, which makes your tone more compact and suitable for rhythm and riffs. The "open" setting is a bit loose and lets your guitar do more talking.
It's a fairly simple pedal, although more versatile than those regular distortions made by bigger manufacturers.
The tone dangles somewhere between really tight and more loose and fuzzy stoner rock-oriented settings. It's maybe a bit more specific than some other pedals that we mentioned, but it still gets the job done.
Features
Compact metal casing
3-band EQ
Switch for two modes, "open" and "tight"
Works with 9-volt or 18-volt power supplies
Pros
Great tone
Fairly versatile
"Open" mode is good for lead sections
Cons
Can get a little fuzzy and murky on some higher gain settings
Best For
The "open" voicing mode gives an interesting twist to one's tone. Without getting rid of the mids, guitar players can get that much-needed presence in there.
For this reason, we'd argue that the pedal works well for lead sections. But the addition of the "tight" setting makes it a good choice for riffing. As far as specific styles go, this one can be pretty useful for those southern, bluesy, or stoner metal subgenres.
6. Friedman BE-OD Deluxe – Popular Dual Channel Metal Pedal
Friedman is known for its high-end gear which is really popular among professional guitar players and even some big rock stars.
Their amps, pedals, pickups, and other products are pretty expensive.
However, you can't expect anything short of impressive by Friedman. For the list of the best distortion pedals for metal, we're including their BE-OD Deluxe.
And to be fair, this is more than just a simple stompbox that will give you razor-sharp metal tones. BE-OD Deluxe is an absolute beast and a very versatile distortion tool for players of many different genres.
This is essentially an overdrive, meaning that it mostly works with softer clipping. However, when paired with tube amplifiers, it can get some harmonically rich and dynamically responsive distorted tones.
The pedal has a very useful 2-stage operation. It comes with two channels, each bearing identical controls.
We have volume, drive level, and a 3-band EQ, along with a presence boost switch and a "tight" switch.
You can set two completely different tones and toggle between them for different songs or song sections.
Presence is especially useful if you're looking for parts where the guitar needs to cut through the mix without adding a volume boost to it.
On the other hand, the "tight" switch can boost those low ends without your tone getting too muddy – something that's really useful for heavy riffing.
Features
2-stage overdrive pedal with doubled controls for each channel
3-band EQ
Presence boost
Tight switch
Pros
Extremely versatile
You can dial in both vintage and modern tones
Presence boost allows you to cut through the mix without pushing the volume
Works really well with tube amps
Cons
It's large, which might not be suitable for some pedalboards
Complicated for inexperienced guitarists
Best For
Although it can find use in any genre, it's a pretty great option for metal players, especially when combined with tube amplifiers as it helps guitarists get the best out of them.
The pedal is not exactly beginner-friendly though, so we'd recommend it for more experienced players who are ready to pay more for a great-sounding pedal.
7. MXR EVH 5150 Overdrive – Classic 5150 Metal Tone
Just like Eddie Van Halen took the world by storm with his impressive skills and music, his famous 5150 amp captured the hearts of many metal players.
This amplifier saw many changes over the years, with the main focus always being on those heavy "in-your-face" tones for rhythms and leads.
Since Eddie was also a fan of MXR pedals, they collaborated with the legendary guitarist and made EVH 5150.
It's a fairly simple one, although in a slightly bigger metal casing. There are controls for gain, volume, a 3-band EQ, and two additional features that you don't often see on distortion pedals.
First, there's a simple boost switch that adds more gain and some compression to the tone, making it "tighter" and louder.
The other feature is the company's "Smart Gate" which is controlled with one knob.
It's not like a standard noise gate, as it adds more noise reduction when playing faster notes while also reacting more slowly when you hold the note longer.
On the downside, it would be better if the gain boost was in the form of a footswitch rather than a plastic one placed next to a gain knob. It's not a deal-breaker, but it would be a better option for a pedal of this size.
Features
3-band EQ
+6 dB gain boost that adds some compression
Integrated Smart Gate with one control knob
Sturdy metal casing
Pros
The tone resembles classic 5150 amps
Smart Gate control really works well and allows sustain with longer notes
Gain boost also adds compression and makes the tone "tighter"
Great tone overall
Cons
Boost function could have its separate footswitch
Best For
The pedal is heavy on the high-end, but it still sounds pretty controlled and tight. This kind of tone is good for those looking for razor-sharp lead tones. On the other hand, some not so experienced players might have a hard time controlling such a tone.
8. Empress Effects Heavy Dual-Channel – Premium Option
If you really need a high-end premium distortion pedal, look no further than Empress Effects and their Heavy pedal.
Although bearing a simple name, the controls are very detailed on it. Firstly, we have two channels on this pedal, with each bearing individual controls for volume, mids, gain, and "weight," which determines the character of your low-end.
Each of the channels also comes with a noise gate switch with three settings and an additional switch for peak frequencies in the mid-section.
What's really unusual is that high and low controls are "global," meaning that they tweak the tone of both channels. This sets the device apart from the competition a bit and can result in interesting sonic experiments.
You don't really see this configuration anywhere, but it makes it easier to focus more on the mids.
Yeah, the pedal is far from a cheap one and it's kind of tricky to get a hold of it.
However, the price is the only thing we can see as a potential issue. If you're looking to make a bigger investment, this fella just might be it.
But it's still one of the best-sounding metal distortions and can work well with both solid-state and tube amplifiers.
Features
2-channels
"Global" controls for low and high
Each channel has separate mids with peak frequency switches
Built-in noise gate
"Weight" control for shaping the low-end
Pros
Detailed parameter controls give you a lot of options for tone-shaping
Works well with tube and solid-state amps
Very controlled tones even in the high-end
Full control over mids
Best For
This is an ultimate distortion machine aimed at experienced professional players who know how to use the best out of all the parameter controls. It can be a tricky one for beginner and intermediate players.
Frequently Asked Questions (FAQ)
How do I choose a distortion pedal?
You first need to know what kind of tone you're aiming for. The best way to go about it is to focus on specific subgenres and players that you love and then go from there. Some pedals give more "open" and "fuzzy" tone, while others are mid-end heavy and "tight."
Should I get a distortion or overdrive pedal?
Overdrives are distortion with smooth clipping. For metal music, it's usually better to use a classic distortion pedal than an overdrive. However, overdrives can sound really good when paired with distorted channels of tube amplifiers. This way, you can enhance the tube-driven tone.
How do I make my amp distorted and heavy?
Distortion is an effect achieved with deliberate clipping. If you have a tube amplifier, even the clean channel will get distorted if you push the volume near the maximum. Many amps today have separate distortion channels, but you can also use distortion, overdrive, or fuzz pedals.
Can you use two distortion pedals at once?
Using two distortion pedals is a common practice. However, you need to be careful not to make the tone too "messy" and noisy. One pedal should serve as the main distortion and the other one as a boost that also adds some character. Distortion and an overdrive pedal can work well together.
Is a Tube Screamer distortion or overdrive?
Ibanez's Tube Screamer is one of the most famous overdrive pedals. Overdrives are a type of distortion that just sounds smoother. Tube Screamer is usually found in blues music, although it can be used for pushing tube amplifiers over their limits and achieving heavy distorted tones for metal.
Final Thoughts
if you're serious about your tone, never be afraid to cash out for a more expensive pedal, as it can make a world of difference.
In the guide above, we included something for everyone's tastes, skill levels, and budgets. You can't go wrong with any of these, but it's important to look at what each of these pedals does and whether it will give you the tone you need.
What Are The Best Amp Sims For Metal?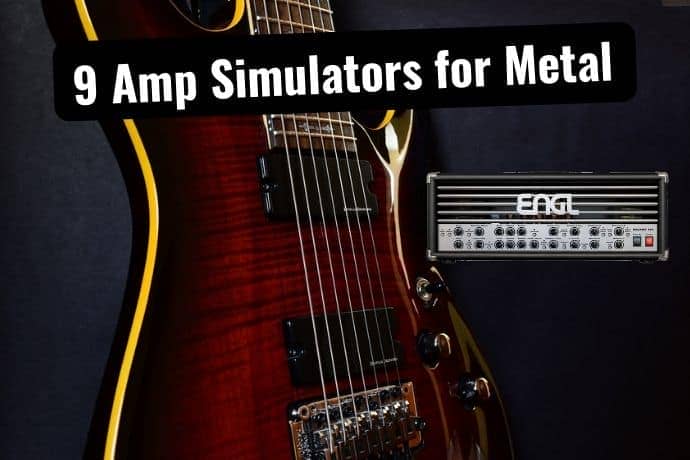 Now we have looked at some awesome pedals, how about the best amp simulators for metal?
Then you have to check out my awesome review post…
"The 9 Best Amp Simulators For Metal Players (Free & Paid)"
Who needs to buy a practice amp? When you can have every classic amplifier and effect for sweet tones at a mouse click away!