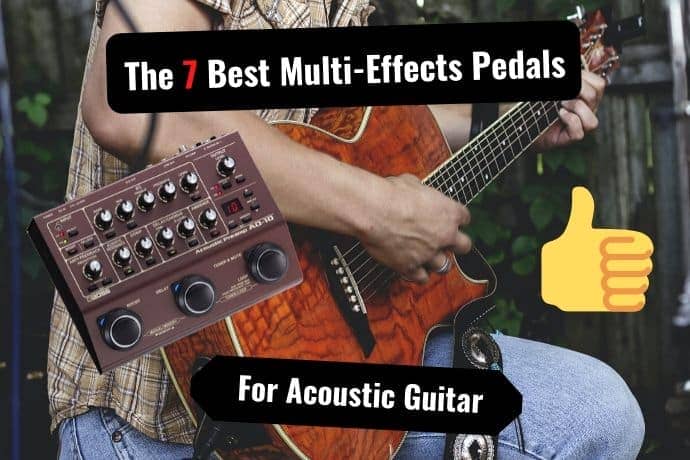 Multi-effects pedals are a crucial tool for any acoustic player who performs live.
Multi-Effects units designed specifically for acoustic guitars help replicate the organic and authentic sound of an acoustic while containing important effects and features.
They help banish the flat and lifeless piezo pickup tone which is standard when you connect an acoustic directly into a PA system.
Other essential features include built-in tuners, EQ options, loopers, compression, etc. All in a versatile compact unit perfect for transferring to and from performances.
Can you use regular guitar multi-effects pedals for acoustic?
The answer is simple, regular guitar pedals are not designed to enhance the wide dynamic range and frequencies of an acoustic guitar.
Hence why you need a pedal specifically designed for acoustic guitar for the optimal acoustic tone and experience.
After searching and reading extensive reviews of many products, this post conclusively includes the 7 best multi-effects for acoustic guitars for your viewing.
I concluded that these products are the best options for players of all experience levels and a typical range of budgets.
How to Choose the Best Acoustic Multi-Effects Pedal
Processor & Sound Quality
The priority of any multi-effect pedal designed for an acoustic guitar is to provide the most authentic and organic acoustic tone and provide multiple EQ options and effects.
This task usually falls to the pedals processor. The processor is essentially the brain of the unit making all the calculations it needs to provide the sound.
Expensive pedals have better processors resulting in a higher-grade quality of sound which shows in the authenticity and detail of your acoustic tone.
High-end multi-effects pedals also allow for a wide range of EQ options and multiple effects at once, providing more customization and options for detailed tone tweaking.
Whereas, more affordable unit processors only allow for less EQ customization and 3 effects at once for example. This greatly limits your options for sound and different acoustic tones compared to more advanced units.
If you are a beginner and only require a handful of effects and features, a more affordable and entry-level unit will be the best option for you.
Whereas, If you are an experienced and frequent gigging player requiring an effect unit for more advanced applications, an advanced and higher-end multi-effect pedal will be the better option for you.
Choosing Your Required Features
It is recommended you select a multi-effects pedal that ticks off your boxes when it comes to available features.
As you notice, the higher in the price you go, the more fancy features and options for customization are available on the one pedal.
Depending on the unit, multi-effect pedals for Acoustic guitar range in features:
Built-in tuner
Built-in Looper
Effects (modulation, time-based, compression, gain, etc)
Expression pedal
Bright switch
Feedback Reducer
Boost control
Room ambiance control
Number of foot pedals
PAD button for high or low output acoustic pickups
Aux connection for playing backing tracks using external devices
Headphone connection
Level indicator (displaying input and output levels)
Level control
Base your choices on your needs in a pedal. For example, if you like playing looped phrases? A looper feature is a must.
Or you need multiple foot pedals on the unit for quickly switching sounds mid-song? Or perhaps, you are a tone freak and want a massive array of EQ tone shaping with effects!
You get my point! Choose and scrap the features you need with your pedal depending on your available budget.
Range of Connectivity
Depending on your preferred method of live amplification, that being into an acoustic amp, PA system or Mixing desk?
A multi-effects pedal must be versatile and provide multiple input connections to provide these options to any gigging acoustic player.
Multi-effects pedals have connections for expression pedals, line-outs, XLR, simulated outputs, headphone connection, AUX inputs, and more, expanding the flexibility and over your connections and features.
Usually, the higher price results in more options for connectivity.
Therefore, a live gigging acoustic guitar player, knowing what inputs you need for your live application is critical and will influence what multi-effects unit to purchase.
1. Caline CP-48 Honeycomb – Best for Players on a Budget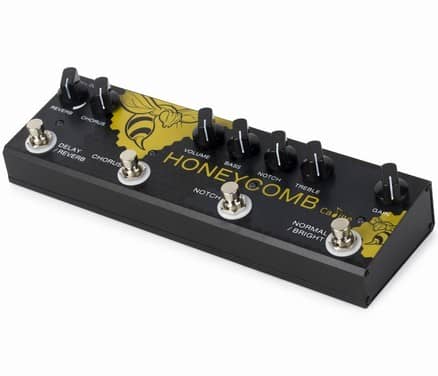 Trying to find a good multi-effects processor might not be that easy especially when it comes to acoustic guitars, as these are not so widespread compared to those for electric guitars.
However, there are some worth mentioning, especially a piece like Caline's CP-48, also named Honeycomb.
Now, the whole idea behind this particular unit is its simplicity. We could say that it's not something that you'd expect from a standard multi-effects processor.
Instead, we have just three basic effects – chorus, reverb, and delay. However, the controls for them are pretty basic.
It's not a huge downside, but these simplified effects are intended for those who don't feel like twiddling too much with complex processors.
Also, we also have feedback control or so-called 'notch.' This particular feature takes care of any potential feedback in real-time. It's an important thing, even for a cheap budget product like CP-48.
Aside from these effects, there are some standard controls and features.
First, there's a 2-band EQ for some basic tone shaping. Up next, the processor has a built-in DI, which is important for any unit of this type.
There's also an AUX input, which lets you work with a backing track, drum track, or anything else you have in mind.
In the end, we also have a bright mode. This adds some of the very defined high-end to the tone.
It can be useful for lead sections or any specific songs where you'd need a different tone. But overall, the biggest strength of this multi-effect pedal is simplicity.
Features
2-band EQ
Gain control
Delay, chorus, and reverb effects
Bright and normal option
AUX connection & XLR
Review Video
Best For
Looking at the Honeycomb multi-effects pedal, it's pretty clear that it's a choice for beginners or those who just need a simple processor for smaller gigs. In case you're more serious about your performances and need more tone-shaping features, this one will seem like a toy in comparison to some other choices out there.
2. Zoom A1X Four – Built-in Expression Pedal for Swells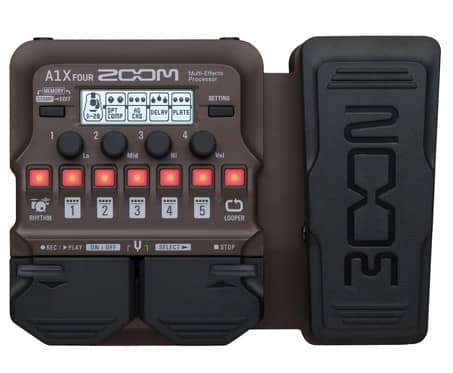 Although there are so many guitar-related products out there, it's hard not to mention anything by Zoom. For this list, we have the company's A1X Four.
Although this is clearly not a fully professional pedal, it still provides a few interesting features compared to the Honeycomb we discussed above, it provides more effects and versatility.
There are two versions of this processor, A1 Four, and A1X Four. The latter, which we're discussing here, has an expression/volume pedal.
This pedal is the only multi-effects pedal on our list allowing for ambient volume swells and interesting soundscapes.
What we need to note first is that this multi-fx is intended for a lot of acoustic instruments and not just guitar.
The cool thing about this unit is it works for violin, saxophone, harmonica, acoustic bass, and trumpet or anything else that either has a piezo or a mic. Bear in mind that it works with both dynamic and condenser mics.
As far as acoustic guitars go, A1X Four offers some great modeling features. You can make your guitar sound a bit different as if it was made from another type of wood. There are even different body shapes.
Overall, you can use 15 factory presets along with 13 downloadable ones.
Aside from guitar modeling, you can add a few effects, like pitch shifting, delay, reverb, and even wah. Of course, the expression pedal can also adjust volume when needed.
As if this wasn't enough, A1X Four offers a looper with 30 seconds of recording time, as well as 68 drum patterns specially made for acoustic music. The best part – you can use it in combination with the looper.
Features
80 effects and 35 specific acoustic effects
Built-in expression pedal
Tuner
3-band graphic EQ
Anti-feedback filter
Create patches with Zoom's Guitar Lab software
AUX and USB connections
XLR connections
68 Drum machine patterns
30 second looper
50 memory patches for creating custom presets
Designed for acoustic, saxophone, acoustic bass, trumpet and violin and harmonica
Review Video
Best For
Although it's pretty versatile, it's still something you wouldn't see in professional use. It's the best choice for frequently gigging amateurs or some more experienced musicians who need something for smaller shows. A1X Four also comes as a great choice for those who play other acoustic instruments as well.
3. Fishman ToneDEQ – Best Preamps for Live Sound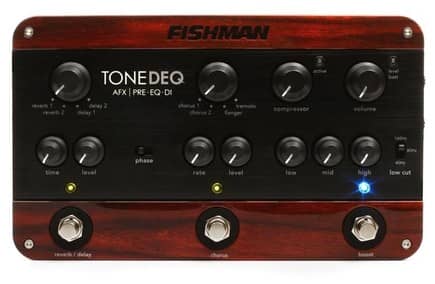 Now we're entering some more serious territories. Fishman is a company that built its reputation for making some great electric guitar pickups.
But they also have a big collection of other products, including some preamps. For this purpose, we're looking into their ToneDEQ.
This pedal has one of the best and cleanest preamp tones from any acoustic multi-effect pedal. Excellent for live use for replicating the unique and true sound of your acoustic for live use through a PA.
While this pedal is technically a preamp, it's loaded with some great effects. But its main purpose is to do all the basic tone shaping for acoustic guitars and other acoustic instruments.
Now, what really stands out here is that it has fully analog circuitry. This goes hand-in-hand with a balanced DI output with both 1/4-inch and XLR jacks.
The device features three footswitches for three different sections. First, we have a simple clean boost.
Up next, there's a modulation section where you can use chorus, flanger or tremolo effects.
And lastly, there's the atmospheric section, with delay and reverb. The modulation section offers rudimentary controls for rate and level, while there are also time and level controls for reverb and delay.
The preamp also comes with a 3-band EQ, low cut switch with three options, and a compressor.
To be fair, it's not that versatile. However, it's "to the point" as it provides a great tone and enough of functionality for guitarists of any genre.
Features
Fishman preamps
3-band EQ
¼ in and out
1 XLR (DI out)
1 Channel
Option for analogue and digital effects
Reverb, chorous, flanger, tremolo, and delay effects
Review Video
Best For
When it comes to the array of use, Fishman ToneDEQ comes as a good solution for players of any level. But it's mostly built for those experienced players looking for a good analog tone for live gigs and studio work. Yes, it's not that versatile, but one of the main points of such a device is simplicity. If you need a good preamp and effects pedal for acoustic instruments, you can't go wrong with ToneDEQ.
4. Zoom AC-3 Acoustic Creator – Highly Versatile for Live Use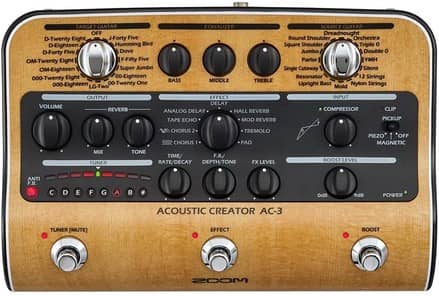 With Zoom being such a big player in this game, it's impossible not to mention at least one more of their products here.
Their Acoustic Creator, or AC-3, is a noticeably more advanced piece compared to A1X Four that we mentioned above. And this multi-effect pedal offers a lot of different effects and presets in one fairly compact device.
Firstly, there's a guitar modeling section. Here we have one control switch that lets you choose your "source guitar," or the type of the guitar that you're using, with 16 different options.
Then there's an additional switch for "target guitar" with 15 different presets.
This way, you can completely "reinvent" the tone of your instrument. In this section, we also have a simple 3-band EQ.
Then we have a boost and effects section. You can add a simple clean boost to your tone, compression, 9 different effects, and additional reverb.
There's also a little switch that lets you adjust the signal path to the type of pickup that you have. In the end, there's also a built-in tuner that mutes your signal when it's engaged.
The only downside in our view is that you can use only one of 9 basic effects at a time. But other than that, it's a very potent piece with an amazing tone. You can use it as a mono or stereo device.
This device is primed to retain as much as your true acoustic tone as possible for live amplification through a PA.
Features
16 source presets targeting the instrument you are using
15 presets to enhance your specific acoustic type
3-band EQ
Inputs: 1x ¼ instrument
Outputs: 2 x XLR, 2 x ¼ instrument,
9 effects to choose from
Stereo outputs
Built-in tuner (LED)
Single Compression knob
Anti-feedback button
Boost control (9db)
Review Video
Best For
AC-3 might be a bit tricky for some beginners. But while it's a good option for more experienced players, it still doesn't satisfy functional and tonal characteristics that a fully professional musician would require. Nonetheless, it's a great option for live acoustic guitarists playing in bands.
5. Trace Elliot Transit A – The Best Layout For Simplicity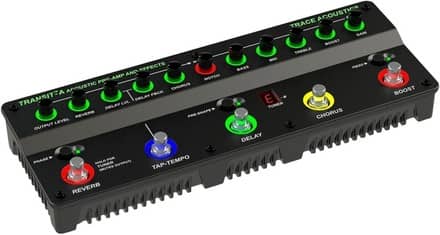 Some may know Trace Elliot for their wonderful bass amps and other bass-related gear.
However, they also do some other stuff as well. One great example is the Transit A preamp pedal, specially made for acoustic guitars.
At first glance, Transit A looks like a more complex footswitch but it's designed to work as a compact and functional little unit for acoustic guitar players.
The best feature about this pedal is the simple and easy to use layout. Some pedals can become complicated and overwhelming.
However, the Trace Elliot Transit includes a simple and open design to shape and craft acoustic tones with a handful of effects with designated EQ and tone shaping qualities.
While it may not seem like an important feature, different colors around footswitches and other controls are more than helpful in live settings. This will help you navigate in darker settings.
There are five footswitches for five different effects or features. First, we have a simple clean boost.
Then there are chorus, delay, tap tempo, and reverb. The upper part of this multi-effects pedal is packed with potentiometer knobs.
There is gain and boost controls, along with the 3-band EQ in the main section. In the center, we have the notch filter control for problematic feedback frequencies.
There are also individual controls for delay and reverb, as well as the overall output volume.
Aside from there, we can also find more switches, like the one labeled as "piezo" that increases the input impedance and makes it easier for piezo pickups to work.
Features
Reverb, chorous, delay effects
Backlit indicators
Multiple input and output connections
XLR outputs with ground lift
Stereo outputs
Tuner
Dry outputs
Aux connection
Headphone connection
Includes gig bag case
Review Video
Best For
Trace Elliot Transit A is aimed at those who need a functional and practical live rig. But it doesn't make it bad, it just has its specific purpose. If you're a frequently gigging acoustic guitar player, this can be a really good option.
6. BOSS AD-10 Acoustic Preamp – Best for Detailed Tone Sculpting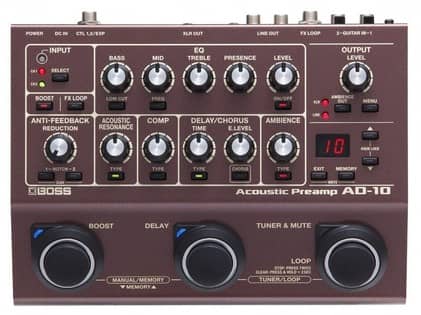 Boss needs no further introduction for anyone who plays guitar. Among the vast choice of their products, we have their AD-10 Acoustic Preamp pedal.
This is a fully professional multi-effects pedal that's specialized for acoustic guitars.
However, the focus is not on standard effects that one would expect from such a device. Instead, we have more detailed tone-shaping.
Aside from a 3-band EQ, we can also find presence, anti-feedback, acoustic resonance, boost, compression, and ambience.
The looper feature is a must-have for solo acoustic players, the AD-10 looper is solid with a great functional looper that is very easy to use.
Perfect for acoustic players to replicate a full band without any additional looper pedals.
AD-10 provides you with 80 seconds of looping time. So it's more than just a preamp, but more of a multi-functional tone-shaping device.
The acoustic resonance feature is a really interesting one. No matter how great they may be, piezo pickups can't truly replicate the sound and feel of acoustic guitars. This control allows you to add that dimension to your tone.
Players really like this feature to enhance the usual stale acoustic tone with a piezo pickup.
There are no user presets, but rather individual switches for different effects.
In addition, memory mode allows you to create, store and recall preset that will give you the ability to create your perfect tone for your acoustic to be used for live use.
Features
Multi-band compressors
Anti-feedback controls
Many adjustable parameters
Numerical indicator
Expression pedal connection
Memory function for creating and storing patches
Multiple effects (reverb, delay, resonance, boost, chorous, compression)
2 channels for separate instruments with designated EQ for both
4-band EQ with
80 second looper
Multiple inputs and outputs
Tuner
Review Video
Best For
With an extended loop time, AD-10 is a great option for solo acoustic performers. The features are really useful and are more than just flashy little additions. To put it simply, this is a professional multi-effects preamp. It's not exactly the best option for beginners who need a few simple effects to color their tone and add a slight bit of tone variation.
7. T-Rex Soulmate Acoustic – Best All-Rounder for Professionals
Lastly, we'd mention T-Rex Soulmate Acoustic. This one's significantly more expensive than other examples from the list.
The price is, however, justified. It provides full control over effects and other features.
The T-Rex Soulmate is an ultimate acoustic guitar player dream with professional FET preamps retaining every last drop of your acoustic natural tone.
This pedal simply oozes quality from every angle and is a swiss army knife when it comes to connectivity.
Allowing for multiple inputs and outputs no matter how you want to amplify your acoustic.
Even though there are many features, the soulmate is very easy to use and craft professional acoustic tones for live use.
Soulmate Acoustic has five individual switches for effects, one for tap tempo (used for delays), two for its looper, and one more for the tuner.
Compared to other multi-effects units, it allows more control over modulation, reverb and delay effects which lack in other products.
This is due to the advanced processor that can handle multiple effects at once that will not blunt your acoustics natural tone.
What's more, it allows you to use delay and reverb at the same time. There's also a 3-band EQ as well as additional inputs for expression pedals.
To be fair, there's rarely any other multi-effects pedal for acoustic guitar that can match it, especially because it has no less than 5 minutes of looper recording time.
The Soulmate Acoustic is really an acoustic player's dream being a massive toolbox for the ultimate acoustic pedal.
As mentioned, this is the most expensive option on the list. However, sometimes when it comes to guitar gear you do 'pay for what you get.'
Features
FET preamps
3-band parametric EQ
Modulation effects
Time based effects
Compression
Looper (max of 5 mins)
Multiple inputs and outputs (all you need)
Boost feature
Foot Pedal control
Chromatic Tuner
Dual stereo outputs
Gain control
Polarity reversal
Connection for outboard expression pedal
Built-in feedback remover
Tap tempo delay
Video Review
Best For
Seeing that it has so much recording time, we would recommend this one for those who love to do one-man shows with an acoustic guitar. Soulmate Acoustic also allows full control over effects and other features, as well as a great tone. Although it's simple to use, it's still something that a more experienced guitar player would need, rather than a beginner.
Frequently Asked Questions (FAQ)
How do multi-effect pedals work?
Multi-effect pedal work by processing the guitar's analog signal to a digital signal and back to analog again for amplification. The processing part adds effects, EQ, volume, gain to the guitar signal providing players with a wealth of tonal variety for live recording, and practicing.
Where do I put my multi-effects pedal in my chain?
Multi-effects pedals are typically placed after a tuner, compressor effects and the distortion section of a pedal signal chain. This ensures the cleanest signal is going into the tuner and compressor for the optimal tone.
What is an effects loop on a multi-effect pedal?
Multi-effects pedals include an effects loop to connect directly to your amps effects loop. This allows the effect unit to sit in the middle of your amps pre and power amp stage. If you don't use distortion pedals, it allows the amps distortion to be placed correctly in the signal chain.
How to connect a multi-effect pedal to an amp?
You connect your multi-effects pedal by plugging the input of your guitar to the input of the unit. The output of the multi-effects pedal is then connected to the input of your amplifier. You can then connect your cables to the effects loop from the amp to the multi-effects unit.
Can you use regular effects pedals for acoustic guitar?
Yes, you can use effect pedals for an acoustic guitar. However, some pedals are not designed for the dynamic range of the acoustic guitar. Furthermore, some guitar pedals do not enhance the spectrum of frequencies produced by an acoustic. Hence, why acoustic-specific pedals are better.
Before You Go
Want to know the best techniques to integrate a compressor pedal with an acoustic guitar? This post explains my top methods for using a compressor for acoustic improving the versatility and flexibility of your live acoustic sound. (View Post here)