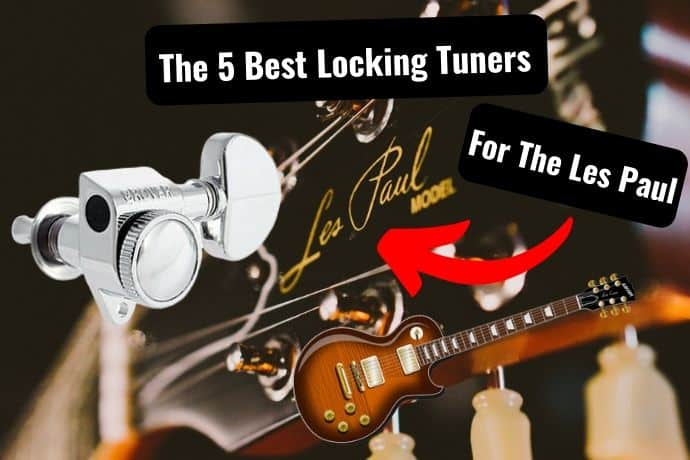 Are you sick of your Les Paul guitar not staying in tune? Do you have locking tuners installed?
I noticed when I upgraded to locking tuners, the performance hugely increased on my Epiphone Les Paul. I'm very sure it will do the same for you too…
In this post, I will outline the 5 best locking tuners for Les Paul guitars (Epiphone and Gibson) with the 3+3 headstock design. Let's get straight to it…
1# – Grover Roto-Grip 502C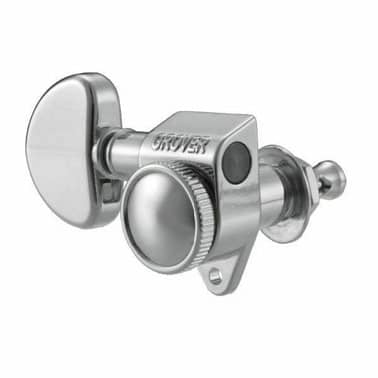 Grover locking tuners possess a long and sparkling reputation in the guitar industry.
The Grover Roto Grip 502 (Reverb.com) is known for great, design, stability, and a guaranteed way to sharpen your Les Paul's tuning stability. They also allow for fast and flawless string changes.
Whether it's for a Gibson or Epiphone Les Paul, simply swap out the stock tuners and drop the new ones in with no unnecessary, tools, drilling, or modifications.
The classic 18:1 romatic design allows for precise tuning and a thumb screw mechanism that locks your strings down, providing your guitar with an excellent upgrade for better tuning stability.
To help match the aesthetics of your guitar, Grover offers the 502C locking tuners in a choice of chrome, gold, and black to supply a nice finishing touch to a modern or vintage looking Les Paul.
Installation Video
You will notice, the 502C tuner is the most expensive product on our list, the reason being these tuners are manufactured in the US ensuring quality and reliability.
Secondly, you pay extra for one of the best names in the tuner industry and for the guaranteed quality control from the guys at Grover.
Whereas, other brands that provide affordable tuners manufacture their products in the Far East.
The Grover 502C (Reverb.com) is a long tried and tested product with satisfied guitar players with hundreds of positive reviews and recommendations.
For a guaranteed upgrade, drop them in to increase your Les Paul's turning performance.
Pros
High-quality design
Great reputation
Made in the US
Standard in the industry
Cons
Most Expensive on this list
2# – Hipshot 6GLO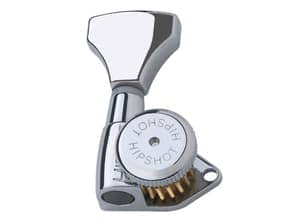 Hipshot is a popular name within the locking tuner space. The Hipshot 3×3 locking tuners (Reverb.com) are an excellent choice for quality, reliability and importantly tuning stability.
Hipshot tuners can simply drop into the slots of all Epiphone and Gibson Les Paul guitars for a quick and easy upgrade, no modifications or drilling required.
Notably, Hipshot locking tuners include a metal mounting plate that performs as a stability bracket for better performance and allowing the machine heads to align for easy installation.
An Instruction guide is included on how to easily fit the mounting plate all that is needed is a screwdriver.
Installation Video
When it comes to aesthetics, the 6GLO exposes the tuner pegs mechanism providing a unique look similar to jewelry.
Color choices come in black, chrome and black and gold for a range in color choices to suit your Les Paul's look.
As you can see with one creative user with a black and gold set with a PRS guitar looking very classy…
The romatic design is a standard 18:1 mechanism for solid and smooth tuning stability. Also allowing players quick and easy string changes with little to no hassle compared to stock machine heads.
Hipshot tuners are a solid player in the locking tuner game. So to take your guitar gear to the next level at a more affordable price.
The Hipshot 6GLO (Reverb.com) is an excellent purchase for better tuning stability and quicker string changes.
Pros
Great design
Solid tuning stability
Cool look
3# – Gotoh SD90 MG-T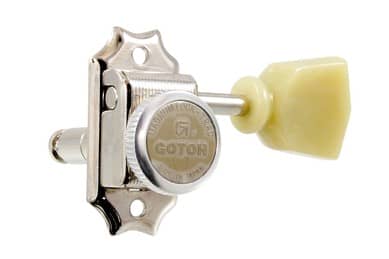 Locking tuners are a modern feature on guitars today. Hence why they look great on new and modern guitars.
But what if you have a reissue or vintage Les Paul in your collection and not a fan of the typical chrome modern look?
Fear not, the Gotoh SD90 MG-T tuners (Reverb.com) are the perfect solution for vintage players who love the appearance of the classic worn Gibson machine head.
Essentially, they function exactly like a modern locking tuner, with the vintage look a classic Gibson tuning peg, offering players the best of both worlds.
Review and Installation
When it comes to design, the tuners include a vintage style base and peg with a modern locking nut screw.
This combination will improve the guitar's ability to stay in tune while providing a classy look.
When it comes to color variations, The SD90 MG-T comes in nickel and gold for a wide range of color and design options
The Gotoh SD90 MG-T includes a 15:1 ratio allowing for accurate and stable tuning for any Les Paul or any guitar with the 3+3 headstock design.
The simple drop-in design allows for a quick and easy upgrade without any drilling or modifications for quick and easy string changes.
The Gotoh SD90 MG-T (Reverb.com) is crafted from high-quality materials and ensures their tuners provide your Les Paul with sold tuning stability with the classic Gibson style machine head.
Pros
Classy vintage look
Great tuning stability
Easy installation
Cons
Player may prefer modern look
4# – D'Addario Planet Waves Auto-Trim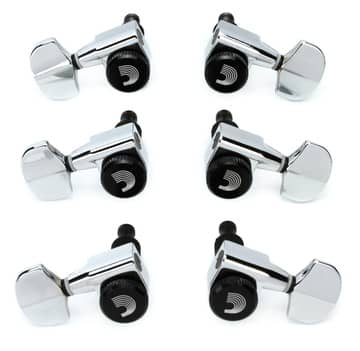 D'Addario Planet Waves Auto-Trim on Reverb.com is popular for its solid tuning stability, easy installation, and innovative feature (more on that.)
As mentioned above, the planet waves auto trim best feature is that is automaticity cuts off excess string when you install a new set of strings.
It means you no longer need any cutting devices and ensures you avoid any excessive strings wraps.
If you are the player that hates string changes, these tuners mean less time changing strings and more time playing.
D'Addario is so confident with their product, they provide players with a lifetime guarantee ensuring that if you go with them, their product will always be replaced if in the unlikely case that anything goes wrong.
Installation Guide
The ratio is the standard 18:1 for accurate and precise tuning and avoids string slippage even when you unleash the hardest of playing.
When it comes to fishes, color options include: black, gold and chrome for a wide way of matching and customizing your Les Paul guitar.
If you require reliable and high-quality locking tuners, the D'Addario Planet Waves Auto-Trim (Reverb.com) is a fantastic option for optimal tuning stability and string changes in minuets.
Pros
Unique look
Auto-Trim feature
Easy installation
1 year guarantee
5# – Wilkinson E-Z-LOK 3R3L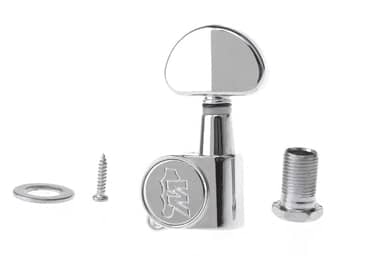 The Wilkinson E-Z LOK tuners (Reverb.com) offer an affordable solution for a Les Paul guitar that won't stay in tune.
The E-Z LOK tuners are not exactly locking tuners. However, they are not exactly standard tuners either.
Their design is slightly different, the tuners on the E and A string have longer shafts.
This lowers the break angle allowing the tuners to maintain pitch and performance. It's a simple and cost-effective method to improve a Les Paul's tuning stability.
It's worth mentioning, these tuners are designed to fit guitars with a 10mm peg hole to ensure a good fit on your headstock.
Installation Guide
Did we even mention the price? The thing I like about these tuners is they are more than half the price of other options on this list.
Usually, Wilkinson products are aimed at the entry-level player but the E-Z LOK tuners scream value for money.
They are easy and simple to install and include 1:19 ratio for precise tuning. When it comes to colors, the options are the standard black, gold and chrome for a various range of Les Paul finishes.
For a cost-effective method, Wilkinson E-Z-LOK 3R3L tuners are an excellent addition to increase your guitar's performance.
With countless glowing reviews, the Wilkinson E-Z LOK (Reverb.com) is a great option for Les Paul players who want an affordable way of improving tuning stability.
Pros
Best Price
Easy installation
Good Repuatation
Cons
Not the most common brand
Related Questions
Do locking tuners affect tone?
Locking tuners do not make any noticeable difference to a guitar's tone. They do not improve or reduce tonal quality. Although they do add a fraction more weight to the headstock. Players argue that this weight promotes better resonance improving the guitar's ability to sustain.
Do locking tuners make a difference?
Locking tuners clamp on to the string 'locking' it into place. This promotes better tuning stability because it reduces string slippage when aggressively bending a string for example. Locking tuners are better for faster string changes as they only need a few wraps around the tuning peg.
I hope this post helps you out to avoid any frustrating tuning problems.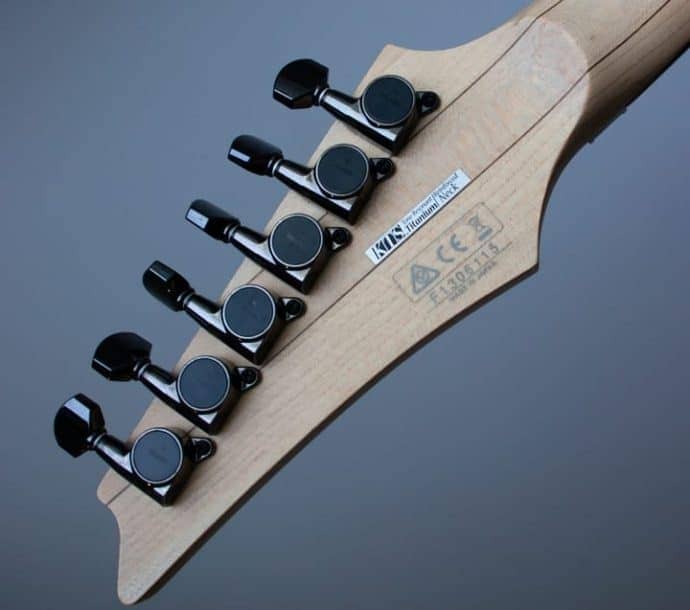 Thanks for Reading