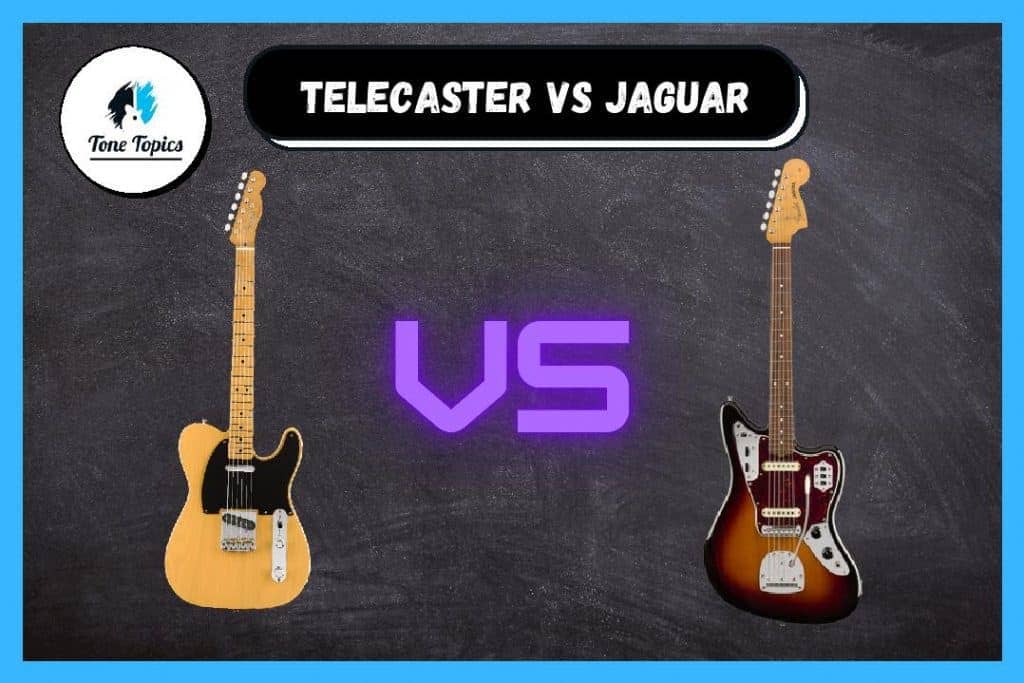 There's no doubt that Fender holds some of the most finest and recognized guitars on the planet.
Having said that, this article will contrast the ever-popular Telecaster and Jaguar models for your enjoyment. Both guitars are undoubtedly living legends in their own right. However, many contrasting differences make these guitars so unique and obviously awesome.
This post will take a deep analysis between the Jaguar and Telecaster. Discussing… materials, tone, playability, history, etc all to distinguish what guitar is more your flavor.
And also which guitar floats your boat if you are considering buying one or the other.
Let's unwrap this post from the top…
What is the difference between the Telecaster vs. Jaguar? The Telecaster is a simpler guitar with two single-coil pickups (in most cases) and a longer scale length. The Telecaster is also a thin and twangy guitar. The Jaguar has a shorter scale length, two single-coil pickups, an offset body, and an unconventional switching system combined with a floating tremolo bridge. 
Comparison Table
| | | |
| --- | --- | --- |
| | Telecaster | Jaguar |
| Body Design | Single-cut | Single-cut |
| Body Look | Straight | Offset |
| Body Wood | Alder, Swamp Ash | Alder, Basswood |
| Scale Length | 25.5″ | 24″ |
| Fretboard wood | Maple, Rosewood | Rosewood |
| Neck wood | Maple | Maple |
| Pickups | x2 Single-coils (humbuckers & P90s Available) | x2 Single-Coils |
| Pickup Selector | Classic 3-way switch | Switch system |
| Bridge Type | Fixed Bridge | Floating Tremolo |
| Weight | 7-8lb | 8-9lb |
Fender Telecaster History
The Telecaster was introduced by Leo Fender in 1950, becoming the first commercially successful solid-body electric guitar. It's one of the longest-lasting guitar models of all time, with only minor changes done to its main features.
Solid-body electric guitars were a desirable concept that didn't really take off prior to Fender's Esquire, and such a guitar made a lot of changes on the market.
The new version was released later in 1950, featuring two single-coil pickups, a truss rod, and a new name – Broadcaster. The name Telecaster was introduced in 1951 after a dispute with Gretsch.
From then on, the Telecaster just kept finding its place in the music world. There have been dual-humbucker versions, the use of different fretboard materials, and a different choice of hardware.
But the classic variant with two single-coils, a maple neck, a maple fretboard, and an ash or alder body, still remains the most popular.
The guitar's "bright" and "twangy" tone made it popular in country and funk music, although the guitar is also seen in blues, rock, and even hard rock music. The most famous Telecaster guitarists include Keith Richards, Jimmy Page, Bruce Springsteen, Brad Paisley, and others.
Fender Jaguar History
However, the guitar had some pretty exciting additions, including detailed tone-shaping controls, 22 frets, and an innovative "floating" tremolo bridge. Its main purpose at the time was to compete with Gibson guitars and take away some of their following.
The initial production lasted for about 13 years and it served as a cheaper alternative to the Strat during this era. Nonetheless, its overall design and features made it a unique and useful model.
A shorter scale length and its unconventional switching system made it a great potential virtuoso tool. However, it somehow got popular among alternative rock and punk guitar players over the coming decades.
Jaguar came back in 1999 after being popularized by some punk rock and new wave players, including Tom Verlaine of Television. Being a cheaper and an "offset"-design model made it a great "statement" for punk or grunge music.
Just to name a few, musicians like Kurt Cobain, Johnny Marr, Win Butler, and PJ Harvey are often associated with the model.
Body Shape & Wood Materials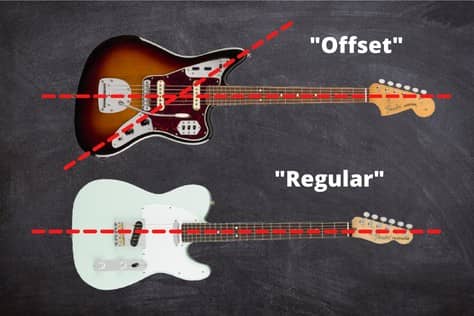 One of the most obvious differences here is the body design. The Telecaster has widely been accepted as one of the "standards" with its treble-side cutaway and the unique-looking bass-side slope.
Then we have the Jaguar with an "offset" body design. In simple terms, the guitar is like a "mutated" Stratocaster with two cutaways and shorter horns.
The main materials for the Jaguar body are alder or basswood, while Telecaster is usually from ash or alder. There are also some Tele variants with pine, basswood, and poplar bodies.
Both models come with maple necks, although Telecasters traditionally have no additional fretboard materials, just plain maple.
The Jaguar, on the other hand, almost exclusively has a rosewood fretboard. Telecasters in the 1960s mostly had rosewood fingerboards, and there are some variants today that come with rosewood or ebony fingerboards.
Although the Jaguar was mostly intended as a budget variant, there are some of the more "prestigious" model variants made today, which include the use of better body and neck materials. 
Hardware Compared
The Telecaster is probably one of the simplest guitars of all time, which is one of its strengths. The old-school traditional Telecaster bridge features a rather unique design, which is also present on some of the vintage-oriented models these days.
It has a bigger plate which also has a slot for the bridge pickup. Interestingly enough, the bridge has only three saddles, each holding two strings.
This design changed over the years and most Teles today have individual saddles, usually the standard block variants. Traditionally, Telecasters come with a fixed bridge.  
These days, a lot of Telecasters come with locking tuning machines, as did those older vintage variants as well. Designed by Fender, these machines significantly increase tuning stability.
The Floating Tremolo
What made Jaguars so interesting is the "floating" tremolo bridge and tailpiece, which was taken from the older Jazzmaster model. Instead of just lowering the pitch, such a construction allowed for dual-action pitch change.
What also makes it interesting is the bridge design that somehow resembles the classic Tune-o-Matic one.
But the tailpiece is essentially a flat plate with string slots and a screw-in hole for the tremolo handle. Of course, it's not as advanced as some modern-day floating tremolo solutions as you would see on Ibanez guitars. However, the floating tremolo allows for spacey vibrato tones something that the Telecaster does not offer.
Scale Lengths Compared
While it's not something that you notice at a first glance, Telecasters and Jaguars have different scale lengths. In fact, Telecasters have 25.5-inch scale lengths, which is the longest variant for standard 6-string guitars.
In this regard, Fender Jaguar is the complete opposite. With a scale length of only 24 inches, it's right at the lower limit of what we'd refer to as standard-sized guitars. Gibsons traditionally have a 24.75-inch scale length, which is considered to be shorter, and Jaguars are shorter than that.
Firstly, having a shorter scale length can reduce overall string tension. The same string gauge in the same tuning will feel lighter on a Jaguar compared to a Telecaster or a Stratocaster. Meaning that string bends will take less effort and feel easier on the Jaguar compared to the Telecaster.
On the other hand, the longer scale length of the Telecaster can help you have more stability with lower tunings and promotes more piercing highs and clarity because the strings are under higher tension.
Many players don't know that string tension plays a vital role in tone. Meaning a guitar under lower tension promotes a more mellow tone whilst a higher string tension promotes a brighter and crisper tone.
Pickup Configuration – Telecaster
Fender Telecasters are pretty simple guitars in terms of electronics. There are only two single-coil pickups with a 3-way pickup selector switch and two knobs for volume and tone controls.
However, what made Telecasters so interesting is the middle position which engages the bridge and the neck pickup at the same time, giving that "twangy" and "nasally" tone that they're known for. At the same time, most of the Strats can't do that.
Other than that, Fender Telecasters also come with other pickup configurations. There are variants with two humbuckers, one humbucker in the bridge with a single-coil in the neck, and even some rare variants with a humbucker in the neck position.
Of course, you'll also find Teles with one pickup, two P90s, and even three single-coils. But the "standard" configuration is still two single-coil pickups with one 3-way switch and two knobs.
Pickup Configuration – Jaguar
Looking at the pickups, both Tele and Jaguar have two single-coils with most variants. The Jaguar traditionally has on/off switches for individual pickups, mid-cut control, as well as individual "lead" and "rhythm" circuits.
And this particular trait makes them somewhat complicated compared to "standard" variants on the market, which can be a bit off-putting for some guitar players.
The original idea behind this concept was to have an instrument that would compete with Gibson Les Paul guitars, which were pretty versatile for the times.
Although there are some variants with standard pickup selector switches, Jaguars usually come with these unconventional controls. The classic vintage layout includes six switches.
Jaguar Controls Explained (Video Beow)
Two are for individual pickups, one is for mid-frequency cut, one for rhythm and lead tone toggle, and two additional switches that can completely bypass tone and volume pots.
Later versions of the Jaguar became a bit simpler. Here we have a 4-way pickup selector switch that could engage both pickups in either parallel or series modes. Then there's also the phase switch that only works in individual pickup combinations.
These combinations allowed for more tone-shaping options, making Jaguar models versatile. It's one of the reasons why these instruments became popular with new wave and alternative rock musicians.
Tone Comparison – Telecaster
Since their introduction back in the early 1950s, Telecasters became known for their sharp and bright tone, often described as "twangy."
Over the coming decades, this gave Telecaster an advantage for specific musical styles, especially for lead guitarists in country music. On the other hand, it hasn't ever been a guitar you'd choose for heavier distorted tones that we can hear in hard rock and metal music.
This, however, didn't stop some musicians to actually use Fender Telecasters with two single-coil pickups. One such example is Gojira's Joe Duplantier who occasionally uses a Fender Tele.
While not as mid-oriented and heavy for metal music, it can be a good choice for expressive lead sections on some high-gain settings. With its single-coil pickups, a Tele can help you add some dynamic versatility compared to classic guitars associated with raw and heavy tones.
However, in most cases, Telecasters are played clean, with overdrives, and regular distortions on lower-gain settings. If there's a high-gain setting, it's usually a fuzz pedal involved in the process, which further exploits Telecaster's bright and "twangy" nature.
Tone Comparison – Jaguar
Although their initial intended use was a bit different, Fender Jaguar models became popular among punk and alternative rock players. This is due to its unusual circuitry and switching options which allowed for more versatile and "unconventional" tones.
Just like the Telecaster, Jaguars mostly come with two single-coil pickups. This setting also gives that bright and "twangy" tone that most of Fender's guitars are famous for. However, with its additional features, you'll be able to get some of the more "nasally" out-of-phase tones.
What also makes an important difference with Jaguar guitars is the shorter scale length. While it may not have a direct impact on the tone like the electronics, having less tension in the same tuning can make the tone just a bit mellower compared to Telecasters and Stratocasters.
Tone Comparison Video (Watch Below)
Playability Compared
But some of the main differences between these two guitars come down to playability and overall feel.
Interestingly enough, the Jaguar should technically be more comfortable for lead players, although you find Telecaster more often in the hands of guitarists in that particular role. This can be explained with the Telecaster's neck design and its overall comfort.
There are some variations to the neck profile, but most of the Telecaster variants come with relatively thinner necks. In addition, most of them also come with 9.5-inch fretboard radiuses, although some modern variants have flatter 12-inch radiuses.
When you look at the neck profiles, Jaguars can be just a bit thicker in this regard. However, most of them also come with the same 9.5-inch fretboard radius. What makes an important difference, however, is the shorter scale length and a different cutaway design.
Additionally, we shouldn't forget the significantly shorter scale length, which can change your overall experience. This is why I recommend the Jaguar for those who just prefer shorter necks or those with smaller hands. Which mimics the neck of a Les Paul which has a 24.75″ scale length.
Therefore, players who prefer larger frets as they have bigger hands take a look at the Telecaster. But it all depends on your personal preferences.
The difference in body shape can also impact the feel and ergonomics. However, this comes down to what individual players prefer. There's nothing "better" or "worse" if we'd compare Telecaster and Jaguar bodies and the overall comfort while playing these guitars. As both guitars are light and very comfortable guitars to play.
Famous Telecaster Players
Kieth Richards
The Rolling Stones axeman has been associated with Telecasters since the band's early days. In 1970 or 1971, he acquired a blonde Fender Tele, known for its nickname Micawber. Keith uses it even to this day and plays it without the 6th string. However, this instrument is enhanced with a Gibson's humbucker pickup, which is kind of "controversial" but it certainly works for him.
Albert Collins
Albert Collins is a blues legend who pretty much popularized the use of Telecasters in the genre. In fact, he got a nickname for it – The Master of the Telecaster. For quite a while, he also played a 1966 Fender Telecaster with Gibson's PAF pickup in the neck position, similar to Keith Richards' configuration. As for his playing, Albert really put his Telecasters to good use, exploiting their expressiveness with his nuanced dynamics.
Steve Cropper
Also known as "The Colonel," Steven Lee Cropper is one of the most underrated guitarists of all time. Aside from being a backing musician to some big names, including Otis Redding, Ringo Starr, and Johnnie Taylor, Cropper has had a very prolific solo career. From 1969 to now, he has released an abundance of albums, all with the help of his huge collection of Telecasters.
Bruce Springsteen
You pretty much can't imagine Bruce Springsteen without a Telecaster. The legendary American musician has been playing them for pretty much his entire career. There have been some other instruments, but Fender Telecasters are both his visual and sonic trademark at this point.
Jimmy Page
While you mostly imagine Jimmy Page with a Gibson Les Paul, he actually had a Telecaster in his early career. In fact, Led Zeppelin's self-titled debut album was recorded entirely on this so-called "Mirror" Tele, proving that these guitars can sound heavy in the right setting. The guitar was later repainted, featuring the well-known dragon finish. Unfortunately, it was also ruined by Jimmy's friends, after which he "retired" the instrument.
Famous Jaguar Players
Kurt Cobain
Kurt Cobain is one of the first musicians to popularize the Fender Jaguar. Fender even released his signature Fender Jaguar model, featuring two humbuckers. Sure, this kind of makes it a different instrument, but other features were what you'd expect of a Jaguar.
Johnny Marr
Johnny Marr of The Smiths is easily the single most prolific guitarist to play the Fender Jaguar in its many variants. In short, the guitar's versatile tone-shaping options were of great value, and he certainly knew how to put it to good use. At this point, he's one of the most famous names associated with not only Jaguar models, but Fender guitars in general.
John Frusciante
While the Strat is his primary "weapon of choice," John Frusciante also played the Jaguar on plenty of occasions. The most famous one is probably the red 1962 model, one of the earliest-made Jaguars that came out of Fender's factory. The guitar's unique tone-shaping options were of great importance to him.
Thurston Moore
Sonic Youth is one of those bands that changed the game in the early 1980s. A huge part of this was guitarist Thurston Moore. Although his "sidekick" has always been the Jazzmaster model, Moore also had a few Fender Jaguar guitars over the years that helped him achieve such an awesome tone.
Thanks For Reading