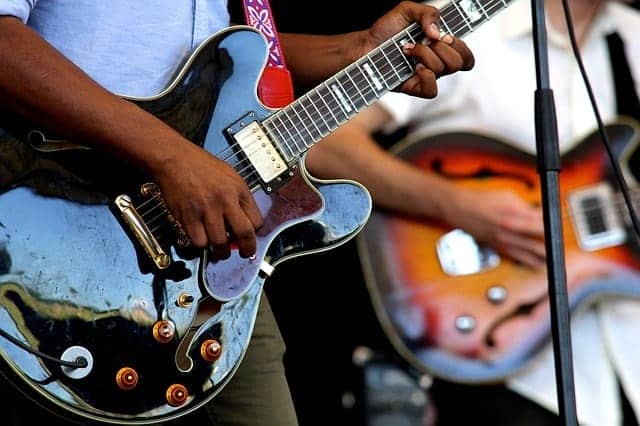 Since learning how to play jazz guitar, nailing the correct sound takes more than just the right guitar and amp combination.
With that said, the right gear will assist in acquiring that smooth and silky jazz tone all the experienced players have.
What Defines The Jazz Tone?
When it comes to the genre of jazz, the guitar tone is defined as 'clean', 'crisp' and 'punchy' with 'clarity'.
This is desired by all players for hearing each note clearly to enhance the smooth rhythm playing and compliment the punchy jazzy lead lines.
This tone combined with a hollow or semi-hollow body guitar creates a nice blend of attack and warmth for the ideal jazz sound.
Why use Solid State Amps For Jazz?
Back in the day, tube amps were always preferred by jazz guitarists. However, with the continuing rise of solid state amp popularity, the pendulum is now swinging in the opposite direction.
If you had to ask me why?
I would say largely due to the solid states affordability, portability and obviously great clean tones. All the requirements for a gigging jazz guitarist to practice at home, transfer to gigs and get a sweet sounding clean tone in any situation.
The Perfect Jazz Solid State Amp?
Clear, crisp and defined clean tone with clarity
A clean tone that does not break up at high volume with plenty of headroom
Offers effects: reverb, chorus, delay etc
Affordable
Reliable
Useful features: Headphone output, Aux connection
Can be used for bedroom & rehearsals
Enough volume for small gigs
Solid State Amps for Jazz
Fender Champion 100 Combo
The company responsible for creating the iconic amps the 'Fender Twin Reverb' and 'Deluxe Reverb', famous for their spanky, bright clean tone, also have a great line of affordable solid state amps.
The Champion series offer many of the classic Fender voiced tones, for a fraction of the cost compared to their expensive tube amps.
This amp voicing all the classic Fender clean tones without the impracticability of its tube amp counterparts is the reason why it makes it a great contender for a solid state amp perfect for jazz.
The Champion 100 is a 100 watt 2×12 combo, loud enough for a small to medium sized venue and includes a ton of modeling technology.
Main Features
100-watt solid state combo
2x 10" Fender custom speakers
Classic Fender styling
Clean channel voiced to sound like the Fender Twin Reverb
The second channel includes a ton of digital presets
Tons of digital effects
Sound
The Champion series produces a nice range of clean tones, which you would expect from a Fender solid state amp. The clean tones range from crisp, dry and sparkly when you dial in the EQ and add some reverb.
The amp features a ton of reverb presets to choose from including: hall, spring and more for complementing the desired jazz clean tone.
The first channel is voiced to sound like the iconic Fender Twin Reverb, which includes the similar designed volume, bass and treble controls. Each channel includes its own additional preset knobs for effects such as reverb, chorus, delay, and vibrato.
The second channel has a designated "FX select" knob, that offers a ton of different amp voicing options, from bright clean all the way to British high gain distortion. The "jazz" voicing cleans and tightens up the sound offering a brighter clean tone.
This channel also has the benefit of additional EQ options, for customizing and shaping that desired clean tone. The Champion has a "tweed" voicing that adds a touch of gain and break up which creates a punchier tone which makes a great jazz lead tone.
Negatives
The only negative I have about this amp is that you cannot save any presets in a bank for recall or modification like other solid state amps.
Additionally, the amps distortion sounds fizzy and digital but if you only wish to use the excellent clean tones this amp has to offer, then its not an issue. This problem can also be solved by using a good distortion pedal.
Pros
Great sounding classic Fender tones
Reverb presets
Lots of EQ options for tone shaping
Versatile for many styles of music
Includes foot switch
Includes auxiliary ports for playing media such as backing tracks
Includes headphone jack for late night playing
Cons
Digital distortion
No option for saving presets
Not as portable as other amps being a

2×12
Roland JC-40
The JC-40 is the little brother version of the legendary JC-120, well known among guitarists as a clean tone monster. Famed for having a beautiful sounding chorus.
This is due to the JC-120 being a stereo amp, including a separate chorus on one side of the speaker, and a dry sound on the opposite side.
This creates the iconic wide chorus effect, admired by guitarists alike. The JC-40 is a modernized and trimmed down 40-watt version of the JC-120, but still produces all the legendary tones in a compact and more affordable package.
Main Features
2×10

40 watt combo amp
Single channel amp
Stereo input
Bright switch
3 band EQ parameters: volume, treble, middle, bass, and designated distortion knob
Reverb knob
Vibrato/chorus depth & rate controls
Sound
The JC-40 is one of the best solid state amps for jazz. The clean tones are some of the best, ranging from lush sparkly cleans, to dry and punchy tones.
The JC-120 back in the day was a very popular amp among jazz guitarists. with famous bands like "The Police" and "The Smiths" making full use of the fantastic clean tones on offer.
The amp is capable of some amazing tones ranging from a number of musical genres, such as Jazz, country, blues, and rock when you add in some distortion.
The only negative I can say is, unlike other solid state amps, the JC-40 doesn't have any other voicing or digital patches. It is literally a 'plug in and play' amp, without any bells or whistles.
However, if you are a guitarist only concerned with clean tones, this amp would tone would be worth the investment. Just worth noting that for the price, there are other solid states on the market that have more versatility for sounds, if you are looking to play any other styles of music.
Pros
Amazing clean tones
Classic JC-120 appearance
Beautiful dimensional space chorus
Loud enough for gigs
foot switch for turning effects on/off for live use
Cons
Lack of versatility for the price
Boss Katana Series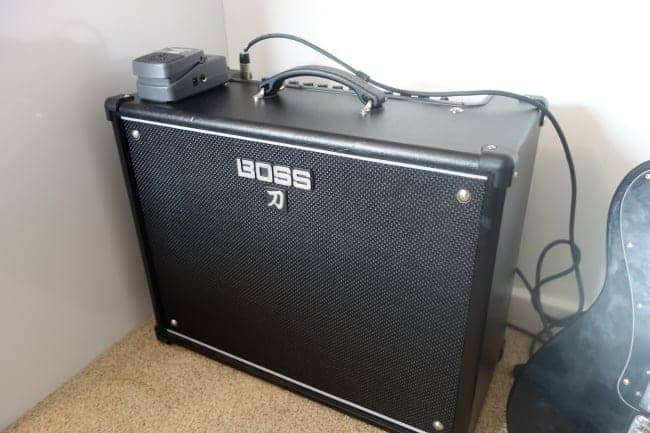 The Boss Katana amp series offers a range of tones that have you covered for playing all styles of music. The Katana features five savable presets that can be recalled and modified that can shape any tone you desire.
The Boss Tone Studio editor is a downloadable software, that allows you to edit presets via USB connection from your PC.
Allowing the user infinite amounts of tonal options. The Katana comes in a 50 watt and 100 watt versions, which can reach impressively loud levels of volume.
Ideal for small to medium sized gigs. The Katana has to be the best solid state in terms of tone modification and versatility.
Main Features
5 customizable patches for creating and editing desired tones
5 amp

voicings

for each preset: "Brown", "Lead", "Crunch", "Clean" and "Acoustic"
EQ control: bass, middle, treble and presence
Effects: booster, modulation, reverb delay
Master volume
Power switch knob
Effects loop
USB connection for Boss Tone studio editor software
Sound
The clean channel is not super bright, but has a nice amount of character and is punchy. Add in some reverb and presence makes the tone sound very authentic.
Creating and saving patches is super easy with a user-friendly interface, that isn't confusing like other digital solid state amps.
The Katana allows for easily creating, modifying presets across four channels for ease of use.
For example, you can have four different clean tones designated channels for playing rhythm, lead, and solos. For playing jazz the amp features a "clean boost" and a selection of reverb, delays, chorus that can all be modified.
The Tone editor allows you to fine-tweak all aspects of the presets giving you a huge amount of customization.
For example, the reverb "time", "delay", "effect level", "high cut", "low cut" and "density" can be modified which gives you an idea on the level of customization the tone editor offers.
The Katana features an "acoustic" voicing which is mistaken for an acoustic simulator but is actually a channel for using an acoustic style guitar.
This channel would be great for playing Jazz with a hollow or semi-hollow body. As the channel is dry and bright for optimizing the sound totally.
The Katana 1×12 is compact, light and a portable choice for traveling to gigs which sounds great at bedroom and high volume. The only negative with this amp that it does not come with the GA-FC foot switch, which is needed for quickly switching between channels and tapping in a delay time.
Pros
Customizable amount of clean tones for the perfect jazz sound
An infinite amount of great tones
Loud enough for any small to medium sized gig
Boss tone Studio editor
Portable
Affordable
Cons
GA-FC foot switch not included
No option for running the combo version with an external cabinet
Roland Street Cube
The Roland Street Cube is the perfect: busking, coffeehouse, small venue gigging amplifier. Mainly because it's portable, battery-powered and includes a second channel for a microphone, serving as a mini PA system.
Roland products are popular among jazz guitarists, with the Roland Cube 60 being a popular amp liked for its portable design and punchy clean tone. The street cube serves as a small versatile amp perfect for on the go street performers.
Main Features
Dual channel amp
Instrument FX: reverb, delay and flanger
Powered by 6 x AA batteries (15-hour battery life)
3 band EQ: bass, middle and treble
Onboard tuner
Aux connection
Tilted cabinet for better sound dispersion
Sound
The Street Cube is powered by two high-performance 'neodyminum' speakers that can produce enough volume for any small live performance.
The clean tone is clear, bright and has many effects such as reverb and chorus to compliment any tone.
Pros
Compact
Battery powered for street performers
Versatile
Serves as a mini PA
Microphone input
Onboard effects
Cons
The DV Mark Jazz 12
The DV Mark Jazz 12 is a simple boutique jazz amp capable of some dynamic tones. The name implies "jazz" but the Mark 12 can do a number of styles from blues, country, and rock.
The Jazz 12 is a single channel amp with a three-band EQ (bass, middle, treble) with built-in reverb.
The amp comes with a XLR out for connecting an external cabinet with a minimum load of 8 ohms which is a nice feature for running an external cabinet for live use. The amp is also lightweight, compact and very portable for gigging.
Main features
Warm boutique clean tone
Single channel 3 band EQ
Reverb control
Small compact design
XLR out for external cabinet
Aux connection for backing tracks
Sound
The Jazz 12 has a rich, warm sound with its own unique character complete with a ton of headroom, for rich clean tone at high volume without any break-up.
This amp really shines when paired with a semi-hollow body guitar. The clean sounds warm and defined making the overall sound very smooth, perfect for jazz guitar expression.
The amp is designed to be a simple plug in and play but does lack features and tone modification. However, the DV Mark Jazz 12 sets the benchmark very high when it comes to acquiring a clean, smooth tone for jazz.
Pros
Small compact
Great tone from a small amp head
Can run an external cabinet
Aux connection for playing backing tracks
Cons
Orange Crush 35RT
The Orange Crush 35RT is a small solid state amp housing a 10" speaker that produces 35 watts of Orange's signature British tone.
The Crush comes with two channels (clean & dirty) with 3 band EQ in the classic layout with built-in digital reverb. The useful features include a built-in chromatic tuner and Aux-in for external devices for jamming along to backing tracks.
For recording purposes, the headphone output (simulates an Orange 4×12 cabinet) which can be used to DI into a computer for recording in any DAW of choice.
The 35RT includes a low inexpedience effects loop for adding pedals and an option for an external foot switch for changing between clean and dirty channels.
Main Features
Orange classic design
Trademark Orange British tone
35 watts from 10" custom speaker
Small compact design
Built-in tuner
Aux-in
Digital spring reverb
Footswitch
Sound
Orange amps are famed for having the classic British sound, the clean channel on the 35RT is very clean and slightly dry. However, it includes a nice amount of color and good bass response.
The sound will break up slightly if you push the volume to higher levels. The reverb sounds authentic, simulating a spring reverb with a nice amount of decay which sounds sharp when paired with a crisp clean tone.
For the affordable price, this practice amp is well equipped for oranges signature tones, in both bedrooms and small gigs with a PA system.
The custom 10" speaker is voiced to include a dynamic range of modern low-end punch and vintage highs so that the signal and tone is always crystal clear.
Pros
Small, compact and portable
Great clean tone
Looks great on stage
Versatile
Affordable
Built-in tuner
Cons
No option to run an external cabinet
DV Mark Head 50
When it comes to portability and sound, the DV Mark 50 sets the bar high for owning a solid-state amplifier for all live situations.
The Mark 50 is a compact dual channel 50 watt amp head, with an easy to use layout that can run your desired 8 or 16-ohm cabinet.
The compact design means transferring gear is much easier than a heavy 50 watt amp. Playing live is as easy transferring this portable head in a rucksack and connecting it to a cabinet at rehearsals or gig.
Plenty of features are crammed onto this solid state head, such as an Aux input for playing external sources of music and a headphones output.
For a miniature amp, the equalization is very powerful and can shape any sound with losing any color. The Mark 50 also takes pedals brilliantly to extend the options of tone from a pedal board.
Sound
The DV mark head has a classic sound which is dark in character and a touch on the bassier side, the cabinet size you run will determine the bass response which comes down to personal choice.
Granted the sound is not as rich as other amps housing tubes, yet the Mark 50 still has a nice amount of character and color and holds its own when it comes to a clean Jazz tone. The reverb is nice with the amp producing enough volume for jam/gigging sessions.
Main Features
50 watt solid state
Dual channel (Clean and drive)
3 band EQ (bass, middle, treble) for each channel
Reverb
XLR out
Dual voltage switch for changing voltages for different countries
Footswitch input
Pros
Light, compact, portable
Great clean tone
Easy to use
Versatile
Option for DI for recording and playing through a PA
Takes pedals well
Cons
Requires an external cabinet
Distortion is nothing to shout about
The Verdict
As you can tell, there are many options for choosing a jazz solid state amp. The amp that is best for you, depends on sound, features, budget and your live set-up.
Hopefully, this article has helped narrow down your search for a good, affordable amp for all your jazz needs.