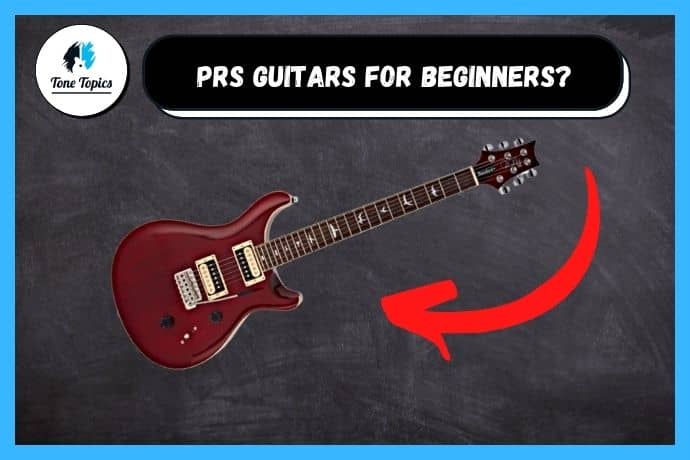 PRS (Paul Reed Smith) are famed for their classy and elegant guitars that ooze quality. But such craftsmanship means a higher price tag (which scares beginners away.)
In this post, I'll give you the lowdown on PRS guitars (pros and cons.) And if interested, which PRS guitars would be suitable for all the beginners out there.
Are PRS Guitars Good for Beginners? PRS guitars are a great option for beginners because they far surpass the build quality of most typical 'beginner guitars.' However, they are not the usual beginner guitar brand due to their high price. A guitar from the PRS SE Series is the best option as they are an affordable line of guitars.
As mentioned above, a PRS from the SE Series would absolutely surpass the quality of most 'typical beginner's guitars.'
The reason is PRS is known for two words… "quality" and 'attention to detail,' even from their affordable line of guitars made in South Korea.
I would only recommend a beginner a guitar from the SE series being their most affordable range. However, the caveat is that the SE series guitars range from ($600-$1000.)
Therefore, even these lines of guitars are 'mid-tier' priced and stray out of the typical budget for a first or second guitar.
With that said, if a beginner loves the sound, the playability, looks, and had the available budget.
Then absolutely a PRS SE guitar would assure quality, performance, and serve as a pro-level guitar to begin their guitar journey.
Reasons for a PRS as a Beginner
1. PRS Guitars = Ensured Quality
These guitars have a top-notch quality seal, once they leave the factory, they're lifetime insured instruments.
This brings to the table the advantages of getting a mid-range six-string as a first guitar.
First off, these guitars will keep you inspired with their feel and superb tone. With preem standards, you can expect to improve your skills with no need to look elsewhere.
PRS guitars are estranged from falling out of tune as frequently as other guitars, their stability is a great trait. Furthermore, the great looks are a huge plus, this will compel and motivate you to invest time in your playing.
2. PRS Guitars Have Excellent Playability
A hallmark of PRS is their dedication to the "Pattern" necks. Also known as simply "fast necks" these are crafted into a wide-thin neck with a flat fretboard.
This design is meant to make you feel right at home from the moment you first play your guitar. On most PRS axes you'll find a 10″ fingerboard radius, as for Silver Sky models they tend to be 7.25".
In simple English, this translates into easy access to every fret on your guitar. Their low action, on another hand, keeps the strings close to the fretboard, requiring little to no pressure required.
Going even deeper, PRS models have great physical balance, with a standard body width of 2 1/8″.
Its average weight of 7.48 pounds helps its comfortable play, with no headstock dive or back pains for that matter. As you can guess, a well-balanced axe makes for a great experience.

3. PRS Guitars Are Super Versatile
Few guitars on the market are as versatile as PRS and what they have to offer. They combine the sonic qualities of both a Les Paul and a Stratocaster in an amazing way.
Thanks to their HFS pickups, which stand for Hot, Fat, Screams. Most PRS axes are able to replicate and really jam with virtually no limitations.
PRS guitars perform superbly when clean, with their hot and screaming cut-through leads. This makes for an excellent guitar to experiment with different tones and effects which is essential as a beginner.
Diving into the different genres, PRS guitars are tonally versatile for a vast number of genres including:
Rock
Metal
Djent
Funk
Blues
Indie
Gunge
Pop

Reasons to Avoid PRS as a Beginner
1. Expensive
For a long time now, PRS guitars have been considered to be "boutique" or "connoisseur" guitars. Needless to say, with great status comes a hefty price, and this is perhaps one of the biggest con for many people.
Even the entry-level SE (Student Edition) series ranges from $600 all the way up to just over $1000.
Its tag makes it all the more atypical for early entry levels. More often than not this may scare off those looking for a first guitar.
Sometimes novice or aspiring guitarists even pop a fair question, "Are my skills fit for an overall high-end guitar?" "What if I abandon learning guitar, having already invested so much money?"
Even for a good value for money standard, not everybody can just slam their hard-earned cash on the table. Despite the SE series offering a few more modest luxuries, many argue these guitars are inaccessible for beginners.

2. Other Options Available
If PRS guitars are off-budget, you can also consider getting a specific guitar for your niche. Most guitar companies are always keen on designing quality products for early entry-level players!
If you're into shredding and all types of metal, there are a few brands that just might have the right fit for you.
These include Ibanez, ESP, and Jackson, for decades now they've been a weapon of choice for pros throughout their careers.
If you're an indie, rock, enthusiast, or looking to just dive into your own thing. Brands like Squier with their classical lines may do the trick, it's a similar story with Epiphone and Harley Benton!
PRS Guitars – A Quick Guide
PRS guitars are synonymous with high-end shred machines. Handcrafted in the USA offering elegant paint jobs, fast necks, dynamic tones, and top-end performance.
Hence why famous guitarists associated with PRS are virtuosos Carlos Santana, Alex Lifeson, and John Mayer.
The initial idea behind a typical PRS is fairly simple…
Take the best from a Les Paul and a Stratocaster, mix them together and you have the familiar blueprint of a PRS guitar.
Now admittedly, These are not your usual beginner 'budget-friendly' guitars compared to Epiphone or Squier. The majority of their series are way out out of a typical beginner price range.
PRS Series Explained
"The SE" – Affordable 'watered-down' versions ($500 – $1000)
"The S2" – Reimagined designs mixed old heritage ($1000 – $1700)
"Bolt-on" – high-end designs with all Bolt-on necks ($2000 – $2500)
"Core" – Specially designed axes with PRS Quality ($3500+)
"Private Stock" – The ultimate of PRS ($5000+)
Best PRS Series For New Learners
As mentioned before, I am only going to recommend PRS guitars from the famed SE series. Introduced in 2001 the SE series was created to offer players the quality of a PRS without handing over a fortune.
Keep in mind, guitars from the SE series are not "budget guitars" thrown together with factory leftovers. They are essentially just watered-down versions from the top-tier series.
The Student edition series is actually PRS's best-selling line of guitars. They have as much attention to detail as the expensive series but adopt cheaper materials and are manufactured in South Korea to lower costs.
Let's take a look at some…
Recommended PRS Guitars
PRS SE 24 Standard – Best Seller
$649.99 New
Designed to faithfully recreate one of PRS' most iconic models. The SE 24 Standard houses the evolutionary sound and appointments of the original Custom 24 with virtually no sacrifice in hardware.
In case you're wondering what the 24 stands for, it's for 24 frets. Furthermore, this model is inspired by the first PRS guitar that stole the spotlight in the NAMM Show of 1985.
Crafted with an all-mahogany body into the most iconic PRS double-cutaway shape for premium comfort and balance. It sports medium-jumbo frets in its rosewood fretboard and maple neck, giving a classical yet superior feel to your playing.
But along with its PRS signature 85/15 humbucker pickups, the Standard 24 also features the coil-split push and pull system. Just like its many siblings, you'll be able to explore the single-coil and humbucker sound in a very elevated fashion.
These pickups are extremely articulate with warmth and high-fidelity clarity, in my humble opinion, they just sound top-end.
If you're a beginner, you can expect no harshness nor brittleness in playability or sound. This is especially comfortable when taking on hard learning, most guitars kind of fight back at you, but not this piece.
PRS SE Custom 24 – Next Step Up in Quality
$849.99 New
Arguably the top of the SE line, roadworthy durability, and design with the classic PRS violin core carve. The Custom 24 is as close as you can get to a Maryland-built PRS on a budget.
Without sacrificing any of the vast tone arrays, the Custom is known for. This staple is a spec upgrade from the Standard, with even lower output 85/15 S' pickups. While this may sound like a silly thing, it enables a slightly wider variety in tone control.
Furthermore, its body is crafted in mahogany with a maple top, which makes for an even lighter six-string. If anything, this build ensures the tremolo bridge doesn't mess at all with your tuning.
The neck is wide-thin maple with 24 frets on its rosewood board.
This axe is a career-long instrument, something beginners are not usually offered, as versatile as classic with obviously unparalleled playability.
For future reference, the Custom 24 is the guitar that propelled PRS into a massive success.
This time around, however, the new issues have seen craft refinements and revisions along with veteran guitarists. So this guitar has pretty much been the blueprint for PRS throughout the years.
PRS SE Starla – The Vintage Option
$729.00 New
The retro innovative Starla SE model is a direct stand-out from the various branches of the PRS family. Although it's built with two apparent humbuckers, the DS-O2 pickups are nothing like other humbuckers.
In fact, these take on a spankier, brighter, and twangier signature sound that will enable an overall janglier sound. Furthermore, this guitar also features a coil-splitting system, so you can get around every immaculate tone it has to offer.
With an all-mahogany body and neck with a 25" inch scale, PRS crafted this guitar to their swift playability mindset. It's a bit shorter than other models given its 22 frets.
Beginners who are keen on the familiar sounds of rock with an aired metallic sound may find this model a brilliant first.
The PRS Starla started out as a core, higher-end model of the S2 line-up, which is also a mid-high tier assembled by the brand. But soon enough, this completely evolved embodiment of a retro six-string became a part of the import line.
PRS SE Mira
$729.00 New
Known for its go-to rock tone. The SE Mira is a 22-fret versatile voice that houses 85/15 S pickups in a more explosive and traditional way. The PRS trademarked push/pull 3-way is ever-present in here.
Often compared to its S2 line sibling the Starla, this model is, yes, vintage in sound by all means. Nevertheless, its focus is adequately warm and fittingly balanced when it comes to packing a punch in tone.
A mahogany body and wide-thin neck, with a rosewood fretboard, is a mainstay in this axe.
t's a workhorse when it comes to playability and tone hunting. Finally, this is the one SE model with an adjustable stoptail bridge, and it gives great comfort for mild adjustments.