The Gibson Les Paul Standard is arguably the most legendary and iconic electric guitar model in existence.
In the opposite corner, the Gibson Les Paul Junior is the stripped-down little brother retaining the qualities of the classy Les Paul blueprint.
Having said that, what are the primary differences between both Les Paul models. Look no further…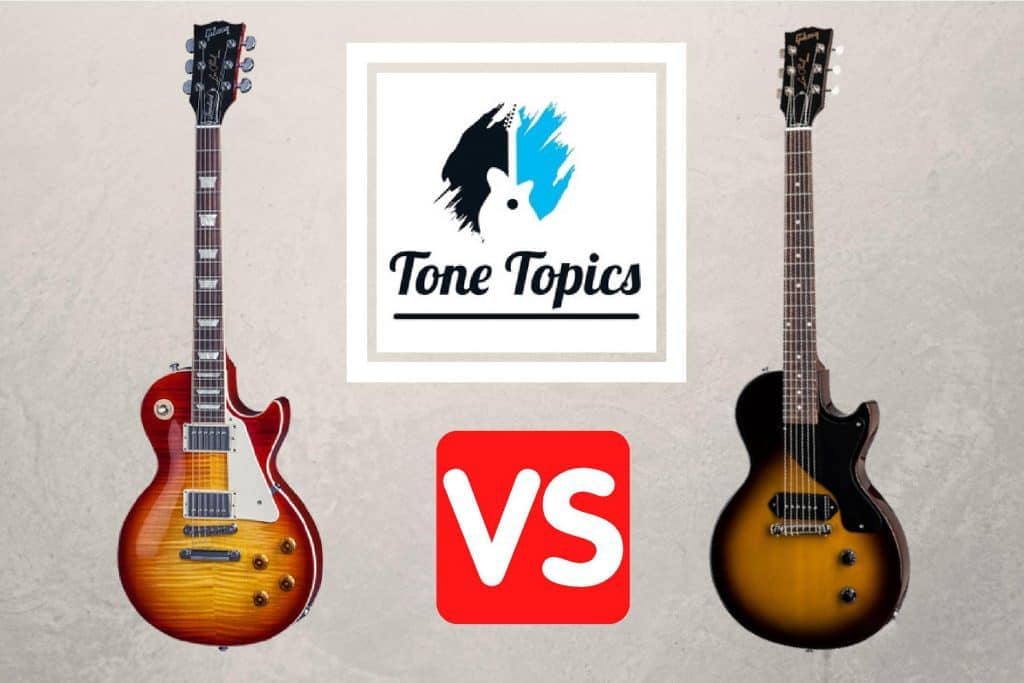 This post will unwrap the key differences between the Standard vs. Junior.
This includes design, features, playability, tone, and everything more. Helping you decide which Les Paul which wetts your appetite more.
First, Let's dive in with the short answer to what sets these guitars apart…
The Short Answer
Compared to the Les Paul Standard, the Les Paul Junior is a "stripped-down" version. It is a cheaper model that comes with one or two P90 pickups, no carved top, one volume knob, one tone knob, and a simplified wrap-around tailpiece bridge. It also costs considerably less compared to the Les Paul Standard.
Specifications Comparison
| | | |
| --- | --- | --- |
| | Standard | Junior |
| Body Wood | Mahogany with maple top | Mahogany |
| Body Design | Single-cutaway | Single-cutaway (Double-cutaway version common) |
| Neck Wood | Mahogany | Mahogany |
| Neck Design | Set Neck | Set Neck |
| Scale Length | 24.75″ | 24.75″ |
| Fingerboard | Rosewood, ebony, richlite (depending on model) | Rosewood |
| Frets | 22 Medium Jumbo Frets | 22 Medium Jumbo Frets |
| Inlay markers | Trapezoid | Dot |
| Binding | Yes | No |
| Bridge | tune-o-matic bridge + stoptail saddle | single wrap-around |
| Neck profile | "C" "U" (Depending on year & model) | Vintage 50s |
| Pickups | Two humbuckers | one P90 pickup |
| Configuration | 3-way selector (neck, middle, bridge) | bridge (no toggle switch) |
| Knobs | 2 volume, 2 tone knobs | 1 volume, 1 tone knob |
| Finish | Lacquer finish | Lacquer finish |
| Weight | 9-12lb (depending on year) | 5lb |
| Price | $2500 (Guitar Center) | $1500 (Guitar Center) |
Les Paul Standard – Pros & Cons
Les Paul Junior – Pros & Cons
Les Paul Standard – A Quick History Lesson
The Les Paul Standard with its classic dual humbucker pickup design, carved maple top, mahogany body was first introduced by Gibson in 1958.
If you didn't know already, the birth of the Les Paul 'Standard' came from Gibson's redesign of a 1957 gold top model with included P90 pickups at the helm.
Ever since the 'standard' went on sale in 1958, the Les Paul standard cemented itself as Gibson's flagship model revolutionizing the guitar industry.
Not to mention all the guitar heroes that armed themselves with the Les Paul Standard as their primary weapons of choice such as Jimmy Page, Gary Moore, Slash, Joe Perry, Peter Green, and countless more.
It's popularity is due to its heavy solid-body design, beefy sounding humbucker pickups, classy looks, and set-neck design arming you with a rock n roll machine.
The Standard is Gibson's most successful guitar, many models followed from the Les Paul blueprint including the custom, studio, tribute, and junior (more on that now.) 
Les Paul Junior – A Quick History Lesson
On the other hand, a regular Les Paul Junior is a noticeably different guitar.
Although we have that easily recognizable classic Les Paul body shape with one cutaway, the guitar is intended as a much simpler one.
The Junior was introduced by Gibson in 1954 providing players with an affordable entry-level guitar with fewer frills but retaining the traditional Les Paul flavor.
Obviously, the junior is a lower spec guitar, however, this does not mean this ax is not to be messed with.
Players laud the Junior as a simple workhorse with bags of character offering a sublime variation of the classic Les Paul sound.  
This guitar was originally a rock and blues machine on its creation. This is until it gained traction with famous players cemented in the punk scene due to its simplicity and raw sound.
This revitalized the guitar's reputation and popularity amongst it's bigger brother being the Les Paul Standard.
Body Shape & Aesthetics
Les Paul Standard – The Classic Design
The Les Paul Standard guitar comes with a standard mahogany body and an arched top that's made from maple.
The arched top does the trick in making the guitar look more stylish, aesthetically pleasing, and ultimately more attractive.
Everyone loves Les Paul guitars for their eye-catching bodies and the arched top always reflects the lights, making you see all the nuances in the design.
This can further be enhanced as some sort of an "optical illusion" if we have the sunburst finish on it. Next to this, the majority of 'Standards' come with binding around the body's circumference highlighting its neat curves.
All Les Paul Standard models are also accompanied by stylish pickguards underneath their humbuckers which can be removed depending on your preference.
Of course, there's a comfortable body and neck set-in formation and a completely flat back side of the body. The set neck allows for more "resonance" providing the ability to sustain for longer.
Aesthetically-wise, it all works in perfect harmony, which is what makes the guitar so popular among many guitar players.
Body Shape & Aesthetics
Les Paul Junior – Less is More
Now going over to Gibson Les Paul Junior, the contours of the body and the main shape are pretty much identical.
There's the recognizable single-cutaway design and, from afar, you wouldn't notice any significant differences. However, when you get closer, it's pretty obvious that these are two different electric guitars.
Aside from the pickups and other features that we mentioned, we have a different body shape. And just like with the traits that we mentioned, the body shape is somewhat simplified or "stripped down."
Compared to the Les Paul Standard, the Les Paul Junior doesn't feature a carved maple top. Instead, the guitar's top side is completely flat.
Additionally, the body is thinner and somewhat lighter due to its dimensions and the lack of a maple top.
Other than these aesthetic features, the basic Les Paul single-cutaway shape is there and set-neck design.
The Les Paul Junior model still has a pickguard, although it's a fairly different one compared to what we have on the Les Paul Standard.
Additionally, we have no binding or any other additional design traits in there. It's just a simple single-cutaway guitar with a flat top saving costs whilst retianing the classic Les Paul charm.
Of course, in some cases, both models are available in 'double-cutaway' models, but these aren't as common compared to the classic 'single-cut' Les Paul design.
Body Wood
Les Paul Standard
The classic Gibson Les Paul guitar body that everyone is familiar with is mainly made of mahogany.
However, the guitar also has an addition in the form of a carved maple top. Of course, when it comes to Gibsons, these are exclusively solid and specially prepared tonewoods and not laminated materials.
In some cases, brands like Epiphone will make Les Paul guitars with laminated mahogany, as is the case with their cheaper series.
Of course, these mahogany necks have been improved and are usually thinner on some of the contemporary Les Paul Standard models.
As far as their fretboards go, we have rosewood as the main material, which is pretty widespread with plenty of other guitars out there as well.
Looking into its hardware, we have a nickel-plated finish for the guitar's ABR-1 Tune-o-Matic bridge. This is also accompanied by its standard Grover tuning machines that are completely made of metal.
Body Wood
Les Paul Junior
In short, most of the materials used for Gibson Les Paul Junior models are pretty much the same.
We have the basic mahogany body, as well as the mahogany neck and a rosewood fretboard. However, we can notice the first important difference in this aspect with the lack of a maple top.
This kind of design makes an impact on the sonic output, as well as the overall performance, but we'll get to that in the coming sections.
The most important thing to note here is that the guitar's overall build is different due to the lack of a carved maple top.
As far as the finish goes, Les Paul Junior guitars usually feature the gloss nitrocellulose lacquer. This is the same type of finish material used for Les Paul Standards.
Looking at the bridge, we have the same nickel-plated formation that we saw on the Les Paul Standard.
Tuning machines are a bit unique, although there aren't any significant differences compared to the ones that we've seen on the Les Paul Standard model.
Neck Design
Les Paul Standard
Keep in mind, the Gibson Les Paul Standard neck profile has evolved over time. For example, most modern Gibson Les Pauls Standards come with the slimmed-down "C" or "D" neck profile.
Whereas, older Les Pauls or reissues of 50s and 60s models come with old-school "U" profile necks. Which feel slightly rounder and thicker in the palm of the hand.
Your ideal neck profile is something to highlight ensuring it suits your playing style and offers the best performance for you.
Regardless of the neck profile, your choice ultimately hinges on what feels more comfortable in your hands. As either choice is not 'better or worse,' just different.
When it comes to the fingerboard material, rosewood, richlite, and ebony have been the typical choice of wood. Accompanied with the classic "Trapezoid" inlay markers iconic with Gibson guitars.
The scale length of the LP Standard measures in at 24 and 3/4 inches, which is a standard one for most Gibson guitars in general. This is all followed by a radius of 12 inches and 'Medium-Jumbo' frets.
It's not an instrument that some super technical virtuoso players will prefer, but it still feels pretty great when playing more complex and faster passages.
Neck Design
Les Paul Junior
First off, we have the same scale length, as well as the fretboard radius across both guitars. On the other hand, the neck profile is different, with Les Paul Juniors bearing the so-called "Vintage '50s" shape.
Although there aren't any major differences compared to the standard "C"-shaped profile that we often see on Gibson guitars.
It's important to note that the "Vintage '50s" shape is slightly thicker compared to the "Slim Taper" profile that we have on the Les Paul Standard.
While it usually comes down to personal preferences, many guitarists usually prefer this kind of neck for rhythm settings or just a more old school approach to playing.
Looking at the guitar's fretboard, rosewood is the main choice being more affordable, sustainable, and common compared to ebony and elaborate woods.
This helps keeps the cost down and ultimately creates a much simpler guitar whilst quality in the right areas.
Noticeably the Junior is fitted with much simpler acrylic "dot"-style inlays as you typically see on Fender guitars. Whereas the Les Paul standard comes with trapezoid-shaped ones, although we have the same material used for them.
Playability & Comfort
Les Paul Standard – Big Slab of Wood
First off, we have the same scale length, as well as the fretboard radius. So apart from the slight differences in neck profile the guitar will play and feel very similar in terms of the neck.
However, the difference in comfort is due to the thickness of the body on the Les Paul Standard.
Notably, the Les Paul standard has a wider and chunkier body with no body contours. The lack of contours means you have to wrap your playing arm around its chunky body decreasing comfort.
'Contours' are grooves that assist the guitar to mold around the player's body for added comfort and better playability. Unfortunately, the Standard does not have any.
On the other hand, this large slab of mahogany wood is what gives the Les Paul Standard it's thick and creamy tone with bags of sustain which players love.
Therefore, players typically 'man up' and 'get on with it' and simply overlook this issue and enjoy the amazing tones on offer.  
Furthermore, there is also a lack of upper fret access meaning that playing higher register notes can be more challenging and require more finger strength for string bends.
Again, players overlook this issue as the Les Paul was never designed to be a fast shredding guitar
There is also a weight issue, the Les Paul Standard is a heavy instrument weighing in at 9lb -12lb depending on the model and year. Meaning it can be uncomfortable to play standing up for long periods of time.
This may make it a bit uncomfortable for some players. At the same time, access to higher frets is not the best one, but this is typical of single-cutaway electric guitars.
Playability & Comfort
Les Paul Junior – A Forgiving Ride
If we were to put the Junior and the Standard against one another, their playability is in many ways similar.
First off, we have the same scale length, as well as the fretboard radius. On the other hand, the neck profile is different, with Les Paul Juniors bearing the so-called "Vintage '50s" shape.
However, the most important aspect is the body is much thinner. This is due to the lack of maple top and a thinner smaller profile compared to the Standard.
The lack of a maple top means the body is completely flat reducing its size but also means it's a more forgiving size.
This makes the Junior more comfortable to play, especially if we're talking about longer sessions and live shows.
The junior is admittedly a more comfortable guitar due to its more forgiving shape and size. 
At the same time, the smaller body also makes access to higher frets somewhat easier.
Lastly, the guitar is much lighter compared to the Standard weighing in at a measly 5lb compared to a Standard weighing in at a hefty 9-12lb.
Pickups & Tone
Les Paul Standard – Thick, Creamy, and Sustain
Undoubtedly, the biggest determinants of the Standard's overall tone qualities are its humbucker pickups. These days, Gibson includes their Burstbucker series in there.
Humbuckers are naturally thicker and darker compared to the Juniors P90s. Combined with its chunky mahogany body, maple top the Standard is a beefier sounding guitar.
Hence why this guitar is lauded for its lush, thick, and creamy tones. Furthermore, due to its design and pickups players love the guitar's ability to sustain for days.
Additionally, the Standard traditionally comes with two humbucker pickups and a standard 3-way switch with two Volume and two Tone (treble roll-off) controls.
This combination allows for more choice and combination of tones compared to the Junior. For this reason, The Les Paul Standard is so competent in so many genres and sounds.
Pickups & Tone
Les Paul Junior – A Different Version
The Junior's tone is noticeably different as it usually comes with one P90 pickup. Although there's less versatility in there, this type of pickup is useful for similar genres and playing styles.
If you didn't know already a P90 pickup is actually a single-coil pickup although its appearance resembles a humbucker. The difference is a P90 contains one pole piece with additional copper windings than a single-coil pickup.
This places the P90 in the middle of the tonal spectrum between single coils and humbuckers. Because they produce a thicker tone than single-coils but not as thick as humbuckers.
Humbuckers vs P90 Comparison (Watch Below)
This combination gives the Junior a sharper 'bite' and 'attack' than the Standard but still plenty of bassy low-ends. The Junior is therefore a slightly brighter and grittier sounding guitar.
While you can still hear a sharper attack and that "twangy" bright tone, there's still a boost in the lower-ends if we would compare it to regular single-coils.
The guitar's smaller body and an all-mahogany construction also have their impact on tone.
Therefore, it is worth mentioning the Junior can not match the Standard when it comes to sustain due to less body wood and a carved maple top.
As already explained, in some cases we have either one P90 pickup or an additional P90 in the neck position, adding more variations of tones to the mix.
As a side note, I have covered in my other post how P90 pickups sound and what genres they are good for. You can see this post here!
However, the guitar's design is still not that popular among technical virtuosic players. Mainly because the junior is regarded as a simple and raw guitar without any "bells or whistles."
Bridge Design
Les Paul Standard – Tune-O-Matic
Since its creation, Gibson Les Paul guitars (and most Gibson and Epiphone guitars) are equipped with the classic 'Tune-O-Matic' bridge and stop tail saddle.
The pros of a Tune-o-Matic bridge are it allows you to fine-tune the position of each individual string for the correct intonation. While also setting the ideal string height for optimal playability.
Bridge Design
Les Paul Junior – Wrap-Around Bridge
On the other hand, the Junior comes with a single 'wrap-around' bridge. Why do Juniors have this you may ask?
The simple answer is to save cost! Fewer materials mean a cheaper guitar right?
The problem is that setting up the action and adjusting intonation can be more cumbersome. The primary issue is that you will have to come to some compromise.
The reason is you can not adjust each string individually. If you adjust one side then you will unintentionally knock out the intonation of the neighboring string unintentionally (Compromise remember?)
Therefore, this is the main issue you will have to keep in mind when purchasing a guitar with a wrap-around bridge.
Les Paul Standard – The Famous Players
Being such a great and versatile instrument, the Les Paul Standard in all of its variants has found its way into the hands of many different musicians.
If we were to pick the most famous one, it would probably be a tie between Jimmy Page and Slash.
Of course, there also Billy Gibbons who had plenty of them over the years, the most famous one being his "Pearly Gates" from 1959.
Led Zeppelin's tone was also shaped through Jimmy Page's use of Standard's back in the 1970s.
Then we can find names like Ace Frehley, Zakk Wylde, Paul Kossoff, and Gary Moore, just to name a few. However, we shouldn't forget about Mr. Les Paul himself who often played the Standard model.
Les Paul Junior – The Famous Players
Gibson Les Paul Junior is a pretty old model, dating back to the 1950s and the 1960s.
The production was continued in the 1980s for a while, but it wasn't until Green Day's Billy Joe Armstrong used it that it blew up in popularity. He's known for Juniors even to this day.
Going back to older days, John Lennon used a Les Paul Junior in his post-Beatles days.
Other older players also include Martin Barre, Johnny Thunders, Leslie West, Peter Frampton, Mick Jones, and even Glenn Frey of the Eagles.
Legendary metal master Zakk Wylde also has one Les Paul Junior that was given to him by Ozzy Osbourne, but you don't often see him wielding this guitar.
Standard vs. Junior – The Verdict
While they might seem almost the same at a first glance, we have noticeably different instruments here. But you should know that neither of these is "better" or "worse," they're just different.
If you need a simple guitar and you're looking to buy your first Gibson, then the Les Paul Junior comes as a great choice.
While it's relatively expensive, just like any Gibson guitar, it's cheaper than any other of their models.
The Standard is a more advanced choice here, bringing not only more versatility here but some premium features in the mix.
Closing Thoughts
At the end of the day, both of these guitars are awesome. But one thing remains – you can't go wrong with a Gibson or Epiphone, be it Standard or a Junior or any other, and it'll be a guitar that you'll keep for your entire life. Hope you have enjoyed my detailed comparison of these awesome guitars.
Related Post
Before you go, I have an awesome post detailing 7 reasons why the Les Paul guitar is suitable for playing metal. You can view this post here!