I must say what a fantastic comparison the Gibson ES-335 vs the Epiphone Dot. Sure, both guitars feature the classy semi-hollow body design.
However, the Gibson ES-335 is absurdly eight times more expensive than the Epiphone Dot. 
So is the Gibson guitar eight times better? And can the affordable Epiphone Dot match the mighty ES-335?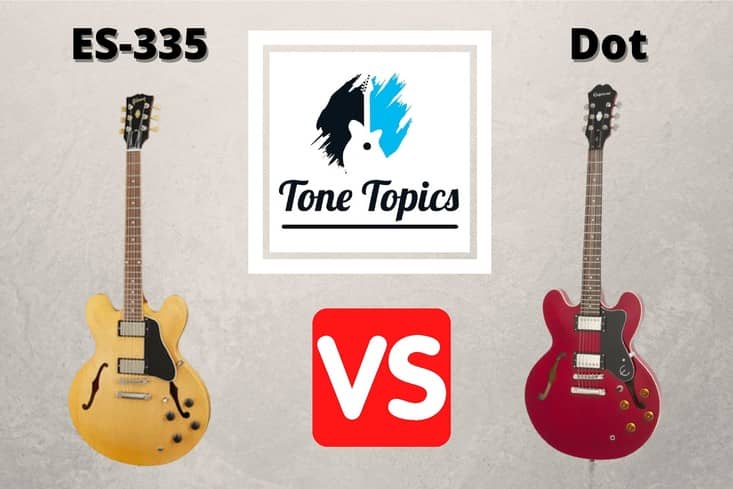 My informative post will compare both guitars, materials, tone, specs, and value for money. All wrapped up in comprehensive guitar face-off.
Sound good? Before we delve in, let's start with a short answer.  
What is the main difference between the Gibson ES-335 and Epiphone Dot?
The Gibson ES-335 is a high-end vintage guitar, while the Epiphone Dot is an affordable version. The Epiphone Dot includes a maple body and a mahogany center block, while the Gibson ES-335 has a maple center block. The Gibson ES-335 includes higher spec materials compared to the Dot impacting overall quality.  
Comparison Video (Watch Below)
Gibson ES-335 – The History  
Gibson's ES-335 remains one of Gibson's most prestigious guitars. Fun Fact, It was the first-ever semi-hollow-body electric guitar when released back in 1958. 
It all started when Gibson designers had the bright idea of installing a solid block of maple into a regular acoustic sized guitar.
They noticed this produced tonal qualities to a solid-body guitar, yet the sound reverberates inside the wings. This combination results in a tonal 'hybrid' of a full solid-body and hollow-body.    
This tonal quality armed blues and jazz guitarists with an elegant and soulful sound.
Likewise, old-school and modern rock guitarists adopt this guitar as a great rock n roll machine. Highlighting the incredible versatility of the ES-335.  
When it comes to famous players, The ES-335 was made famous by guitar icons such as BB King, John Scofield, Chuck Berry, Larry Carlton, Eric Clapton, Noel Gallagher, 
Epiphone Dot – The History
Being the company's subsidiary, Epiphone produces cheaper versions of Gibson guitars.
This is also the case with their legendary ES-335 model which they produce under the nickname the "Dot" due to the guitar's dot inlays on the fretboard. 
The Epiphone Dot was introduced in 1997 and has remained almost unchanged since then. The instrument is intended to replicate what the Gibson's ES-335 can at a lower price level.
These differences come with the use of different materials, as well as some modified design features. Once again, we have the same semi-hollow-body formation, along with humbucker pickups and the same type of controls. 
It goes without saying, the Epiphone Dot is a 'watered down' version. Giving guitarist the semi-hollow vibe at a vastly more affordable price.
However, don't be fooled! The Dot is a great entry-level guitar perfect for guitar players of all ability levels. 
Gibson ES-335 – Wood & Materials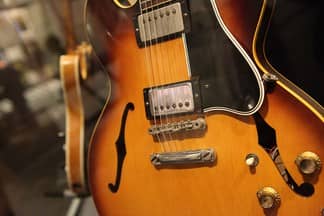 The most important traits of Gibson's legendary ES-335 are the specially selected materials, as is often the case with the company's guitars.
The recognizable arched top body is made from a 3-play maple and poplar combination.
The same material is used for its back and sides, and we also have spruce bracing inside the body.
This is all accompanied by a maple center block, giving this guitar a completely new twist compared to Gibson's usual mahogany formation. On the body edges, we have a standard yet very stylish single-ply binding. 
As far as the neck goes, we have a standard mahogany one with its classic "C" profile.
The neck comes with a rosewood fretboard, although ebony has been used on some versions as well. The body and neck form a standard "set-in" formation, and the neck also comes with acrylic dot inlays and binding on the sides.
This is all rounded up with the guitar model's gloss nitrocellulose lacquer finish.
This particular formation makes it look super-glossy and stylish, which has often been one of the ES-335's best and most recognizable features. These days, the guitar comes with an aluminum stop bar and a graph tech nut. 
Epiphone Dot – Wood & Materials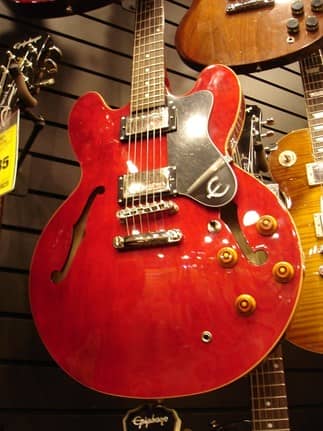 While the Epiphone's Dot is designed to emulate and replicate the classic ES-335 concept, there are a few notable differences in the choice of materials.
Once again, we have maple as the main material for the instrument's body.
However, instead of the maple and poplar 3-ply combo, here we have a classic layered maple, or the maple plywood, used for its top, back, and sides.
When it comes to the guitar's center block, the Epiphone comes with one made from mahogany.
This impacts the guitar's tone, making it just a little mellower compared to Gibson ES-335. We also have a single-ply binding on the body's edges, but it's not as good-looking compared to the one on ES-335. 
This is all followed by a mahogany neck with a rosewood fretboard with its pearloid dot inlays. And while we also have the standard set-neck construction, the neck doesn't feature binding on it.
And just like we have with the Gibson ES-335, the Epiphone Dot's hardware comes a nickel finish on it. There may be a few other differences with specific models and releases, but these are the essential ones.
Gibson ES-335 – Playability
Designed way back in the 1950s, Gibson's ES-335 has rarely ever been changed over the years. This goes for all of the instrument's specs, including the ones that impact its playability and ergonomic qualities.
But some would say that the instrument's playability is the same as it always has been. There are a few modifications applied these days. On this legendary guitar model, we have a neck that features a rounded "C" profile.
What's more, the neck's shape has been finalized by hand, increasing the price significantly and making the instruments overall feel much better than regular necks.
Although thicker than what you'd see on some more modern guitars, the neck on it is still pretty comfortable to play.
Additionally, the set-neck construction and the classic double-cutaway body design allow for easy access to higher frets.
The overall feel all across the neck is pretty balanced and without any unexpected "surprises" along the way.
It might not be an instrument for super-technical shredders, but Gibson ES-335 feels pretty great, no matter the genres that you're into.
Other traits make this instrument fairly enjoyable, including its overall body shape and weight.  
Epiphone Dot – Playability
Looking at Epiphone Dot's overall specs, the instrument's feel and playability are pretty similar to those of Gibson's ES-335.
While there are certainly some differences in weight due to the materials used for these two instruments, you'll get a pretty similar package. 
The body shape is pretty much the same, aside from some possible differences that are almost unnoticeable, even to the most experienced guitar players.
But although the instruments seem different at first glance, Epiphone Dot comes with some important differences compared to the Gibson. The most important one comes down to the neck profile.
While Gibson ES-335 features the classic rounded "C" neck profile shape, the Epiphone comes with the 60s SlimTapper "D" shape neck profile.
Interestingly, many guitar players who have tried both of these instruments claim that this aspect is better on the Epiphone Dot model. 
Due to a slimmer neck profile, this guitar might be a bit more comfortable for some of the more virtuosic players. However, this all comes down to personal preferences and what individual guitar players prefer.
Gibson ES-335 – Tone
Ever since they came onto the scene, hollow-body electric guitars have been mostly associated with jazz music.
And semi-hollow-body instruments, the first commercially available one being the company's ES-335, mostly found their use in this particular genre.
Of course, as time went by, they were used in blues, blues rock, as well as rock 'n' roll, rockabilly, and even hard rock music.
Looking at the materials, the guitar's overall design, as well as the pickup configuration, it's pretty clear that the instrument goes a bit towards a "darker" side of things with just a little bit of high-ends in there.
While maple may add some brightness, the guitar's hollow body design and humbuckers add some mellowness to the mix. The resulting tone is pretty rich and has enough elements for an abundance of genres. 
But what makes the ES-335 even more versatile is the instrument's controls. With individual volume and tone pots for each of the pickups, as well as a 3-way selector switch, players get more ways to do some fine-tuning in there.
While you won't ever get that "twang" or "jangle" of single-coil pickups, you'll still be able to adapt it for different settings. The tone isn't as "tight" compared to solid-body electric guitars, and yet you can still have some higher ends in there. 
Epiphone Dot – Tone
While the Epiphone Dot guitar has been designed as a cheaper version of Gibson's ES-335, some sonic differences are worth mentioning here.
There are two main reasons for this. The first one comes down to different types of humbucker pickups used on the Epiphone Dot.
While the ES-335 comes with stock Gibson humbuckers, the Dot has Epiphone Alnico Classic ones, which are essentially Epiphone's stock pickups.
And, to be honest, you can't expect Epiphone's pickups to reach all the sonic and dynamic qualities that Gibson pickups provide.
Nonetheless, Alnico Classic humbuckers manage to capture the guitar's essence well, but they'll probably sound just a little mellower compared to what we can hear with Gibson. 
The lack of "crispiness" in the tone also comes down to different use of materials. Epiphone Dot comes with a mahogany center block, as well as a cheaper layered maple for the main body construction.
This is yet another thing that will make Epiphone's tone mellower compared to the Gibson. Other than that, the controls are the same, and you'll be able to get a similar versatility in there. 
Gibson ES-335 – Price
And here we come to one of the biggest issues in Gibson guitars – the price. For many years now, many guitar players have been complaining about how expensive the company's guitars can get.
While we can discuss whether some of the models are worth it or not, the ES-335 retains a lot of high-end qualities even in all of its different variants.
We can clearly see this with the choice of build materials and the guitar's finish, as well as some nice touches, like the guitar's binding.
However, it's the instrument's amazing tone and sustain that makes the cut here. Sure, you'll need to put aside quite a sum for this instrument, but you'll be set for life if you get an ES-335. 
Epiphone Dot – Price
As already explained, Epiphones are cheaper alternatives to Gibson. And just like many have complained about Gibson guitars being too expensive.
On the other hand, many praise Epiphone for giving some surprisingly great qualities within an affordable price bracket.
In fact, Epiphone Dot will be about 1/8 of Gibson ES-335's price, making it a very viable alternative for those who need a budget-friendly instrument that covers the same musical styles.
Of course, you can't expect a fully professional instrument that's significantly cheaper, but it still manages to deliver great performance and a great tone.  
Gibson ES-335 – Verdict & Who's It for?
To put it simply, the ES-335 is a guitar for full-blown professional players. This is essentially an iconic vintage guitar which obviously makes it so expensive.
Furthermore, you are paying for the Gibson name on the headstock which considerably hikes up the price.
More importantly, in my opinion, I believe the ES-335 is not eight times as good as the Epiphone Dot. The ES-335 is for experienced musicians who have the money for an exceptional and iconic guitar no expenses spared.
As far as genres go, it's pretty common in blues and jazz, although the same exact models can be used in blues-rock and hard rock
It's also not uncommon to see an ES-335 in the hands of those "hired gun" guitarists of famous pop stars.
With its amazing tone and very ergonomic performance qualities, it will satisfy the needs of even the most professional and the most demanding musicians out there. 
But with this said, it's important to note that the instrument is not exactly recommended for beginners.
This is due to its price and the instrument's qualities that cannot be used to full potential by those who are not that experienced.
What's more, you'll also need quite a rig and experience with setting up other gear in order to get the full potential out of it. 
Epiphone Dot – Verdict and Who's It for?
Being a cheaper version of the ES-335, there are two groups of musicians that I would recommend this guitar to.
The first one is the beginners or intermediate players who need something a little vintage-oriented in their collection and don't want to spend a lot on their gear.
The second group is the more experienced musicians, even professional gigging musicians, who need something cheaper as a side guitar.
Although the Dot doesn't come close to the qualities that Gibson provides, you can still use it for some studio sessions and live shows and have no significant issues with it.
Ultimately, the Dot is another excellent entry level guitar from Epiphones catilog of great value guitars.
Overall, if you're a fan of Gibson's ES-335 and its qualities but don't feel like spending a fortune on it, Epiphone Dot comes as a viable alternative for a very reasonable price. 
Closing Thoughts
Every guitar player knows that it's never easy to find an instrument that will suit your needs, no matter the price level. But if you're into bluesy and vintage-oriented stuff, you can't ever go wrong with either Gibson ES-335 or Epiphone Dot models. And while the Gibson is most certainly a better one, the Dot manages to live up to its reputation and pay tribute to the original guitar model.