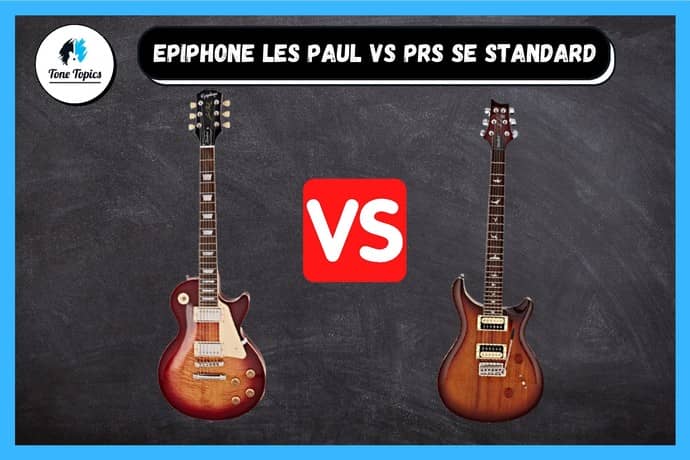 All players love guitars that are built with quality, playability, great tone, and importantly affordability.
Luckily, I know two guitars that come to mind. The mighty Epiphone Les Paul Standard and the fabulous PRSE SE Standard.
Therefore, in this post, I am going to walk you through the differences that set these famous models apart.
By the end, you will understand the main differences between these entry-level heavyweights of the guitar industry. Let's get to it.
Here is the short answer!
Both guitars possess similar designs. The Epiphone Les Paul is a warmer and fatter-sounding guitar with a bulkier neck and 22 frets. In comparison, the PRS SE is a lighter and more comfortable guitar with a thinner neck and slightly brighter sounding tone. The PRS SE includes 24 frets and additional body contours.
Overview – Epiphone Les Paul
The Gibson company acquired Epiphone in 1957. After which, the brand was privy to Gibson's exquisite technologies and premium artisans. The original Les Paul is arguably one of the most iconic guitars reimagined with Epiphone's fresh ideas. 
Many top-class guitarists primarily use Epiphone's Les Paul axes for touring. They're readily available and drastically cheaper for bulk purchases, including famous rockstars such as ex-Oasis singer Noel Gallagher and Nick Valensi of The Strokes.
More modern established guitarists such as Bling 182's Tom Delonge and Jefferson Airplane's Jack Casady also famously use the Epiphone Les Paul. 
The guitar is renowned for its iconic shape and sound. However, it's fairer to say that some of the most esteemed guitar players have chosen to stick with it due to its remarkable pickup systems and tonewoods.
Overview – PRS SE Standard
Paul Reed Smith, the founder of PRS Guitars, has ventured to become one of the most exquisite guitar builders of his time. PRS was a standard for quality for decades.
Their guitars could cater to the needs of immediate beginners, relatively experienced intermediates, and seasoned, touring veteran guitarists.
Numerous professional artists in all relevant music genres famously use an SE Standard as their main on-stage instrument.
CJ English from GFM plays a slightly modified PRS SE. Marcos Curiel from P.O.D. is using the Starla Stoptail one. Myles Kennedy (Alter Bridge, Slash & The Conspirators) is mainly relying on the SE 245 Standard Sunburst.
Although the PRS SE series houses a broad spectrum of unique guitars, the Standard branch is home to instruments that offer superior sound, tone, and playability.
The Jacks of all Trades, PRS SE Standard axes boast a robust construction, a premium selection of tonewoods, eye-candy aesthetics, and a remarkable hardware setup.
Tonewood & Design – Epiphone Les Paul
One of the main reasons why Epiphone's Les Paul has managed to keep up with the original Gibson version is because it's made of a selection of exquisite, remarkably refined tonewoods.
Its single-cutaway design is a homage to the original Les Paul, a revolutionary idea decades ago when it first hit the stores.
Namely, virtuosos and professional guitarists of the '60s were enamored with Les Paul guitars.
However, they struggled to reach the higher notes (essentially everything beyond the 17th fret), which imposed a few limitations to their creativity, jamming, and obviously, soloing.
The single-cutaway design addressed this issue while allowing the guitar to retain the full-bodied resonance of its tonewoods.
On the other hand, all PRS SE Standard guitars provide easy access to the higher frets, even the non-cutaway models, such as Mira, and Standard 24.
Speaking of which, Epiphone's Les Paul features a mahogany construction with a Flamed Maple top.
The distinctly warm mahogany augments the Les Paul with a formidably robust lower end, while the maple complements it by being one of the brightest-sounding tonewoods. 
It also features an Indian Laurel-made fingerboard, which sounds almost like plain rosewood; the main differences between the two are aesthetical, with Lauriel being lightly brownish while rosewood has a slightly darker hue.
The PRS SE Standard is almost exactly the same, having a mahogany body and a maple neck. However, there are several subtle differences between the two that make them sound distinctly different.
Epi's Les Paul Standard features a SlimTaper '60s C neck profile hence, why many Epiphone artists have stuck with it for numerous years.
Epiphone's Les Paul Standard's design has done great justice to the original from a purely practical standpoint.
Allowing weekend warriors and guitar hobbyists to experience what it feels (and sounds) like to wield a remarkably powerful instrument at a decently approachable price.
Tonewood & Design – PRS SE Standard
The PRS SE Standard is very similar to Epiphone's Les Paul in terms of dry specs on paper. However, these two instruments look, feel, and sound different.
The reason is there's a myriad of very subtle differences that a beginner guitarist would probably struggle to notice.
First of all, Epi's Les Paul features a flamed maple top while the PRS SE Standards have a plain maple top.
The debate regarding which one sounds (or looks) better was in a stalemate until a recent study showed that flamed maple trees were specifically chosen.
Due to their properties, plain ones are typically older species whose sound is generally described as 'vintage'. 
From a purely technical perspective, the two guitars feature the same types of core tonewoods – mahogany and maple.
The Indian Lauriel fretboard of Epiphone's Les Paul offers the same sonic benefits as the PRS SE Standard's rosewood.
Both of these tonewoods are very warm-sounding and tend to cater to the needs of rockers and metalheads more than mainstream artists.
The main differences between these two remarkable guitars can be spotted in the fields of hardware, electronics, and obviously aesthetics.
Tone – Epiphone Les Paul
Guitar tone is easily one of the most important aspects of any instrument. The prevalent characteristics feed the sound depending on what type of gear is used and what kind of player is handling the guitar.
It shouldn't come as a surprise that Epiphone's Les Paul does not sound the same as the original '60s Les Paul after which it was modeled, but the esteemed Epiphone guitar makers have done a terrific job to make its tone as true to the original as possible.
Due to the fact that the tonewoods play a very important role in determining the tone of every guitar. The fact that both Epiphone's and Gibson's LP feature the same specs speak volumes about the tonal characteristics of the former. 
Now, an experienced guitar player who is searching for the vintage tone of '60 Les Paul would come close to finding it with an Epiphone-made LP.
After all, the guitar is made after the exact same blueprints and using largely similar technologies.
It's equipped with a pair of Pro Bucker humbuckers that sport CTS potentiometers, which are largely responsible for its well-rounded tone.
However, the batch of mahogany and maple collected and used in the 60s is tonally much different from a batch of mahogany and maple collected, preserved, and eventually refined in the 2000s.
One of the main reasons why Epi's LP exists is affordability – the brand wanted to make an iconic high-end guitar more approachable to guitar players on a tighter budget.
Its tone is dominated by the warm aspects of mahogany, with hints of brightness provided by the flamed maple. Indian Laurel further complements the warmness of the instrument, making power chords heavier and bass tones more pronounced.
Shredders and soloists usually don't have any complaints, as the guitar can handle clear single notes much better than expected.
Tone – PRS SE Standard
The PRS SE Standard is infamous for its versatile tones. Again, the dominant mahogany pushes its sonic characteristics towards the warmer end of the sound spectrum, but the guitar's plain maple top enriches its bassy timbre with a bit of brighter overtones. 
Just like Epi's Les Paul, PRS SE Standard is mainly designed for a rock guitar player; metal artists value its versatility when entering a studio, as the guitar is a very tame beast to work with.
Its dominantly warm sound lends itself well towards rigs that utilize pulverizing distortions and pitch shifters, although its highly reactive tone generally needs very little external encouragement to shine. 
The tone of the PRS SE Standard is capable of pushing through a small budget amp with vehemence and clarity, so it's fairly easy to imagine how wonderful it will sound when hooked to boutique gear.
The SE Standard features a pair of PRS 85/15 S pickups (bass and treble), as well as volume and push/pull controls, and a three-way blade switch (pickup controller).
One of the most important similarities between PRS SE Standard and Epiphone's Les Paul is the fact that both guitars have a very aggressive tone that can help players outperform while using very basic pedalboard setups.
The capability of SE Standard to contain the gradually increasing gain at higher volumes makes it an excellent choice for festival headliners, but it's also a perfect option for guitarists who mainly practice in their bedrooms. 
Many guitar hobbyists know the struggles of playing with cheap, and more often than not, gear made by obscure brands, but fortunately, SE Standard's deliverability allows its tone to hide the imperfections of poorly-made amps, strings, and accessories.
In comparison to Epi's Les Paul, the tone of SE Standard offers just a tad more warmness to it. It's just slightly more focused on delivering punchy low-end notes, and it's arguably better at handling more modern extreme distortions.
The Les Paul fares better with vintage tube screamers and high gain coming from the amps themselves, although both have a tremendously robust tone, regardless of the gear they're hooked onto.
Playability & Feel – Epiphone Les Paul
The field where the differences between Epi's Les Paul and PRS's SE Standard are the most different is within the realm of subjective preference – in other words, playability, and feel. 
Epiphone's Les Paul features a 12-inch fingerboard made of Indian Laurel; as we've mentioned a second ago, it resembles plain Rosewood more than it can be described as 'different from it tone-wise.
In terms of playability, it's as smooth as LP's rosewood, although it can feel a tad drier at times. 
Now, the demand for Indian Laurel is nowhere near as high as the demand for rosewood. If we were comparing Epi's Les Paul's fingerboard to any middle-range guitar with a rosewood fretboard, LP would be inarguably far superior.
However, Paul Reed Smith's stocks of premium-quality rosewood allowed the brand to produce exceptionally smooth fretboards, which are obviously used to create their Les Paul models as well.
The SlimTaper 60s C neck profile of Epi's LP is one of the main features that sets it apart from PRS SE Standard. Namely, this particular feature was introduced to the vintage Les Paul guitars to reduce picking fatigue while promoting faster playing.
It's more comfortable for shredders and solo guitarists, just like it generally feels great for players who play slower.
The neck of Epiphone's Les Paul is nearly identical to the original LP in the sense that it varies in thickness up to the 12th fret (up to 0.1 inches). It's widely considered as the superior neck profile, even outside of the circles of Les Paul vintage enthusiasts.
Playability & Feel – PRS SE Standard
Every guitar player has different sensibilities and demands when it comes to the feel of the fingerboard and the size of the frets.
Both of which are the most defining factors in regard to the criteria mentioned above.
With 24 medium frets and a 25-inch scale length, PRS SE Standard can be described as slightly more versatile than Epi's Les Paul.
As opposed to trying to cater to the needs of every need of guitarists imaginable, SE Standard offers absolute playability to those who are already (at least partially) accustomed to wider necks.
Aside from being slightly wider than average, SE Standard's neck is remarkably thin, offering similar benefits in terms of fast, comfortable, and smooth playing to both beginners and seasoned veteran guitarists.
Aesthetics – Epiphone Les Paul Standard
Les Paul-made guitars are so iconic that their body shape was named after their creator.
A guitar that looks like a Les Paul, whether it be a cheap copy, an almost exact replica such as Epiphone's LP Standard, or the actual original, evokes nostalgic emotions in professionals and a sense of awe in up-and-coming guitarists. 
Epi's LP Standard features a single-cutaway solid-body available in three finishes.
Including the pitch-black Ebony that almost looks like SE Starla Stoptail, Tobacco-like Bourbon Burst that resembles the PRS SE 245 Standard, and slightly brighter Iced Tea. 
Aesthetics – PRS SE Standard
The PRS's SE Standard guitar looks elegant, classy, and flamboyant, although each model is different from the next.
The red SE Mira with a black pickguard almost resembles Gibson SG; the black Starla Stoptail with a red pickguard seamlessly combines elegance with a sense of thrill and danger.
The tamer blue SE Standard 24 has slightly taller wings while the SE 245 is a prime example of a vintage Sunburst guitar. 
Aesthetically, all guitars from the SE Standard series not only look, but feel and sound professional. They are meant to fit the playstyle and the image of both classic acts and artists, as well as more modern musicians.