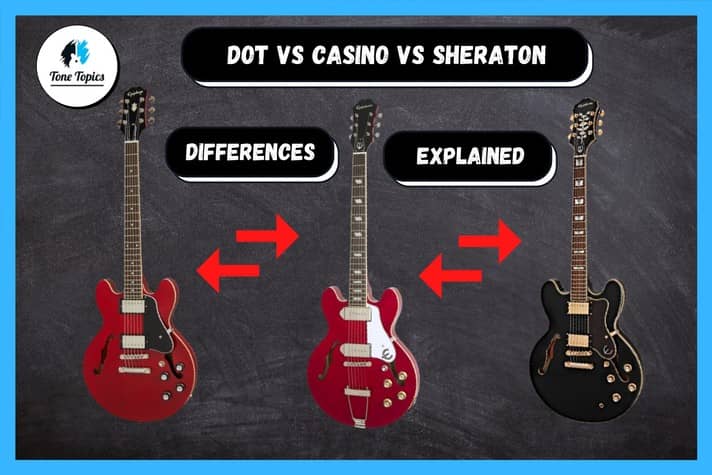 A terrific trio from Epiphone's affordable prized collection is the Epiphone Dot, Casino and Sheraton.
On the surface, they're all Archtop designs; they look identical and similarly priced.
Keen players will ask… what are the differences that set them apart?
Fortunately, as you have guessed, we are going to do just that. In this post, we will inspect all three of these affordable guitars and showcase their differences just for you.
By the end of this post, you will have an idea of which Epiphone floats your boat more.
Sounds good? Let's get going with the short answer!
What is the difference between the Epiphone Dot, Casino, and Sheraton? Epiphone's Dot, Casino, and Sheraton are all very similar guitar models. The Dot is a cheaper alternative to Gibson's ES-335, introduced in 1997. The Casino is a fully hollow-body guitar with P90 pickups and a vintage tailpiece. The Sheraton model is a slightly higher spec version of the Epiphone Dot.
Guitar Comparison Video (Watch Below)
Specifications
| | | | |
| --- | --- | --- | --- |
| Guitar | Dot | Casino | Sheraton II Pro |
| Body Design | ES-335 | ES-330 | Thinline |
| Body Material | Layered Maple | Layered maple | Layered Maple |
| Top | Layered Maple | 5-ply layered Maple with Basswood bracing | Layered Maple |
| Centerblock | Yes (Mahogany) | No (Hollow) | Yes (Mahogany) |
| Binding | No | No | Yes |
| Neck | Mahogany | Mahogany | 5-pc Layered Hard Maple/Walnut |
| Fretboard Material | Rosewood | Pau Ferro | Pau Ferro |
| Inlays | Pearloid Dot Inlays | Pearloid Parallelogram inlays | Custom Block and Triangle Mother-of-Pearl/Abalone |
| Neck Profile | 1960's SlimTaper™ D-shape | SlimTaper "D-Profile" | 60s SlimTaper™ |
| Number of Frets | 22 | 22 | 22 |
| Scale Length | 24.75″ | 24.75″ | 24.75″ |
| Pickups | Epiphone Alnico Classics | Dogear P90s | ProBucker™ humbucker Pickups |
| Pickup Selector | 3-way toggle switch | 3-way toggle switch | 3-way toggle switch |
| Controls | 2 Volume, 2 Tone | 2 Volume, 2 Tone | 2 Volume, 2 Tone |
| Coil Splitting | No | No | Yes (Push-Pull design) |
| Bridge Design | Epiphone LockTone™ Tune-O-Matic | Epiphone LockTone™ Tune-O-Matic | Epiphone LockTone™ Tune-O-Matic |
| Tailpiece | Epiphone LockTone™ Stop Bar | Traditional Trapeze | Epiphone LockTone™ Stop Bar |
| Weight | 8Lbs | 6lbs | 8.5lbs |
| Price | $449 (Guitar Center) | $649 (Guitar Center) | $699 (Guitar Center) |
The Epiphone Dot – Overview
In a nutshell, the Epiphone Dot is an affordable version of the legendary Gibson ES-355. Surprisingly, the Dot costs roughly 8x less than the prized Gibson version. Crazy right?
Nonetheless, The Dot is often praised for its build quality, which surpasses its price tag. It's also known for being highly versatile, despite its overall blues-oriented design.
Interestingly enough, Epiphone's Dot is the youngest model of this bunch. During the 1990s, Epiphone was given the task to develop a cheaper alternative to the legendary and expensive ES-335 model. In 1997, Epiphone introduced the Dot and did a pretty sweet job.
You might be baffled by its name, the "Dot." However, this refers to the classic pearl for fretboard inlays. Nonetheless, most of the aesthetic and functional features are very similar to Gibson's ES-335.
Originally, these guitars were manufactured in Korea. After about five years, in 2002, Epiphone transferred its production to China. Epiphone also occasionally released some limited-edition Dot variants.
Main Features
As mentioned, Epiphone Dot is a cheaper alternative to Gibson ES-335. It has a semi-hollow body. The body top, back, and sides are all made from laminated maple.
Then we also have a solid mahogany center block in the middle. This trait makes it less hollow compared to the Casino. Therefore less prone to feedback, something to consider if you like loading up a bunch of rock distortion.
This is accompanied by a mahogany neck boasting a rosewood fretboard with 22 frets. Just like the original Gibson version, the guitar has a glued neck. The latest variation of the Dot has the 1960s-style "D" profile slim-taper neck.
The center block carries two Epiphone stock alnico humbucker pickups and a standard tune-o-matic bridge with a classic stop bar tailpiece.
This is a pretty reliable and versatile guitar as you'll find all of the essentials that come with ES-335, only with a cheaper twist. There's the tune-o-matic bridge, two humbuckers, and four knobs, as well as a 3-way switch.
There's also the easily recognizable design. The classic F-shaped holes accompany the hollow body serving both visual and functional purposes.
As for finishes, there are two variants. The guitar either comes in cherry red or the vintage sunburst (aka "two-tone" sunburst).
Let's Talk Tone
Although a semi-hollow-body instrument, The Epiphone Dot has a tone that gravitates more towards a solid-body instrument. With that said, the Dot is a nice blend of hollow electric guitar tones ideal to take on a spectrum of genres.
All of this sums up in a sonically versatile guitar. You can go from smooth, clean jazzy tones all the way to crunchy hard rock distortion. Keep in mind, being a semi-hollow body this guitar will be prone to feedback issues when drenched in distortion.
In fact, the Dot is usually praised for its versatility. The neck, on the other hand, brings it into really smooth and "creamy" territories, especially with the distortion on.
The middle position sounds a bit "nasally" and "jangly." The treble pickup has a solid definition and is certainly not "muddy" despite the entry-level pickups.
When it comes to the overall tone, It's not a super-premium quality tone overall due to its entry-level feel. But this guitar certainly can handle a lot of genres you can throw at it.
Of course, being a cheaper model, you can't expect some high-quality pickups. But at the same time, these stock Epiphone humbuckers do a pretty good job. Additionally, using the controls, you can achieve a lot of versatility.
Summary – Epiphone Dot
With all this said, it's pretty obvious that Epiphone Dot is a guitar intended for an abundance of genres. At the same time, what we also need to consider is the instrument's lower price.
Sure, the guitar certainly outperforms the price tag. But it's still impossible to escape its overall 'cheaper feel' than the Sheraton, which we will get to later.
Now, it's far from an imperfect instrument. The Dot is a reliable entry-level instrument that is super versatile and a worthy studio and gigging guitar.
But I'd instead recommend it to a less experienced guitar player. Or, it can also come in handy to anyone looking for a cheaper alternative to otherwise expensive hollow-body guitars.
At the same time, its versatility widens up the choice of potential users. I could see this one in the hands of anyone from Jazz, Blues, Rock, and Indie. Or any player who wants their first semi-hollow guitar to their collection without spending a ton of money.
Overall, Epiphone succeeded in its quest. The Dot is a viable substitute for the ES-335 if you're working with a limited budget. Sure, you can't expect a pro-level instrument, but at this price, it's more than you can ask for the price tag it offers.
The Epiphone Casino – Overview
For the Casino model, also known as E230TD, we have to go all the way back to the early 1960s.
In 1961, Epiphone introduced this one as an alternative to popular hollow-body and semi-hollow-body guitars.
However, the main distinction between this one and similar guitars in 1961 is that they didn't come with a center block. In some way, it's more similar to Gibson's ES-330 model since it comes with a completely hollow body.
Now, although it wasn't a Gibson, the guitar became really popular. In fact, Epiphone Casino is associated with some of the biggest names in the world of guitar.
Aside from Peter Green, Dave Davies, Howlin' Wolf, Dave Grohl, and many others, The Beatles also used the instrument. In fact, George Harrison, Paul McCartney, and John Lennon have all used the model.
This is one of the longest-running models on the market. The production started in 1961, and the Casino is made even to this day.
Main Features
As mentioned, the Epiphone Casino, also known as the E230TD model, is a guitar with a completely hollow body. Compared to the Dot and the Sheraton, this means that there's no center block in the middle.
The body is made entirely out of laminated maple. The top is completely arched and is made out of specially-designed 5-ply layered maple. Additionally, we can also notice bracing on the body edges, which is made out of basswood.
As you can notice aesthetically, The Casino is a more vintage-looking guitar to the Dot and Sheraton.
Despite the differences, the body shape is pretty much the same being an archtop design as with the Dot, and other similar models. It's sometimes hard to differentiate them, but you'll recognize the Casino out of the bunch for some of its features.
The mahogany neck is accompanied by a Pau Ferro fingerboard. On it, we can see parallelogram Pearloid inlays. Additionally, there's also binding throughout the fretboard's length.
Aside from a tune-o-matic bridge, the guitar comes with a traditional trapeze tailpiece. Another important distinction is the inclusion of P90 "dogear" pickups. Nonetheless, the guitar comes with four standard controls.
Let's Talk Tone
Admittedly, this is where the Casino vastly stands out from the Dot and Sheraton.
As mentioned, we have an electric guitar with a completely hollow body. In this equation, we also have P90 pickups instead of expected humbuckers. This all sums up in a different kind of tone compared to the other two models here.
With a completely hollow maple body, you get a much smoother and hollower tone sounding more 'acoustic' than the Dot and Sheraton.
Additionally, the guitar produces less pronounced sustain. However, there are some potential risks of getting significant feedback, especially on distorted settings.
The Casino can certainly handle mild crunch and rock genres however, be aware that due to the hollow body it is more prone to feedback compared to the other Dot and Sheraton.
Therefore, if you like heavy rock genres, this guitar could cause problems when performing on stage through a loud and noisy tube amp.
The most significant thing, however, is the P90 pickups compared to the Dot's and Sheraton's humbuckers.
They're the perfect combination of smoothness and brightness. You have that bottom-end boost, but the single-coil design also gives it brightness and much-needed attack.
The P90s offer a lot more brightness and clarity than the Dot and Sheratons humbuckers that shine when in a crystal-clean setting. Combined with the hollow chamber properties of the guitar, it really can produce some exceptional smooth clean sounds.
For me, this guitar sounds exceptionally better for cleans due to its acoustic properties and brighter P90 pickups. Notes sound more defined with a lovely amount of crispness and clarity but don't get me wrong, the Casino is still excellent for mild rock distortions and overdrives. It all depends on what style of music you want to cover.
Summary – Epiphone Casino
Overall, The Casino stands out sonically compared to the Dot and Sheraton, bringing its unique sound and vintage vibe to the table. The Casino offers something not better or worse but something "different."
The Casinos hollow design combined with P90s creates a more open sound with far more clarity than the Dot and Sheraton. Hence, why this guitar sparkles for Archtop jazz tones all the way to jangly indie stuff.
Of course, even for both classic and modern rock, this guitar will be a superb ally in your arsenal.
If you were wanting a more vintage sound and look, then I would go with the Casino. With that said, it could be ideal for modern players who want to blend the new and old to create something new and offer a blend of the two eras.
Admittedly, I couldn't recommend this instrument for heavier tones due to the hollow body design unless you're trying to experiment.
Overall, the Casino gift wraps and offers a unique but versatile package, all at an affordable price, ideal for beginners and experienced players alike. The choice you go with ultimately comes down to which guitar is more your flavour.
Epiphone Sheraton – Overview
From this trio of guitars, Epiphone's Sheraton is widely considered to be the prettiest-looking one. And, additionally, it's also the oldest one, starting its production in 1959.
The original run was stopped in 1970, lasting about 11 years. But in 1986, Epiphone introduced the instrument's second iteration, the Sheraton II. Eventually, it turned into the Sheraton II Pro model, the label under which Sheraton is sold today.
Noel Gallagher, John Lee Hooker, The Edge – these are just some of the names associated with Epiphone Sheraton. Of course, today's variant, the Sheraton II Pro, is not exactly like the old ones but it can still deliver quite a punch when needed.
If you decide to get your hands on one of the older variants, bear in mind that they can get super expensive but if you need a trusty sidekick for blues, blues rock, or jazz, you really can't go wrong with today's Sheraton II Pro.
Main Features
Once again, we have a semi-hollow-body instrument. The body shape and design are almost identical to the Dot, including the center block.
However, on close inspection, you will notice more exclusive features than the Dot, including a more aesthetic headstock design, neck binding, block fretboard inlays, and a better overall design.
Therefore, in a nutshell, you can say the Sheraton is a step up in quality compared to the Epiphone Dot. Also, one of the noticeable additions from the other guitars is the Push-pull pot configuration, allowing you to split the coils on both pickups.
This enables you to go from a fat humbucker sound to a bright and thinner single-coil tone making this guitar super versatile in different tones. Keep in mind, this is a feature that is lacking in the other guitars in this comparison.
Players have also noted that the hardware is better, which improves the guitar's overall quality and tone. This is sort of expected as this guitar is the most expensive out of the trio.
Moving on to the aesthetics, the neck on today's variants is pretty interesting. It's a 5-piece combination of maple and walnut, featuring a '60s-style slim taper neck and a Pau Ferro fretboard.
It also comes with beautiful-looking pearl block inlays with abalone triangles in them.
This is all accompanied by binding, both on the body and fretboard edges. Finally, we can also recognize it for its unique-looking vine-like inlay on the headstock. As you can see, the Sheraton wears a better and more dapper suit compared to the Dot and Casino.
But Sheraton is not all about pretty looks but about performance as well. We have two amazing Epiphone ProBucker pickups, standard controls, and the Graph Tech NuBone nut.
Older variants had vintage tailpieces, and some even had Bigsby tremolos. These days, Sheraton comes with a tune-o-matic bridge and a stop bar tailpiece.
Let's Talk Tone
As far as the tone goes, you can hear a noticeable step up in quality compared to the Dot. Of course, the Sheraton provides the silky smooth and hollow sounds of jazz all the way to rock n roll distortion.
However, the higher-spec pickups do a better job of capturing the sonic qualities of the guitar. The pickups on it are definitely a highlight as they come with some noticeable dynamic responsiveness.
In addition, you can notice the guitar has slightly more sustain compared to the Dot due to the better design and build quality. It's fair to say that the Sheraton can do everything the Dot can do but just better.
When it comes to versatility, there's a lot of stuff that you can do with Epiphone's Sheraton, especially with the coil splitting feature onboard.
It allows more control over your sonic output and obtains more jangly tones when switching to the single-coil setting. The Coil splitting feature is absent on the Epiphone Dot, but you do get what you pay for.
What I loved the most about the guitar's tone is that you can go from super smooth to super crispy, and anything in between. But despite the versatility, you can still hear that this is a blues-oriented instrument, just with a better overall tone.
Summary – Epiphone Sheraton
The Epiphone Sheraton has the identical blueprint of the Dot, which are both blues, rock, and jazz machines. The difference is The Sheraton is ideal for players who have a bigger budget to spend that require a step up in quality from the Epiphone Dot.
Take nothing away from the Dot, but with the extra budget, the Sheraton is a pro-level instrument that is more versatile, sounds better, looks more aesthetic, and is an overall better-crafted instrument.
Additionally, I'd say that the Sheraton is for more experienced players who require a better guitar for gigging and recording sessions.
While the Dot can definitely serve as a gigging and recording instrument, the Sheraton is a level above regarding the overall quality.
The only downside is that the Sheratons price can exceed most beginners' budget, which means the Dot is the only alternative. Either way, you get a lot of guitar for the money whichever guitar you choose.
Before you go…
As mentioned, feedback is a common issue with these guitars. If you want to know how to solve this issue once and for all? Read my post called "How to Prevent Feedback in Hollow Body Guitars" You can view this post here!