Electric guitars are not always loaded with 'shouty distortion.' Smooth and soothing clean tones are just as beautiful and enigmatic.
In this article, I've rounded up the best guitars for clean tones to grace the guitar landscape.
Let's get to it…
1. Fender Telecaster – The Iconic 'Tele Twang'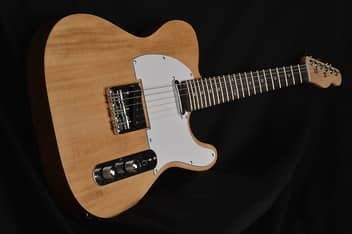 It's hard to find something to dislike about this Fender staple's Iconic 'twang' and piercing highs. Hence why it's an undisputed 'clean tone monster' within the country, rock, blues, jazz genres. 
The Tele combines bright-sounding single-coil pickups, a large scale length of 25.5″ and a maple neck that gives clean tones its snap' and 'pop.' These attributes give it the iconic 'twang' making it an undisputed clean guitar workhorse.
They have a simple three-way toggle switch that enables a lot of versatility to dial in the perfect clean sound you desire. Whether it's to dial in warmer and 'mellower' jazzier sounds with the neck pickup.
Or, go all-out attack with the bridge pickup for maximum high frequencies for more 'snap' to 'cut through.'
You'll find that the Telecaster sports a 25.5″ scale length. The higher-scale length provides more string tension contributing to its cutting and piercing sound. Also, this addition means It has wider frets compared to 24.75″ scale length guitars of Les Pauls for example.
Deluxe versions can be found with dual humbuckers. However, the iconic 'twangy' tone is still present, albeit in a 'warmer' and 'rounder' sounding version.
2. Fender Stratocaster – The Clean Tone King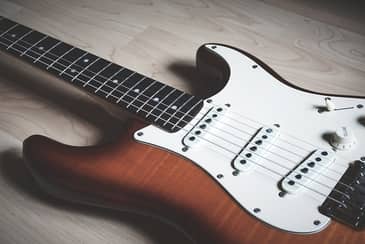 There are few guitars as versatile for clean tones as the Stratocaster, perfect for any genre.
The natural tone of the Strat covers a subtle warmth with a traditional bright sound; it excels in high-end clarity.
When looking at this model, you can find variations in its pickup setup and positioning. What makes the all-rounder clean tone on the Strat is how the pole magnet pieces are distributed through the body.
From triple single-coils to experimental with various pickup positions, the Stratocaster sound is always crystal clear and prevents any sort of muddiness.
Due to the 5-way pickup selector design, you can really experiment and dial in that perfect clean tone you are searching for.
This guitar has a 25.5-inch length which translates into higher tension than its peers. The Stratocaster charm also comes from its ash or alternatively alder body; both are highly resonant wood types.
I think it's hard to talk about the Strat without mentioning Jimi Hendrix. He warmly soundscapes "Hey Joe" with nothing but his neck pickup and his maxed-out knobs.
John Frusciante relied on the natural brightness of the Strat to lay the basis of "Snow" and "Dosed."
Finally, virtuoso Eric Johnson delivers stunning cleans on his iconic instrumental "Manhattan" armed with his signature Strat a the helm.
3. Fender Jazzmaster – The Offset Offender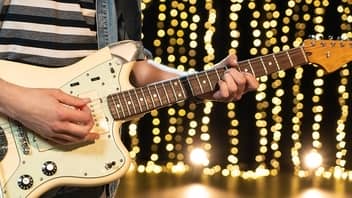 The Jazzmaster is a tone machine with so many voices to help you get what you're looking for. It has some truly balanced bright treble clean tones, staking some complex lows simultaneously.
The Jazzmaster was notably utilized during the decade of 50s surf rock. Famed for its incredibly bright and piercing cleans drenched in reverb, which immortalized the iconic sound of surf rock.
The Jazzmaster has two separate tone circuits "lead" and "rhythm." Firstly, the "Rhythm" circuit houses a vastly dark voice when engaged in the neck pickup, a world of its own.
However, when switched to the lead circuit, the Jazzmaster covers an enormous sonic space with an overall thumper bite.
The natural woody tone assures a warm to mid sound and a great range in frequency. Therefore the Jazzmaster is a swiss army knife of a guitar for a different mold of clean sounds.
Its class-A circuitry enables you to do serious tone hunting, making for a brilliantly experimental guitar. One of the standout attributes of the Jazzmaster is its wiring and distinctive plastic caps to its pickup setup.
In addition to its 25.5-inch scale, it sports uniquely designed 1/8″ tall single coils. This reduces the amount of wire you can get around the coil. Meaning the magnets will receive an even wider signal compared to other models.
A classic Jazzmaster champion one can't simply overlook is Elvis Costello. Mainly due to his clean tone balladry when he performs, just play "Everyday I Write a Book."
4. Fender Jaguar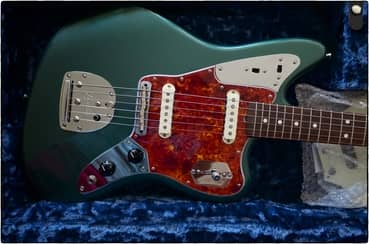 The Fender Jaguar brings a high-end bright twang to its tones with a distinctive all-rounder treble dominant sound.
A Jaguar's sound design is meant to cut through with a one-of-a-kind precision for clean, natural tones.
Furthermore, the Jaguar's tone is an inherently treble and mid-biting-oriented sound. Nevertheless, this guitar provides some charming low notes when both pickups are engaged.
Made for outstanding lead tones, the "Lead" circuit is where the Jag excels, giving a vast range of experimental possibilities.
When in "Lead" you can activate both single-coil pickups or choose each separately. Regardless of what pickup suits your needs better, they are equipped with bass frequency cutters, known as "the strangle switches".
Being able to control the bass frequency on this 24″ scale guitar is a massive attribute for lead clean tones. Finally, this guitar is traditionally equipped with two single-coil pickups, mounted directly on the body, with a metal guard.
Tom Verlaine said what you can achieve with a Jaguar and an amplifier when he recorded "Marquee Moon." Verlaine explored the treble-driven sound on the guitar in a way he picked up where surf rockers left off.
5. Rickenbacker 360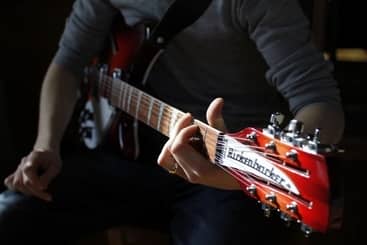 Bright, twangy, and exceptional when it comes to its unique warm treble-driven full-bodied sound.
The Rickenbacker 360 has a one-of-a-kind clean tone, which is very diverse in its own Ric-o-sound category.
First off, much of the 360 charm comes from its traditional Rickenbacker pickups.
The rhythm pickup on the 360 takes a whole world for itself. Its range can go from very bright to a much darker infused treble tone while keeping its characteristic twang.
The bridge pickup is where hi-gain kicks in, and it is almost entirely treble-driven. It's easier to get a rowdy clean tone from it, and the natural twang from the 360 will certainly make its presence known.
Its maple hollow body makes for a semi-acoustic guitar, which brings a semi-acoustic natural resonance and bright twang.
The Ric-O-Sound input is yet another distinguished attribute on the 360. It's completely stereo and will allow you to jack-in two amplifiers at the same time enabling further creativity.
George Harrison famously played his Rickenbacker 360 through the Beatles' pop/rock n' roll era. He relied on the 360's natural rowdiness for "A Hard Day's Night."
6. Gibson ES-335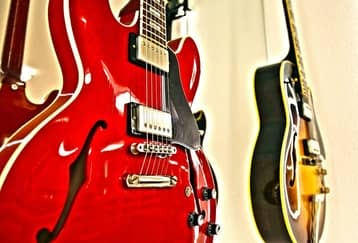 Gibson's ES-335 brings warm 'hollow clean sounds like no other. The natural full-body sound remains a superb standard with an above-average sustain and a vast sonic space.
Known for its "ice pick" tones with smooth jazzy clarity, these high-end trebles are easily complemented by its fat mid-range.
At the same time, this guitar's balanced lows can also make for a brilliant rhythm guitar with mid-distortion tones.
This Gibson staple sports a 24.75″ scale, and its 3-ply maple-poplar-maple body craft, give it the ideal semi-hollow feel. Made with an additional maple block, I think there's a solid-body quality to its mix of rich tones.
Besides, part of the 335 sound comes from its humbucker T-Type pickups. The neck is known to give a fuller, rounder, and roaring bottom end.
On the other hand, the bridge pickup can produce a rich and airy sound through its trebly, biting tone.
When looking at an ideal 335 champion, nobody beats B.B King. King achieved so much from heavy rhythm to his snarling treble bends with nothing but his strings and soul.
7. Gretsch Guitars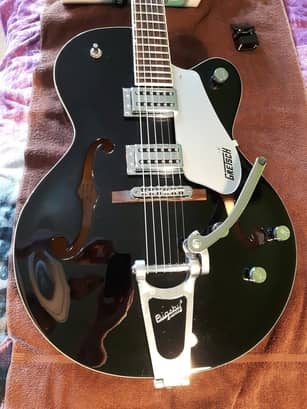 What self-respected guitar geek doesn't want well-balanced, rich trebles, mids, and lows as their main go-to?
Gretsch axes perform distinctive low-clangs and big fat twangs on their own tonal spectrum, an excellent choice for natural tones.
It's easy to see how their Hollowbody build really impacts their essentially open, well-aired sound.
Typically, you'll find Gretsch hollows are made of laminated maple, accounting for their usual brightness and precision on low notes.
Their flagship 6120s and Streamliners are known for combining a carefully crafted body with the now traditional Tron' pickup family.
Whether you'd like to try Filtertron, Fulltron, Broadtron, or any derivative set of pickups on Gretsch guitars, there is one thing for certain. Gretsch's own sets are designed to give a brilliantly well-balanced combination of power and definition.
It will enable a great deal of creativity and possibilities within their traditional wiring and control system.
There's no other guitar hero whose name resonates with Gretsch more than Chet Atkins. He was responsible for most of the 6120s tone design.
Atkins explored tones for his folk and jazz albums on his prototype and later signature models. Eventually creating his "boom-chick" sound.
8. Paul Reed Smith Guitars
Renowned for reinventing the natural sound of the electric guitar, PRS six-strings are made to suit boundary-pushing needs.
The PRS sound features a powerful, high-output flat balance of treble, mids, and bass, giving an all-rounder type of sound.
I find that obviously, not all PRS models sound the same. There's always a different approach to their core build. But the main thing about these guitars' natural tones is how they rely on their pickup selection.
However, the setup on each model is always focused on yielding the widest possibilities in terms of tone.
The approach on most PRS six-strings is to perfect an already classic tone. For one, the renowned McCarty is known for fully bagging a variety of Gibson-inspired retro sounds.
Its 58/15 LT humbucking pickups, bring a warm mid-range bite on the neck and snarling cutting-edge trebles on the bridge.
The Silver Sky model, created with John Mayer, sports the specially designed 635JM pickup set, ideal for single coil lovers. Never too bright and always warm and embracing in sound, this model covers a whole spectrum.
Since 2018, John Mayer has leveled up his compelling soulful tones with his signature Silver Sky.
9. Danelectro Guitars
Known for a hatful of personality, the iconic Danelectro chime is present in every model issued by the manufacturer.
I find these guitars are brilliant given their scooped mids, bright top end, and loose bass response.
Their very low output makes for a great rhythmic guitar, and you can find a subtle natural sizzle when playing lead lines.
These guitars sound ridiculously bright (even more than a Tele) just without the twang. The cool thing about Danelectro guitars is that they sound unique and nothing like any other standard guitar.
Furthermore, Danelectro's note smear makes it a slightly less precise choice in terms of tone clarity compared to other guitars.
But this only adds to their characteristic sound and tone, one this is simply part of their straight-up retro approach.
This unique retro sound comes around thanks to the combination of its iconic lipstick pickups and its masonite chambered hollow body.
All strings share the same long magnetic field, which accounts for their sweet spot when bolstered with both pickups engaged.
While it may remain bright and shimmering, you can also expect a 60s warm tone on the mix. Who can resist that?