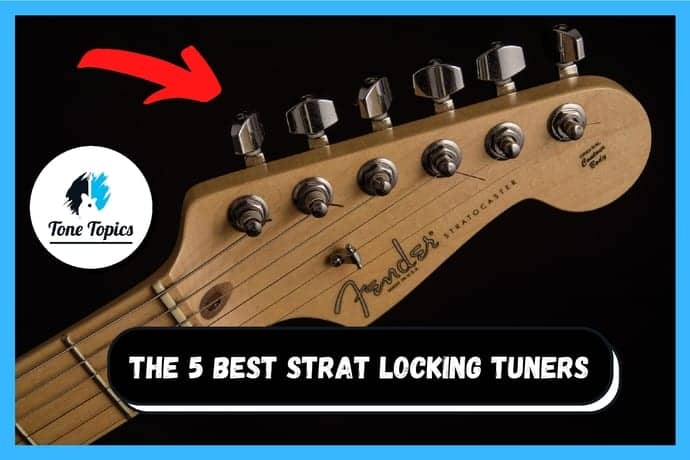 As a guitar player, there's nothing more frustrating than poor tunning stability.
Fortunately, for Stratocaster guitars, upgrading tuning performance is as simple as dropping in a set of locking tuners. 
Luckily, there's an abundant choice of locking tuners specifically for Stratocaster-style guitars.
Designed as an effective solution for stabilizing tuning performance and making string changes swifter and less tedious.  
This post will be viewing 5 of the best locking tuners ideal for a Fender or Squire Strat guitar. So you can make a better-informed decision for your prized start. 
First, here's a quick, handy buying guide when trying to choose a set of locking tuners.
Let's dive right in…
How to Choose Locking Tuners 
Brand
The first thing you need to consider when purchasing locking tuners is their brand.
The main reason for this is that getting them from a well-known brand ensures you of their quality and effectiveness.
Not only this, but by getting them from a well-known brand, you are also probably going to have some warranties and good customer service in case you were to encounter any issues.
Some of the best brands out there include USA-based companies Grover, Gotoh, and Sperzel. Another great company is Graph Tech, which is Canada-based.
Lastly, if you are looking to incorporate tuning machines for your Stratocaster, you better take a look at Fender's tuning machines.
They are the Godfathers of Stratocaster-type guitars, therefore, their quality and compatibility will undoubtedly be entirely accurate for your Strat.
In reality, all of the companies listed above are great options for you, and your decision might come down to preference.
Compatibility
There are two factors you need to be on the lookout for, layout configuration and shaft hole size in terms of compatibility. I'll talk about layout configuration first.
In essence, layout configuration refers to how companies design their tuners for a specific type of guitar.
For example, Gibson guitars designed their guitars to have a 3×3 configuration. This is because they have three tuning machines on one side of the headstock and three on the other.
This layout configuration would not work for a Stratocaster or Telecaster type of guitar. Strats and Teles have a 6-inline design, which essentially means a straight row of six tuning machines.
You have to make sure the tuning machines you are looking to buy are compatible with your guitar.
On the other hand, we have the shaft hole size. This means that your headstock's drill holes' dimension is compatible with the tuning machines for installation.
Most tuning machines have a size of 10mm, so, likely, you won't face a problem. Either way, you can always ask your trusty guitar tech to point you in the right direction.
Your Budget
Lastly, you want to consider your budget when looking for tuning machines.
I will talk about all of the tuning machine options in a very similar price range, so not much to worry about there.
However, you do want to take into consideration whether you'll also pay a guitar tech to help you install the tuning machines.
Because it's a very common and concurrent ask, installation of tuning machines is not too expensive. Still, you have to consider that in your budget.
Without further ado, here are five excellent options for you to consider:
1. Fender Locking Tuners 
The Fender locking tuners are among the highest-quality tuners in the market and one of your top options.
Fender designed these tuners to fit most modern-style Fender-type of models. These models include Stats, Teles, Jazzmasters, Squiers, etc.
This set comes with six individual tuning machines. Three of these are long-post for the wound strings (6th, 5th, and 4th), and the other three are short-post for the plain strings (3rd, 2nd, 1st).
Talking about specs, the Fender locking tuners have an 18:1 gear ratio and come in different coverings: polished chrome, brushed chrome, black, and gold.
The black and gold coverings are more expensive and are mainly an aesthetic improvement.
Finally, the great thing about these tuners is that it is reasonably easy to install on any Strat-type of a guitar because Fender-designed them for their models. 
2. Schaller Locking Tuners 
Schaller locking machines are very well-known, and their enterprise has been well-respected since the late 40s.
This German company has an excellent reputation for its quality, manufacturing, and tuning stability. 
The Fender Schaller locking tuners are based on Schaller's design (they have the patent) and are a very versatile option for you.
These locking tuners work slightly differently from others as the string doesn't get wrapped around the peg. So, instead of working like a nut's lock, it only locks the string to the machine.
But don't worry, they work great, and many top guitarists consider them the best option out there.
Aesthetically speaking, they are a bit bland, which many consider their only downside. If you have no issues with that, these might be the best option for you.
3. Sperzel Trim Lock
Bob Sperzel founded his company back in 1977. As a matter of fact, he was the first to introduce locking tuners to the guitar world back in 1983.
Since then, Sperzel became one of the top leading manufacturers for tuning machine systems. The Sprerzel Trim Lock is one of their most successful models.
One of the main reasons why these tuners are so popular is because they have excellent string responsiveness. This allows the strings to open up in tone and maintain great tuning stability, even when used heavily.
Added to this, Sprezel designs tuners for both 3×3 and 6-inline configurations. You can get these tuning machines for basically any guitar you wish.
The only not-so-great thing about them is that they don't have an auto-lock feature but rely on a thumbwheel. It doesn't affect its stability but is not as comfortable.
4. Graph Tech Locking Tuners
If you are a guitarist who plays around with alternate tunings constantly, Graph Tech locking tuners are your top option.
The Canadian-based company, Graph Tech, decided to focus on a mechanism that allowed every string to react identically to the peg's turn.
Each of the tuners comes with a custom gear ratio, ensuring that the machine heads all have one full turn per the whole tone. This makes it much, much easier to change tuning quickly.
Of course, you also have to take into account their great intonation, stability, durability. These tuning machines are of the highest quality possible.
Lastly, they are straightforward to install, which is a great plus when it comes to not damaging your headstock (which can happen if you need to drill holes).
5. Gotoh Vintage Locking Tuners
For those looking for a more retro vibe, Gotoh Vintage tuners are an excellent choice.
There has been some criticism of vintage tuners because sometimes the strings do slightly slip out of tune. Gotoh made sure that was not the case with their vintage tuners.
These locking tuners have excellent stability and intonation and are very simple to install. Its main feature is the vintage aesthetics and solid tuning stability.
In turn these, tuners allow the guitar to maintain a vintage look with modern technology to better tuning stability and enhance performance.
The tuners are the perfect solution to go with a vintage vibe while maintaining the pros of modern technology.
Reasons to Install Locking Tuners
1. Improves Tuning Stability
One of the most significant issues with the guitar is its tuning stability. Due to the way guitars are made and the instrument's very nature, it is very easy to be out of tune and have to constantly retune.
Not only this, but, as with any instrument, playing chords or a lead line with an instrument that is out of tune is, well, not the best.
Installing locking tuners help immensely with maintaining tuning structure and stability. This allows you to avoid retuning every 5 minutes and enhances your sound's overall tone and quality.
2. Makes Restrings Quicker
One of the most annoying and time-consuming things is having to changes strings. It is even more true for those who do change their strings every 2-3 weeks.
With a tuning machine, it is much easier.
Because you only have to place the string through the tuning machine, restringing is much quicker to do.
You don't have to wind the string around the post as a locking mechanism. That is the beauty of the tuner as it does it for you.
3. Inexpensive Upgrade
As I mentioned before, installing locking tuners is a common upgrade for your guitar. It's because of this that the purchase and installation are not very expensive.
Granted, it might not be one of the flashiest, most exciting upgrades for your guitar.
However, I guarantee you it is one of the best improvements you can make for your guitars and is very much worth the decent cost.
Final Thoughts
Tuning machines are a simple yet effective way of improving your sound and playability. Many other brands can get you what you are looking for, but the ones that I mentioned are part of the best.
Good luck, and rock on!