Reverb is an essential tool for complimenting any blues tone. Why is this?
A tone with a natural and smooth reverb alongside a slow soulful ballad, adds texture bringing: feel, depth, and expression. The main ingredients that go hand in hand when playing all types of blues.
It's pretty obvious, but no blues guitarist wants a sound that's dry and soulless. Come to think of it, It's hard to image a lush single coil clean tone or screaming humbucker lead, without a sweet sounding reverb complementing it.
What is Reverb?
In music production, reverb is everywhere! From instruments, vocals, studio, live sound or any recording environment you can think of.
Reverb is created when a sound source reflects off a surface it resides in, causing multiple reflections of sound to build up until it is absorbed and decays out.
These reflections cannot be interpreted as individual reflections by your ear which gives reverb its effect.
Essentially, a reverb pedal gives the effect of hearing a tone in a big room: a church, a hall, or a cave for example. For a bluesy tone, this build up of sound is great for sustaining and adding thickness to notes, or creating the illusion that the sound is further away, creating the effect of 'ambiance'.
Unfortunately, not every room our amp resides in can offer 'big room' natural acoustics which all guitarists love. Secondly, we cannot transfer our favorite room acoustics to gigs, meaning we have to create reverb artificially either using the amps reverb or an external pedal.
Types of Reverb for Blues Guitar
Luckily being a modern guitarist in the technological age, digital reverb can modify a signal to produce a range of room acoustics.
From vintage reverbs all the way to large stadium rock tones, all within a convenient tiny box to fit on a pedal board. So which type of reverb would be best for blues guitarists?
Well, blues is most famed for its 60s and 70s classic rock era, so finding a pedal that can emulate a good sounding reverb around this time would be a good place to start.
Spring
Undoubtedly spring reverb is the most popular choice for blues and guitarist associated with most genres of music but more notably surf, country, rock, and blues.
The reason spring reverb was the most popular choice for blues guitarists during this period and still is to this day.
This is largely thanks to the 'Fender Twin Reverb' when produced in 1963, being the first tube amp to include a built-in tremolo and analog spring reverb function.
This natural and sweet reverb was a revelation back then. Its sound has been immortalized by surf rockers, country players and of course blues guitarists alike.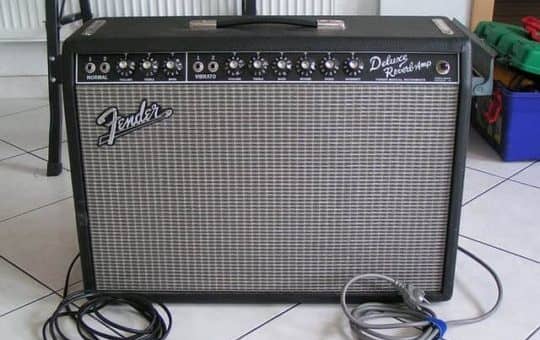 On its release, gone were the days when guitarists relied solely on the room acoustics for their ambiance. It also removed the issue with portability, it was the hottest piece of gear to add to your sound which made it so popular with many types of guitarists during this era.
Spring reverb is also popular because (as the name implies) has a 'springiness' with a natural bounce and reflection that is not too intense and excessively ambient.
For playing blues especially, spring reverb has a vintage style tone which is a throwback to the classic 50s and 60s Fender Twin Reverb era. So the first protocol would be finding a pedal with a natural spring reverb sound.
Room
Room reverb is good for blues and rock, due to its subtle acoustics and as the name implies, simulates the quick sonic reflections of a room with a fast decay time up to a second.
Room is ideal for classic rock tones, as it is subtle and natural, adding realism and character without being excessively wet.
Hall
Hall reverb is ideal for classic rock and blues lead tone, as it assists in creating the effect of a large three dimensional sound.
Because of the sonic acoustics and qualities of a large music arena, hall reverb has a larger decay time which ranges from 1-3 seconds, ideal for a more spacey and ambient sound for use with any blues tone.
Other Reverb Types
Important to note, the reverb types not suited to blues are ones with excessively slow decay times, such as 'shimmer' and 'cathedral' for example. Mainly because these are overly drenched and wet reverbs used for more atmospheric and ambient tones.
These sounds are required for swell type sounds with added echo and delay effects and not required for the more subtle reverb.
This rules out any pedals that solely focus on ambiance and 'swell' tones but more focused on the standard reverb types. It wouldn't hurt to have these sounds for experimentation.
Good Reverb Pedal Checklist…
Features
Are you looking for a simple reverb pedal to keep engaged constantly? A set it and forget it pedal? Or do you require more experimental tonal options?
Blues reverb is nothing complicated, just a simple: spring, hall, room, plate reverb with enough parameters for tonal tweaks, nothing overly complicated. However, If you are looking to play other styles and experiment in the future, maybe adding a bit more to the budget would be a wiser move?
Parameters
Any golden test for a pedal, is that it should sound great straight out the box, with little amounts of tweaking. The usual notion is, the more control knobs means the more in-depth level of tone customization, resulting in a better sound.
However, This usually is not the case! Simplicity is best and less is definitely more. Considering blues guitar with clean and mid gain tones, don't need any complex reverb options. Meaning a simple and tried and tested pedal is the best option to go for.
Value
With the abundance of reverb pedals on the market, the prices range from $40-$500. Personally, paying over $200 for a reverb pedal for playing blues seems a bit excessive. Ideally, you want a pedal that sounds great, has enough features and is good value for money.
My Selection of Pedals are Based on…
Great sound – Classic blues reverb
Features – Spring, Hall, Room, Plate reverb with enough tonal variety
Affordable – $40 – $150 – nothing to break the bank
Value for money – Worth every penny
Tried and tested – Proven products within the pedal community, no unheard contender!
Simple – no crazy complex effect unit just stomp and play
Compact – real estate on a small pedal board is valuable
Best Reverb Pedals for Blues
Keep in mind, there is no 'best reverb pedal' out there. The best pedal is the one that sounds the best to you with enough features and within your budget. Here's a good selection of reverb pedals you should definitely consider.
Strymon

Flint (The Premium Choice)
The Strymon flint is essentially a vintage 1960s Fender reverb unit in a box, replicating all the classic reverb and tremolo sounds that graced California during the 60s,70s, and 80s.
The Strymon Flint offers the vintage blend of reverb and tremolo used In the golden era of surf, blues and spaghetti westerns all the way to modern indie.
Fender amp reverb has been a popular choice for guitarists, the most notable being the clean surfing tone machine, the 'Fender Twin Reverb' I previously mentioned.
The 50s and 60s was a classic era for analog reverb, as 1950 Surf rock guitarists found their sound using twangy single coils drenched in Fender Twin Reverb goodness for splashy tones. The Strymon Flint pedal nails the classic Fender vintage and would pair perfectly with any boutique amp for the ultimate vintage tone.
Features
3 Reverb types: (

60s

Spring Tank,

70s

Plate Reverb,

80s

Hall Rack Reverb)
3 Tremolo types (61 harmonic, 63 Tube, 65 Photo)
Controls: (Decay, Mix, Speed,

Colour

, Intensity,)
Classic vintage looks
True Bypass
9V battery or AC adaptor
Pros
Amazing vintage reverb and tremolo sounds
Simple interface
Portable
Lightweight
Cons
Most expensive
Not as versatile as other choices
Best for
An array of Fender type reverb and tremolo sounds
Tone purists looking for the classic sounds
Amps with bad digital reverb
Blues, classic rock, clean
TC Electronic Hall Of Fame 2 (Best Value for Money)
The Hall of Fame 2 (HOF) is the perfect digital reverb stomp box to add to your vintage cleans or fat classic rock or blues overdrive. The reason being the HOF 2 is as versatile as it is affordable, being a compact little red box crammed full of reverb goodness.
The HOF is highly regarded as the best value for money reverb pedal, being equipped with the features as reverb effect units costing over $200, making it the ideal candidate for all playing situations and the best all-rounder on this list.
The HOF 2 is for the experimental tone freaks, looking for a range of classic subtle reverb all the way to shimmering ambient sounds of modulation, crystaline and synths sounds. The 'MASH' feature adds an extra element of expression by serving as an expression pedal for added function and control.
Features
10 Reverb types – (Spring, Hall, Room, Plate, Church, Mod,

Lofi

, Tile,

Amb

, Gate, Tone print)
Parameters: (Decay, Tone, Level)
Pre-delay (short, long)
MASH control
True Bypass
Power supply or 9V battery
TC Electronic Reverb
Pros
An authentic range of reverb with control and flexibility
Highly affordable
Many reverb types and Features
MASH feature for swells and Ambient tones
Cons
Reverb trace sounds 'different' and not to every guitarists taste
Best for
Guitarists associated with many styles and genres of music
All choices of reverb and sounds
Ambient swells
Tone experimentation
Shimmering tones
Boss RV-6 Digital Reverb (The Industry Standard)
Boss was the first company to create a digital reverb unit in a compact pedal. When choosing a reverb pedal, the Boss RV-6 is undoubtedly a solid choice based on the success of the previous Boss RV pedals.
Boss is known for their dominance on the affordable pedal market with their pedal selection growing larger and larger with a sparkling reputation to go with it.
The RV-6 is the new generation reverb pedal, most noted for its high-end sound combined with a range of versatility with 8 reverb types, from subtle vintage spring reverb to large stadium rock sounds for adding dynamics and effect to your tone.
The RV-6 is making the list based on its affordability, sound, features, and simplicity which can deliver the sounds any blues guitarist wants for their vintage tones.
Features
8 reverb types (Spring, Hall, Plate, Hall, Room, Modulate, Dynamic, Shimmer)
Supports mono or stereo
Parameters: (Tone, Time, Effect level)
True Bypass
Input for expression pedal
Power supply or 9V battery
Pros
Usual Boss studio grade sound technology
Compact
Versatile
Solid product
Cons
Best for
Affordable based guitarist searching for a long serving reverb pedal
Hall of Fame Mini (The Most Simple)
The HOF mini is a great sounding and simple 'set it and forget it' pedal. However, although it looks like a one trick pony on the outside. Don't be fooled, it includes a feature that functions like no other reverb pedal.
On the inside, you actually have endless reverb patches to select your ideal sound (spring, Hall, Room, Cathedral, Plate, Echo etc) or artist patches using your smartphone or tablet. The 'Tone Print Editor' app (IOS or Android) allows you to send your ideal reverb patch or use artist patches to imitate your guitar heroes at a touch of a button.
Features
Toneprint

technology to select reverb patches
True bypass
Power supply or 9V battery
Ultra tiny design
Pros
Surprisingly versatile pedal
Small design

Toneprint

app easy to use
Simple to use
Affordable
Cons
Limited controls (Decay, Tone, Strength)
Best for
Affordable budget range
Simple function and use
Small pedal boards
'Set it and forget it' pedal
Mooer

Shimverb

(Most Affordable)
I'm a huge fan of inexpensive, compact and great sounding pedals. Mooer is a company known for producing a great sounding range of budget pedals for tone freaks to enjoy. The Shimverb is a compact and simple digital reverb pedal with 3 reverbs (Spring, Hall, Shimmer).
The classic and natural and classic sounding 'spring' and 'hall' reverb imitating classic reverb of old from subtle decays to large rock stadium sounds. The 'shimmer' switch can create swirling tones for some mellow and ambient tones especially when paired with a single coil guitar.
The Shimverbs construction means it saves valuable real estate on your ideal pedal board with its tiny compact design.
The bright blue LED light when switched, is useful for seeing when playing within a stage environment. The Shimverb is the most affordable on my list, but contains all the necessary features for dialing in a reverb for classic blues sounds
Features
3 reverb types: (Spring, Hall, Shimmer)
Controls: Decay,

Colour

, Level
True Bypass
Power supply or 9V battery
Solid

grey

metal chassis
Pros
Very affordable
good sounding reverb
Lots of features for a tiny pedal
Compact design
Rugged and sturdy
Cons
Spring and hall sound slightly too digital
Best for
Budget option for basic reverb sounds
Small compact pedal for a pedal board
Shimmer sounds at an affordable price
Final Thoughts
Reverb is the icing on the cake when it comes to expression, feel and ambiance for blues guitar. With the growing sea of reverb pedals on the market today, hopefully, this post has narrowed the search for finding your idea reverb pedal to go with your lush vintage tones. Thanks for reading!