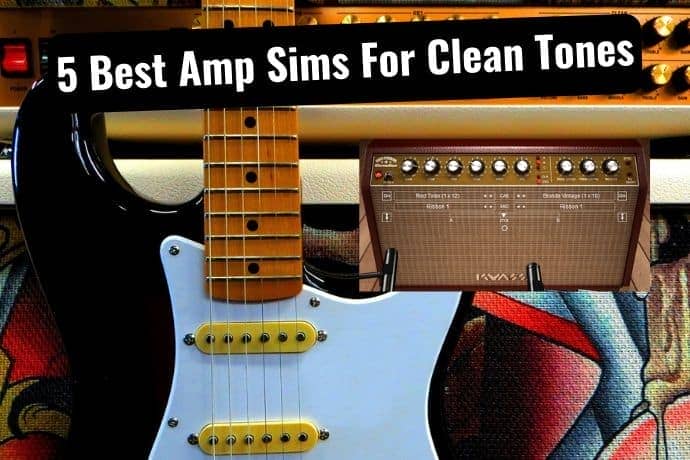 Amp simulator plugins offer realism, dynamics, and the convenience of authentic amp tones without needing to record a physical amp. For this reason alone, amp simulators are at the height of popularity with bedroom studio players.

When it comes to clean guitar sounds, many programs offer impressive tube amp clean tones. Whether it's for blues, country, funk, metal, jazz, and ambient players.

And on the subject, this post serves as a round-up of some of the best amp simulator plugins for authentic and realistic clean guitar sounds. Value for money, price, features, and versatility are also heavy influencers on this list.
The Audio Capturing Device
Before I delve into the list, it first has to be said you need a high-quality audio interface with good pre-amps for ensuring a clear signal into your PC.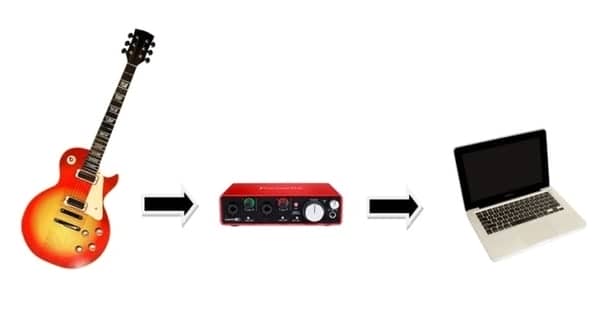 The reason is a quality interface will capture your guitars analog signal and convert it to a clean and transparent digital signal within your chosen amp simulator plugin and DAW.

This will improve your clean tones realism, clarity and, responsiveness. It will just sound plain better in a mix and sound more authentic in comparison next to a real tube amp.

No plugin in the world can produce a crystal clear dynamic tone without having a quality input into your chosen amp software.
Therefore, ensure you invest in a professional capturing device whether that be an audio interface, DI box or a mixer.
Now let's get into it. Here is a great pick of amp sim plugins for fantastic clean tones for your DI guitars.
1. AmpliTube 4 (IK Multimedia)
Price: €299.99 (Max version)
Standalone: yes
Win/Mac (64-bit only)
Demo version: yes
Amplitube 4 has cemented itself as one of the most popular paid amp simulators offering an all in one tone factory aimed at guitar tone freaks.
This software boasts one of the best-emulated collection of iconic amplifiers and effects with an incredible amount of tonal versatility for all studio recording and experimenting needs.
The full paid versions of Amplitube 4 can cover the full spectrum of genres but this program has been lauded with its sonics and true dynamics when it comes to clean guitar sounds.
Amplitube 4 Clean Sounds
Amplitube 4 uses some of the best emulation technology to capture and produce dynamics and response similar to a real tube amp for your DI guitars.
This software boasts hyper-realistic tones as tone studio creator providing the guitar player with an infinite amount of options for sound.

All of these can give you lush boutique cleans sounds, or ambient, and spacey tones to darker clean tones for the heavier genres. There is no limit to the sounds you can create and tweak.
Amplitube 4 includes classic amplifiers from Fender, Marshall, Hi-Watt, Soldano, Orange, Mesa Boogie, etc, combined with a large selection of stompbox and rackmount effects to play with.
When it comes to effects you have a choice of compressors, EQ, reverbs, delays, tape echos, overdrives and many more for dialing in your perfect clean sound.
The Cab Room
The 'Cab Room' allows you to customize microphones, cabinets and microphone placement.
Even the recording ambiance can be altered overall offering an immersive experience when sculpting a palate of perfect guitar tones for recording or practicing.
The 'Cab Room' successfully adds an extra dimension of realism and allows you to fine tweak your perfect guitar tones.
Official Fender Amp Packs
Another hefty reason why Amplitube 4 is seen as one of the best amp sim plugins for clean tones, is largely down to the Official Fender amp pack collection.

This official amp bundle provides some of the best-emulated Fender clean tones from any amp simulator on the market today.

This ultimate pack contains the simulated versions of Fenders 'golden gems' including the 59 Bassman, 65 Twin Reverb, the 65 Deluxe Reverb, Pro Junior, and 64 Vibroverb to name a few.

The tones are some of the most vibrant and dynamic clean guitar sounds perfect for any country, blues, jazz, rock or ambient player.
2. BIAS FX 2 (Positive Grid)
Price: $299
Standalone: yes
Win/Mac
Demo version: yes
BIAS FX 2 from Positive Grid is a premium amp simulator suite and another heavy-weight within the guitar plugin community.
BIAS FX 2 includes a huge library of amps, cabinets, effects, microphones all fully customizable with a simple drag and drop system. All aspects of your desired rig are fully customizable within your virtual signal chain for creating an army full of guitar tones.

BIAS FX 2 boasts a huge selection of sounds, ranging from vintage cleans, dirty distortions and modern metal.
BIAS FX 2 Clean Tones
BIAS FX 2 uses a refined DSP engine for delivering the best emulation technology offering sonic realism and genuine amp tones from the major players in the amp and effect industry. Hence why it makes this list when it comes to amp and effect realism.
This popular VST plugin offers a range of clean sounds ranging from lush Fender cleans, vintage tones, modern tones or custom amp combinations. Clean tones are responsive and dynamic providing a wide tonal spectrum of sounds depending on your tastes and level of experimentation.

BIAS FX 2 offers all you could want from a premium amp sim plugin for an infinite palate and possibilities for clean sounds.
BIAS FX2 – Guitar Match
'Guitar Match' is a new and innovative feature unique to any amp sim software plugin. 'Guitar Match' essentially analyses the output and pickups of your guitar and emulates the sound of a host of different guitars ranging from classic and modern guitars.
Meaning your Les Paul guitar with humbuckers can be altered to a piercing and sparkly tone similar to a Telecaster or Stratocaster with single-coil pickups. Guitar match essentially emulates different guitar pickups and certain guitar characteristics.
This feature can certainly lend itself useful for clean sounds as if you lack a guitar with single coils, humbuckers or P90s. This software can fill in the gap of a pickup that you do not have in your collection of guitars. A nice feature to have!
3. Helix Native (Line 6)
Price: $399 (Elite version)
Standalone: no
Win/Mac
Demo version: yes
Free Demo Here (15-day free trial)
Line 6 are no strangers to digital effect modeling with Helix Native being the amp sim plugin for a complete tonal library bursting with features.
Helix Native boasts the most amp and effect presets on this list but does come out as the most expensive option featuring…
62 amplifiers
37 cabinets
104 effects
16 microphones
The software features a responsive and realistic catalog of amps emulated from Fender, Bogner, Soldano, Orange, Marshall and many more.
The range goes all the way from vintage boutique amplifiers to metal high gain monsters which can be fully tweaked and customized.
For clean sounds especially, users will like the number of effects and dynamic effects to go with the large list of vintage and boutique sounding amps for creating awesome John Mayer and Eric Johnson tones. Another plus is that the Helix accepts custom IR's for more custom sounds allowing more versatility.
The interface adopting sliders may not be as visually appealing than other premium sims. Yet, this can be seen as more efficient and less distracting on the eye and gets straight to the point of creating and tweaking tones easily without any hassle or distractions.
4. Scuffham S-Gear
Price $129
Standalone: yes
Win/Mac
Free demo: yes (15-day trial)
Scuffham S-Gear is a budget-friendly amp simulator and a worthy contender on this list. S-Gear offers tons value including a handful of amps and features for the price compared to the other premium amp sims.
S-Gear offers 5 presets simulating a range of Mesa Boogie, Marshall, Soldano, and Fender amps.
Guitarists placed in the blues, country, rock and ambient category will enjoy the 'Custom 57' which is modeled from a classic Fender Twin Reverb. Producing vintage and crisp cleans all the way to warm and silky overdrive sounds.
The 'Wayfarer' is a versatile amp also modeled and voiced to sound like classic American sounding amp with a twist. This amp has lots of headroom for dialing in sweet clean sounds and can be tweaked sound more modern tones.
Adding ambiance and space to your presets is as easy as dropping in delays, reverb, and modulation for adding the cherry on the top to your clean tones. all wrapped together with a simple to use interface.
S-Gear may not be loaded full of presets and features compared to the big boy sims such as Amplitube 4 and Bias FX 2. However, for a fraction of the price, you can get enough tones and sounds for a range of genres for professional recording and experimenting needs.
5. Kuassa Amplifikation Vermilion
Price: $39+VAT
Standalone: yes
Win/Mac
Demo version: yes
Vermilion is a solitary amp perfectly voiced for clean and low to mid-gain tones. Although this plugin can do many tones (including high gain.)
It has to be said that Vermillion shines the most for vintage Fender style clean tones suitable for blues, country, ambient, rock, funk, jazz and many more.
Features
3 amp voicings (vintage, vintage, modern)
Clean and an overdrive channel
5 different matching cabinets
Tremolo
Reverb
4 microphones (condenser, dynamic)
Customize microphone placement
Noise gate
Presets can be loaded and custom ones can be created with a simple interface for quickly creating and loading up pre-made and custom tones.
Clean sounds are warm, lush and can do a range of sparkly American tones perfect for the players in the softer genres.
Use the gain to push the amp into crunch, overdrive moving towards the rock territory. There are different amp voicing to change the sonics from a vintage tone to a modern voicing depending on your tastes.

When it comes to value, this software is excellent for dipping your toe in the amp sim world before splashing out on a premium software.
This sim can do high gain metal tones but not the best. However, if you are more concerned about clean, crunch and overdrive sounds then Vermillion is a great choice.
Other Mentions
Here are some other worthy choices that sadly did not make the cut!
Guitar Rig 5 Pro
Guitar Rig 5 Pro is another amp sim suite supplying accurate and authentic tones emulated from amps from Fender, Hi-Watt, Marshall, Roland, Orange, Mesa Boogie, etc. Including lots of rack effects, distortion, reverb, delay, etc.

I remember using Guitar Rig 4 religiously before I switched to other sims. However, Native Instruments have stopped all software support to Guitar Rig products.
So I cannot fully recommend a product that is not fully supported. But that's not to say the program is not a reliable, functional, and great-sounding amp sim plugin.
Softube Vintage Amp Room
Says exactly what it is on the tin! Softube provides a handful of emulated vintage amps offering a great range of throwback guitar tones from the 60s and 70s. The plugin is affordable and is best served for vintage amp enthusiasts who want boutique guitar sounds in stripped-down plugin.

Vintage Amp Room also has a pleasing interface allowing users to customize microphone positions and for the price offers great classic guitar tones. For vintage clean tones especially this software is a great option.

Recording a physical amp can be more of a hindrance as you need to set-up microphones, understand microphone placement and have a suitable environment without annoying other people.
You are also limited to the capabilities of your amp. However, keep in mind, there is no right or wrong option it all boils down to personal preference which method you prefer.
Amp Sim Clean Tone Top Tips!
Ensure that you properly set the levels ie gain staging to avoid clipping and a dirty signal when trying to achieve a pristine clean guitar tone when recording DI guitars.
Use a DI box connected to your Audio interface which will lessen the output signal to your interface helping it sound smoother and less digital.
Keep the gain low on the virtual amp for clearer clean tones and get your volume from somewhere else. Either the interface gain, an external compressor or a virtual compressor within your rig.
Pickups that provide a hot output can cause clipping and a hotter signal so be wary of what pickups you are using and adjust accordingly. Some interfaces have a 'PAD' button to take the edge off.
A hot signal causes break-up and pushes the tone into a slight overdrive when you dig into the strings which are undesired for pristine and transparent lush clean guitar sounds.
Thanks for Reading
Hopefully, you found this list helpful will take your guitar recording, experimenting, and clean tone requirements to the next level. See you soon!
Before you go….
Do you play bass? If so, you need to read my next post…"9 Best Amp Simulators for Bass Guitar." It's my comprehensive round-up of the best amp sims for the bass players featuring the best amps, effects aimed for the bass players out there.