Who Is Adam James?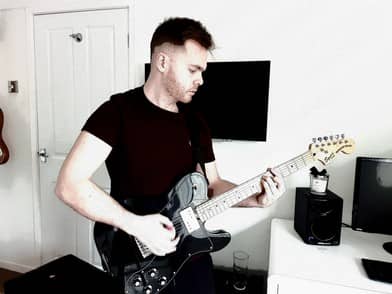 Adam James currently works in medical theatres as an anesthetic assistant in the UK. When not helping put nervous humans to sleep, he is a confessed music and guitar geek and dedicated guitar content creator.
He first started playing guitar when he was 12 and continues to be a self-obsessed guitar nerd. Adam dedicates himself to creating high-quality and original guitar-based content for web-based users.
About Adam James- "Hey Everyone"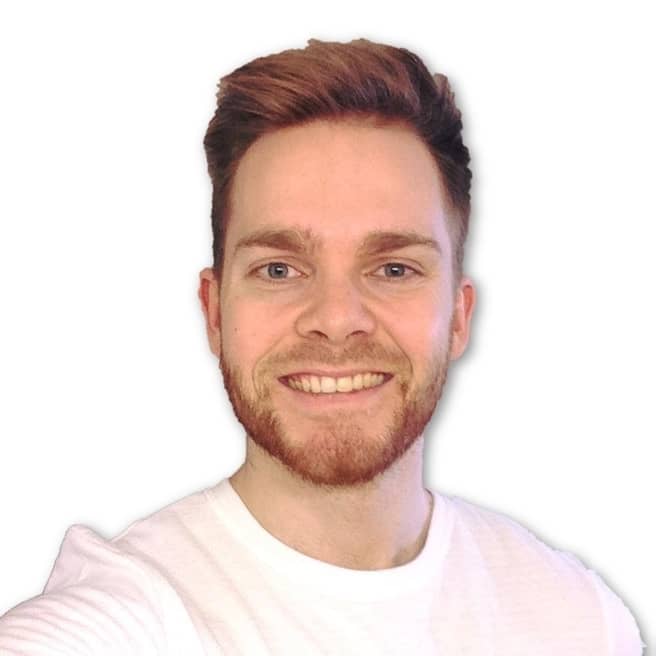 Hey guys, Adam here! I'm from a town in the sunny and tropical Northwest of England.
My Upbringing Around Music and Intruments
I grew up around a family that played and deeply loved music. It is a family trait I well and truly inherited.
My Dad is a drummer and a typical 'music advocate.' Fun Fact – he always hitchhiked his way to Glastonbury Festival back in the 70s. When my Dad was young, He chased the typical rockstar dream, playing in tons of bands, trying to 'make it.' My Mum also loves her music to this day. She constantly bashes out her 80s classics from her era.
This is the reason why I love music and everything to do with music creation. I have passionately played the guitar for over 16 years with thanks to my musical upbringing.
I love everything about the journey and being creative with music and learning about guitar gear. I have acquired a ton of knowledge and experience over the years about guitar gear and common guitar related-topics.
When Did My Guitar Journey Begin?
When I was 12, my Dad took me to one of his band's weekly practice sessions.
Strangely, I was more in awe of the lead guitarist laying out sweet 'Clapton licks' on his beautiful Black Gibson Les Paul. More so than my Dad just bashing away at his drums in the background (sorry Dad.)
The look, sound, and energy of the guitar in person instantly struck a chord with me. Also, being so interested in music, learning the guitar just made sense it was purely a natural thing to gravitate towards.
I remember I got my first guitar in my first year of secondary school. It was a cheap nylon string guitar that costly roughly £30.
It was ready for the bin. However, I was in love with it. I learned all the basics and got a few guitar lessons in school. Before I knew it, the guitar became my absolute obsession.
Fast Forward To Today – My Skills & Experience
I have played electric guitar for over 16 years
I also play bass and acoustic guitar
I have played rhythm and lead guitarist in many original and cover bands
I record covers and create songs in my home studio
I create high-quality YouTube videos
I love creating and sculpting guitar tones with lots of new gear
I am constantly learning about the technical aspects of guitars
I have experimented with various guitars, amps, pedals, software, recording gear.
I have 6 guitars (you can never have too many!)
My Humble Guitar Collection
As you can see I love guitars. I have a lot of knowledge and experience with guitars after trying so many and experimenting after being in so many bands. These are my favorites! I would collect vintage guitars if I had the money.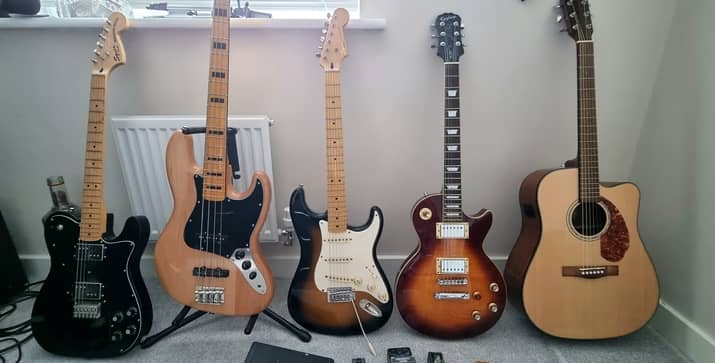 My Home Studio Where I Record, Jam & Practice
This is my pride and joy. My 'Mancave/Studio!'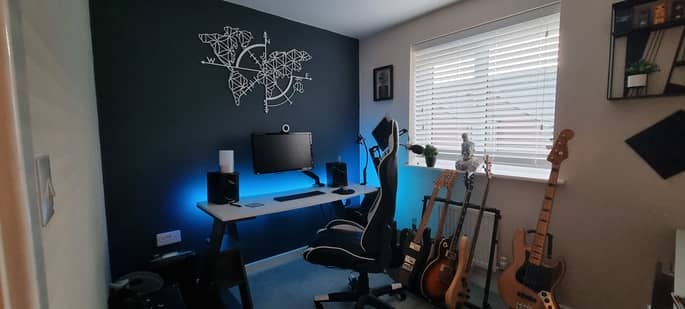 This is my corner where I can experiment with guitar tones, jam, record, and learn everything about guitars. This is where I record and learn the process of recording instruments and the art of mixing. I have made many tracks and recorded multiple YouTube Videos here.
I Have Played In Multiple Bands
As mentioned, I have played with many cover and original bands in my local area from a young age.
Here is a clip of me playing The Zanzibar Club in Liverpool UK with the original band "Arcadia Sun." I played rhythm with this indie band for a year before parting ways to pursue different musical projects.
My Guitar and Content Production Skills
I love making YouTube videos, recording my guitars, and leveling up my production skills. The goal is to launch a YouTube channel for ToneTopics.com in the future. This would be super exciting and a new chapter to expand the brand further.
Now You Know More About Me
After all these years, I can share my passion for creating high-quality guitar-related content that I have learned and acquired over the years.
Whether it's about the technical aspects of guitars, bass tones, amp topics, or any other interesting topic. This website serves you with a ton of varied and high-quality content. Go see for yourself….
Check Out Our Latest Posts